Editor's note: We'd like to start running more of these profiles of "glocal" people – or those with a strong connection both to Leipzig and somewhere abroad. Today, you get to meet a witty brain scientist and Leipzig culture aficionado, Cade McCall. If you know anyone you think should be featured here, please let us know.
---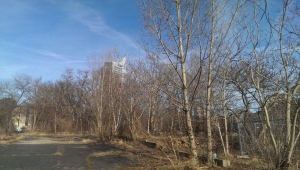 For many people just moving here, Leipzig comes as a bit of a shock. It's the furthest thing from a Brothers Grimm fairytale, a landscape of concrete, of Plattenbau and wild abandoned factories, decorated with graffiti and overgrown brush. At first, the city can seem unwelcoming, but those who persevere are rewarded with a unique place to live and a very open community.
In the video "Adjusting to Leipzig," Cade McCall explains what makes Leipzig so special, from the fantastic wildlife (the local nutria population) to the stunning architecture (the monolithic brown Völkerschlachtdenkmal). It features local cultural landmarks such as the Spinnerei and Coffe Baum, explained from McCall's witty expat perspective.
---
---
McCall is an American from Kalamazoo, Michigan, who had been engaged in the life and culture of Leipzig since moving here five and a half years ago. He conducted research at the Max Planck Institute in Leipzig on social neuroscience, studying virtual reality and human interaction. He says his experiments involved "putting people in a terrifying virtual environment for a period of time – say five minutes – and studying their reactions."
When he wasn't torturing test subjects, McCall got involved with a variety of art endeavors in Leipzig's bustling creative scene, including the graphic design project Facetype Problems.
At the beginning of May 2016, he relocated to York, England to start a new job as a professor, and was forced to leave Leipzig behind. Before moving, he starred in "Adjusting to Leipzig," a video by Daniel Marguiles and Noah Hutton.
"I was having lunch with Dan (Marguiles) and talking about how special Leipzig is and how I don't want to leave, and he decided to make this video. For me, it was sort of a 'goodbye' to Leipzig," says McCall.
McCall adds that what makes Leipzig so unique is the freedom – no matter what your creative project is, it's possible here. The city, he says, "isn't trying to be the center of anything – you can try whatever you want without the pressure of being in the 'center' of the art world."
He describes Leipzig as more of an "outpost," with a hidden creative freedom that bigger cities may lack:
"It's a place where art is very accessible, you can walk down a street that seems abandoned, turn a corner and suddenly find two hundred people listening to klezmer music."
Among his favorite examples of such creative freedom is the Wave-Gotik-Treffen, which McCall took part in regularly: "My best costume was this sort of ambulance chaser, a goth zombie lawyer." What he enjoys most about the festival, he says, is the polite, friendly atmosphere and the chance to discover the variety of venues in Leipzig.
McCall says Leipzig is his favorite city in the world for the freedom and creativity it provides. And for those who've just arrived, his advice is to "explore, explore, explore" – here, anything is possible.
By Kate Tyndall