This text has nothing to do with either handball or any skyrocketing football club. However, these seem to be the immediate associations that come to mind – at least from a Danish point of view – when the name Leipzig is spoken.
Earlier this month, I (probably one of the most typical archetypes of a Dane) was invited to the city of Leipzig to participate in a conference from the European Centre for Press and Media Freedom. And despite a certain initial skepticism, the city left me with more impressions to write home about than merely the matter of resin and Red Bull money.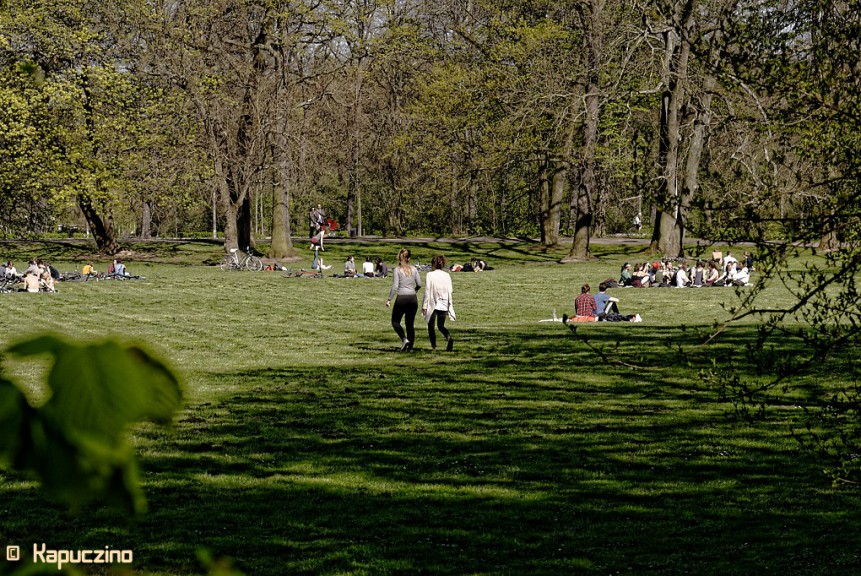 "Leafy and lush" Leipzig
The invitation to come over was a reward for my participation in a competition for young European writers. The ECPMF had offered us, the European youth, the space of one thousand words to describe our personal view on press and media freedom. Luckily enough, they chose my thousand words as the winning entry.
The European Media Freedom Conference took place on the Leipzig School of Media campus on 6-7 October. My girlfriend and I lodged at the Budget Hotel in the city center, approximately 3 kilometers from the conference.
In order to get a look at the city and its "indigenous inhabitants," we decided to traverse the distance on foot. Thus, we got the opportunity to digest the expressions of our surroundings at a walking pace.
In a time where urbanization seems to have crept across almost every corner of Europe, one might fear that the lushness of nature will eventually disintegrate in the dense, unavoidable smoke of the big city. This is not the case in Leipzig: smog and exhaust, hustle and bustle and other traditional city connotations did not fit the impressions that Leipzig left upon us.
My girlfriend and I strolled around the city for a couple of hours, and for every alley we passed, every street corner we turned, yet another leafy and lush area of vegetation appeared.
Alongside the vegan shops and restaurants that adorn the streets, the green stains of trees frame the picture of a harmonious, well-nourished organism. So, despite the kitchiness and triviality of this metaphoric portrayal, I pretentiously proclaimed to my girlfriend:
The corpus of Leipzig is equipped with a massive pair of lungs due to the vegetation, a well-oiled bloodstream due to the tram system, and some quality fuel due to all the healthy and well-fed citizens floating around its veins.
It is pathetic and hackneyed, but I felt that it was an eligible description of Leipzig.
Facebook as a prison
It was in these surroundings that the ECPMF conference took place. As a (hopefully) future journalist, freedom of speech is a subject of great importance to me. Nevertheless, there are miles between the struggles I will have to deal with as a Danish journalist, and the circumstances under which Turkish and Hungarian journalists try to pursue their rights to freedom.
This stood out to me very clearly during the conference in Leipzig: Among the participants, from both Western and Eastern Europe, circulated not only different understandings of the concept of freedom, but also different experiences with and conditions for freedom. This was crystallized by the example of a British journalist from The Independent, who feared the consequences of what he called a "predominant click tyranny."
He and other Western Europeans worried how Facebook and Twitter's demands for sensationalism are implicitly restricting journalists' freedom to create substantial journalism.
Meanwhile, the Eastern Europeans were afraid that their use of freedom would end up depriving them of the very same thing, as they risked ending up behind bars like the 126 Turkish journalists already locked up in jail.
Danish freedom abuse?
In Denmark, the public likes to perceive freedom as an absolute, with no strings attached. This tendency, however, contains the germ of our becoming enslaved to freedom.
The problem arises when freedom becomes its own cause, when freedom becomes an inescapable need. Because, when we are perceiving freedom as an absolute, we also demolish all thinkable boundaries for writings, paintings, movies and other forms of expression we carry out, under the pretext of defending our freedom.
That is why Denmark has a wooly freedom history. At some points, we have almost drowned in an abundance of unnecessary freedom, as manifested by the Muhammad cartoons back in 2006.
Such mournful chapters of Danish press history occur at times when the Danish media gets hit by an unavoidable need for "not needing anything." If you tell them that there is something they cannot or must not write, you know for sure that they – like a stubborn kid – are going to write that exact thing.
Thus, it is not so much the fear of oppressed journalists as it is the fear of oppressing journalists that troubles my mind when I look at the Danish media landscape. We definitely need to fight for freedom of the press, and protect it; but at the same time, we also need to treat it wisely and respectfully, otherwise freedom will become its own contradiction. That was the thought roaming through my mind when I wrote my thousand words about freedom.
By Mads Haahr
Mads Haahr is 23 years old and studying journalism at Roskilde University in Denmark.

---
(Cover photo: Aspiring Danish journalist Mads Haahr outside the ECPMF's European Media Freedom Conference, 6 October, 2016. Credit: ECPMF/Lamm)