I am very fresh to the world of Central and Eastern Europe, and Poland is just the tipping point. I grew up with my Oma and Opa cooking mixes between German foods and Polish foods – having both grown up in the former West Prussia. Potato pancakes were a childhood favourite, as were such desserts as Butterkuchen (German butter cake) and pączki (Polish donuts).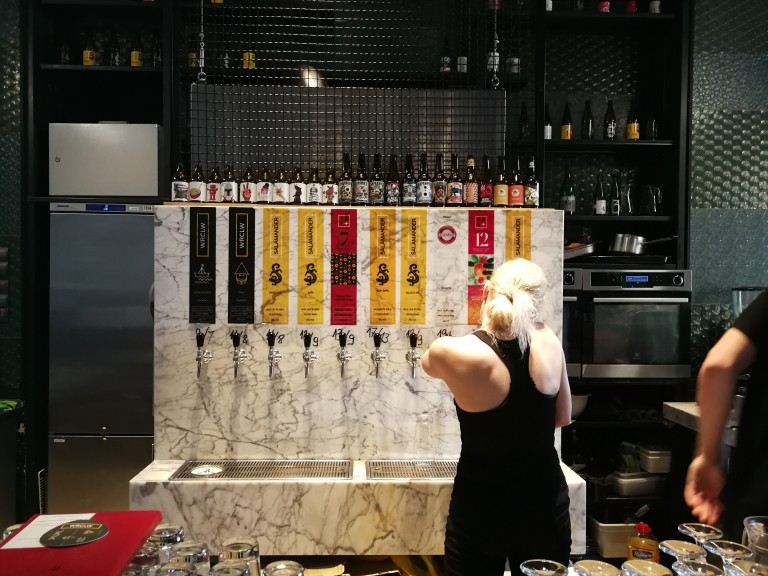 In recent years, I've come to learn that German, Belgian, Polish, and Czech beers come from some of the world's oldest and finest beer producers. And I've had enough friends visit Poland and tell me "you gotta go there!"
Unlike my first trip to Poland (to Kraków, where I consumed lots of vodka), in Wrocław (or Breslau in German), I fancied the craft beer scene.
It is a very popular student city, with 130,000 students out of a population of around 600,000. It's a young, vibrant, busy city. I hadn't been before, but from what I've been told, it is very gentrified and hipster these days. Not to say that I didn't benefit from the vast variety of cafes, restaurants, and drink locales; but I guess it used to be a little less hip and a little more grunge.
Poland is already known for having a solid selection of standard beers, so I was pretty excited to try some other styles. IPAs and stouts aren't really a top choice of mine, but I did select a couple of IPAs while there. If you're already IN Poland, searching for a browar (brewery) could be of some use.
A lot of interesting sights and places to eat and drink are located around the city centre, particularly the central Rynek Square. On the west side is the street Świętego Antoniego, with lots of little cafes and restaurants.
Here was where the first sip of carbonated creativity hit my lips: Hop Heads Alebrowar.
Our Airbnb host recommended this craft brewery as a place to visit, just at the corner of the popular street. Having walked a nice jaunt along the Fosa Miejska (city moat), my partner and I stepped inside Alebrowar.
My first beer there had a mango flavour and was a double-IPA (I don't remember the brand). It was strong but tasted like juice – also it was the colour of juice! It was very refreshing to take outside and sit on a patio chair.
I was happy to see some fun decorations. I thought it a cool idea to have clear round beakers under each draft beer paddle to show the colour of the type of beers you could get.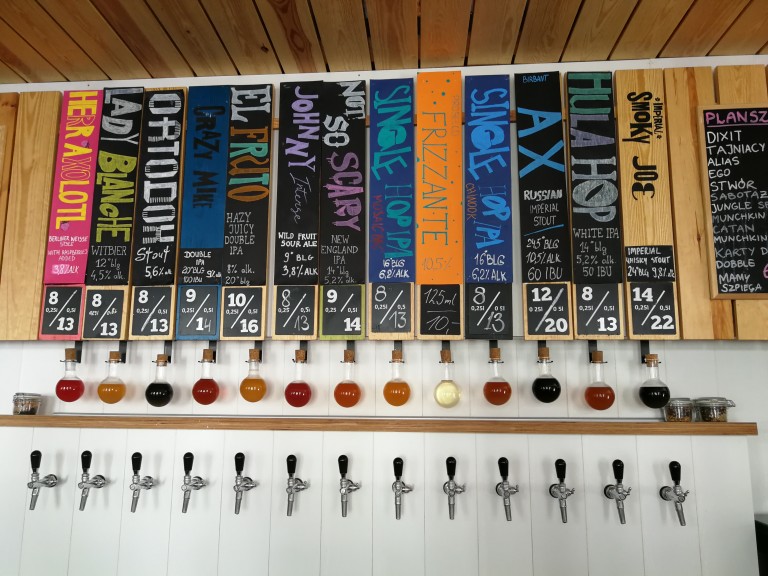 We even had a fun conversation with a group of four British men sitting at the next table – all six of us were enchanted by the many beer flavours to choose from. We, of course, had a laugh at all of our attempts to say one or two words in Polish, let alone the city name (but that's a story for another time).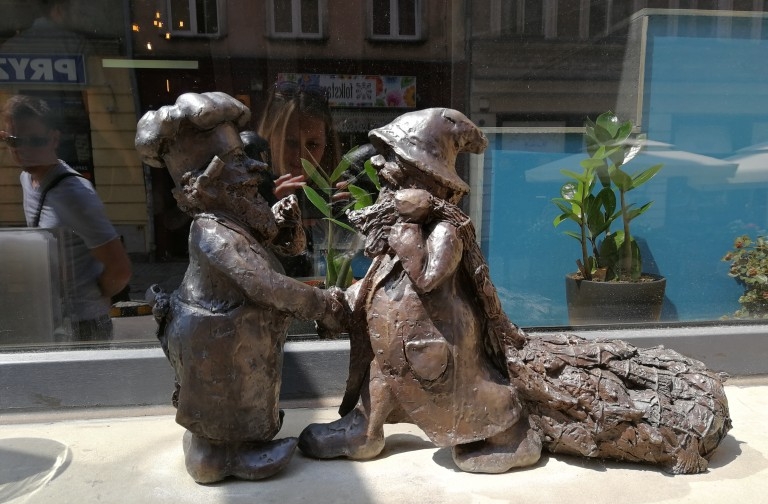 Both of these spots were on my list. However, as you see when you are there, they're across from one another; so I felt visiting one would be enough.
We opted for Złoty Pies. It was more typical and less experimental beer, when you have the term "craft beer" buzzing around your head. They had lots of pub grub and some Polish food to choose from, and I decided to have some waffle fries. That was a fantastic decision: The seasoning on them, and the salty crisp mixed with a cold, refreshing Pils, was the way to go. Even thinking back to that moment right now, I'm immediately relaxed and joyous.
I loved the view while sitting out in their beer garden, which included the Cathedral of St. Mary Magdalene. As a side note, Wrocław has an obscene amount of churches and cathedrals; I mean, they're everywhere, and most of them are stunning.
Honestly, the Rynek is so beautiful. Stopping in that area to enjoy something cold to drink on a pretty, hot and sunny day is a must-do.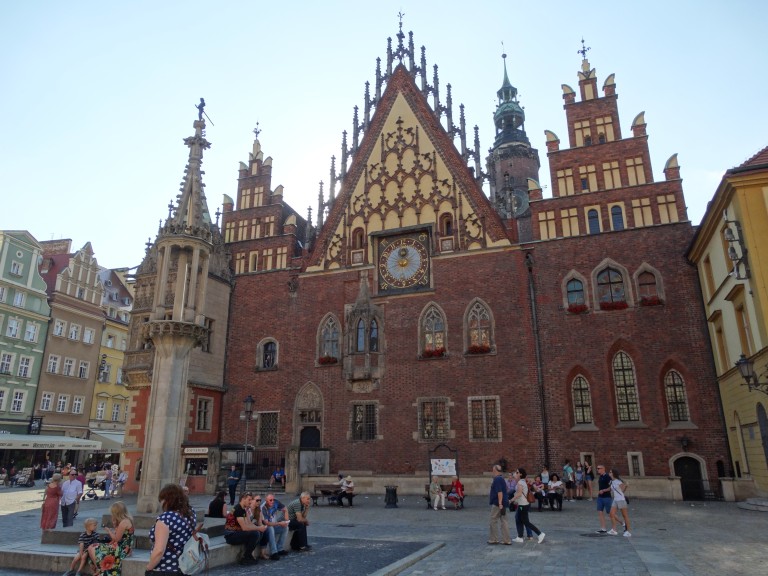 Moving on: I think this next place was hands-down my favourite beer stop while in Wrocław. It has some sort of partnership with BRLO in Berlin (whose beers I also love), and one in Spain. Due to my inability to speak or understand Polish, I did not learn too much information while I was there. But I did thoroughly enjoy their variety of beers and food (which is more than I can say for inside BRLO; I only like their patio summer food choices).
The place in question, Browar Stu Mostów, is located north of the city centre and is a bit of a hike, or you could venture onto the public transit if you're interested.
It was nice to do the walk, and really made me appreciate the beer once I got a glass. Stu Mostów is relatively new, a year or two old, and they rotate 10 taps inside. Their patio is also very new, and they had a keg stand out there serving 2-4 beers. However, to give my frazzled brain a break from the heat, I opted to sit inside the warehouse-esque building.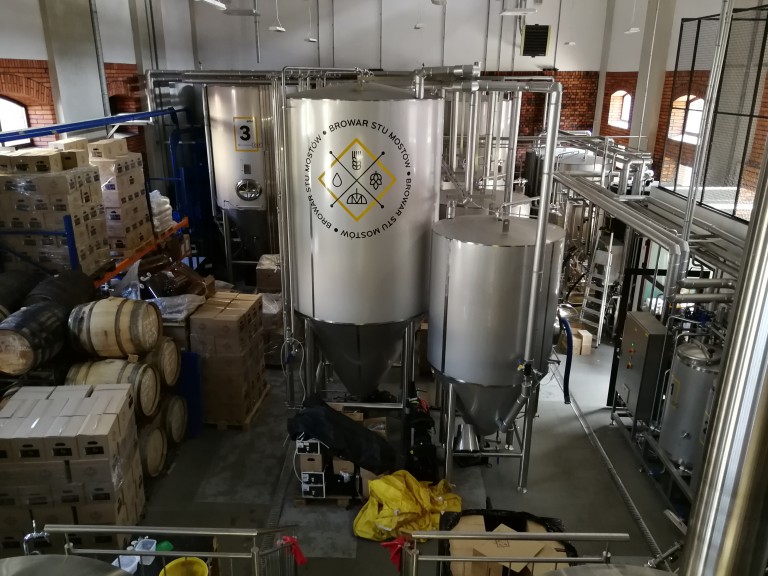 The staff were friendly and encouraged me to have a sip of any of the beers I wanted before choosing which I would have a glass of. Now again, because of the language barrier, I didn't fully understand the info I got. But it seems that of the beers they have, several are brewed at their location in Wrocław, while other beers are collaborated on at BRLO, plus one in Bavaria and one in Spain.
Have a snack at this brewery too; the warm pretzel with cheese sauce and pickled red onions is simply heaven. It's worth the trek to get to this place.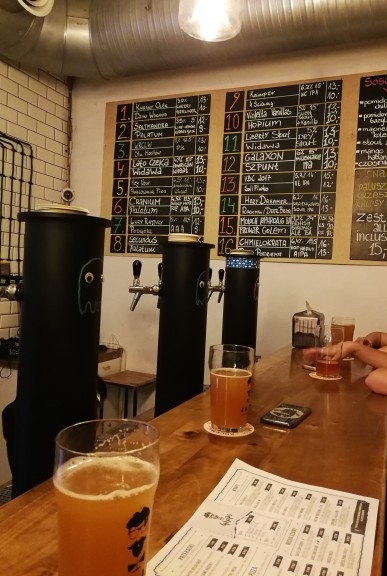 Tap houses are also lots of fun to stop at and offer a large selection. I found two, in the general area of the city centre: 4Hops and Kontynuacja.
4Hops also seems to be new. They don't have a patio, but it is pretty spacious in their ground-floor location. They rotate 16 different craft beer taps, so it's great to go and enjoy a selection if you don't have time to visit different spots, or if you're just in the neighbourhood. If you like spicy food, I think you'll enjoy their snack menu.
As a late night snack, I was looking forward to some nachos and dip at 4Hops. However, it was too spicy for me! I can't eat spicy food to save my life. I once had nachos at a pub and ate maybe two slices of jalapeños and couldn't stop hiccuping.
Located just a couple of blocks away, Kontynuacja is a little bit older, and felt like one of the more traditional small locations in Wrocław. It had a cellar with seating, the main floor, a small patio in a shared courtyard, and a couple of small tables on the street. 4Hops was more modern, with minimalist decor.
Both had a great selection of craft beers to choose from, and both were chill to spend some time in.
One last place I want to mention is located on the lovely cafe- and restaurant-filled street Świętego Antoniego: Szynkarnia.
They serve a (smaller) selection of different craft beers, and have a great atmosphere with tables outside on the street, ground floor, cellar, and I believe upstairs too. I really liked this place because of its central location, and because they also make all their own breads and cakes, and source local cheese and meats from farmers and small producers (yay, support local)!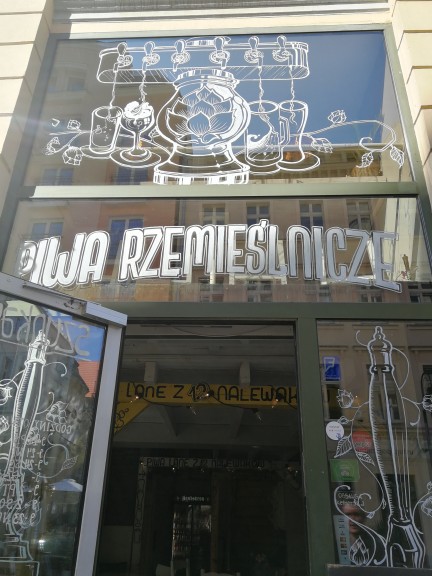 Had I not been saving myself for pierogi for lunches and dinners, I would have loved to try some specialty cheese and light pub fare at Szynkarnia. There's always next time!
Needless to say, there are plenty of places to visit while in Wrocław, Poland, that have a wide variety of delectable snacks, beers and other drinks. I didn't even touch vodka or gin in this post, but be sure, Wrocław is filled with such fun finds.
I'd love suggestions from anyone who's been there, because I will certainly return to indulge my tummy and taste buds!