For years I've had the wish to visit the Loire Valley, with its many stately castles and its Renaissance gardens. This enchanting place in France has always been on my mind, but I haven't yet managed to make it there.
Recently, I read a book by Marguerite Yourcenar on the history of the 16th century Château de Chenonceau, one of the most characteristic castles of that beautiful region. The author calls it "palace of women," as its history is connected to a series of queens or mistresses of kings who took possession of this impressive building.
Diane de Poitiers, the lover of French King Henry II, received the castle as a present and had the characteristic arched bridge built on the River Cher. When the King died, his widow Caterina de' Medici, of the well-known Florentine family, became the owner. And when she died, it was inherited by her daughter-in-law Louise of Lorraine who, after becoming a widow herself (those were times of assassinations and intrigues), spent the rest of her life in a state of depression and mourning.
Famous among the numerous architectural achievements forming the complex of the Loire palaces (on the UNESCO World Heritage list) are also the castles of Chambord, Azay-le-Rideau, Chaumont, Villandry, etc.
The closest one can get to the Loire Valley here in Eastern Germany is to visit Schwerin Castle in Mecklenburg-Vorpommern.
Its style has been influenced by the Loire castles, especially by Chambord. Today it houses the State Assembly of Mecklenburg-Vorpommern and an art museum. It is what the Germans call a Wasserschloss, a palace on the water. (I wish I were a drone, so I could see it from above.)
Another Wasserschloss, this time in Saxony, is the lovely Moritzburg, near Dresden.
It was the hunting lodge of the famous King Augustus II der Starke (the Strong), of whom a friend says, "he knew already in the 18th century what 'make love, not war' meant."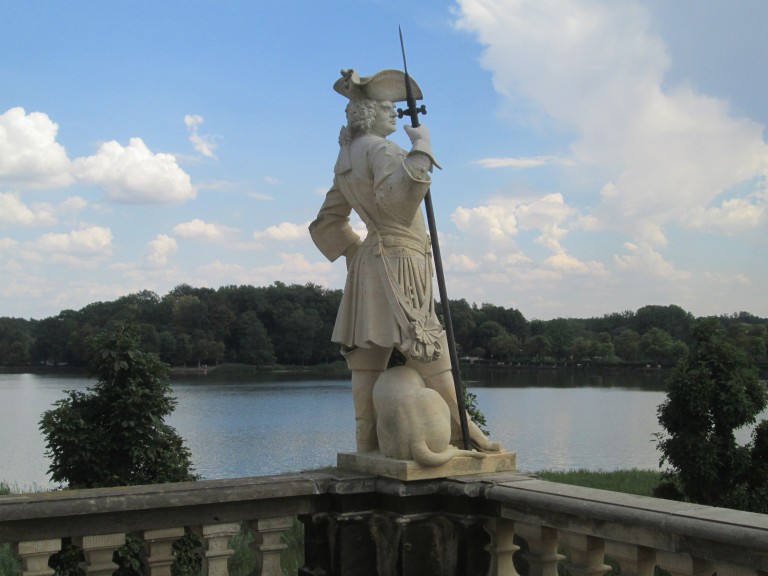 As legend goes, he had 354 children from various mistresses.
The good Augustus had taken part in wars, of course, but to this day he is mostly remembered for his contribution to the arts and culture. Moritzburg, with its characteristic cylindrical towers, seems to have some architectural affinity to the Loire palaces.
Inside, it is full of deer antlers. According to our guide, these were gifts brought to Augustus by his noble friends from all over Europe. It seems that even Peter the Great, the Russian Czar, had been a guest.
As Augustus thought it a good idea to become King of Poland as well, he converted to Catholicism and had a Catholic church built inside Moritzburg.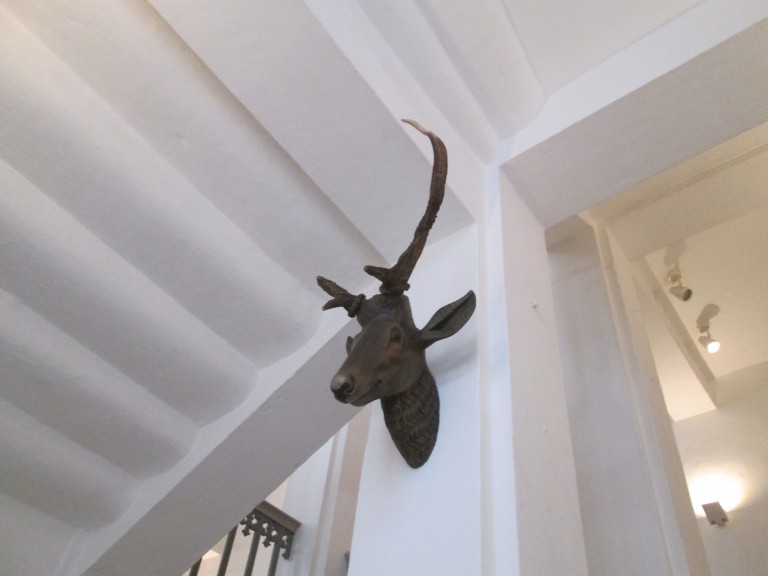 The tapestries on the walls of the castle are made of leather, and there is a cabinet of Meissen porcelain artifacts, the so-called "white gold," which was successfully conceived thanks to Augustus' persistence. There is also a large bed – king size, we are tempted to call it, since it was made for such a big person as Augustus II the Strong – decorated with one million feathers of all kinds of birds.
Which brings me to the title of this piece: Leather, paper, feather.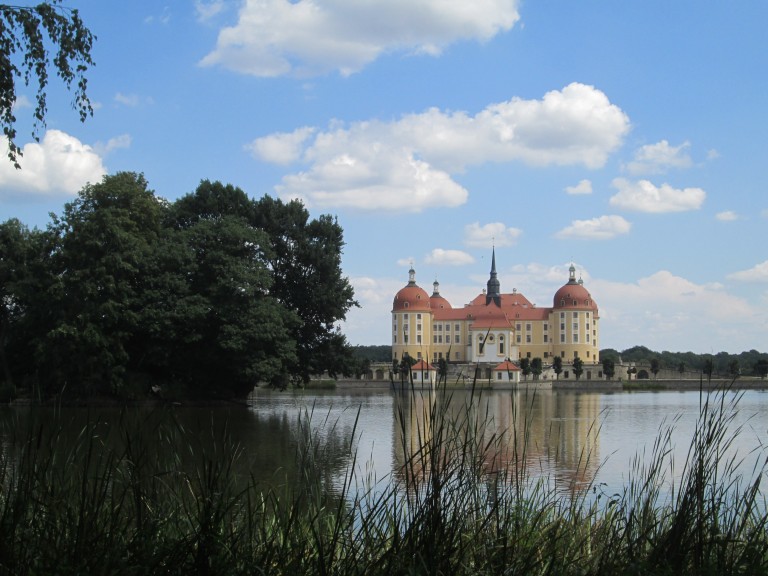 So far we found leather tapestries and a feather bed in Moritzburg. Where is the paper?
Oh, that is in another palace of northern Germany, which I have only seen from the outside. It is called Ludwigslust, "the joy of Ludwig," and it is also a hunting lodge built in the 18th century. Most of its decorations and also some statues that look like bronze are made of paper, or rather papier-mâché.
The world of Renaissance and Baroque – including its castles – is full of surprises, isn't it?