When the sultry indolence of summer finally releases its grip of our hardboiled bodies, our brains all soursop from yearnings for fresh air, hot soup of a different kind beckons us, the fall workaday. Two seasons – two open mics.
Vol. 4 happened at the door to autumn. For us, the vegetable-state survivors of Friday, September 14th, potatoes, carrots, cabbages or zucchini not yet fallen apart during cooking time, there was a relief, and a reward. Velvet wind, laced with cool silver light and spiced with innuendos of weekend, blew in my crumbling cauliflower back, spurned me on my way to Baileo, a place where vegetables turn into fruit of art at the Cocktail Open Mic.
Vol. 5 comes on the threshold of winter. More precisely next Friday, November 23rd.
Two of the standout performers from the last open mic are now headliners, doing something a bit different from their previous respective performances.
Dolores Delices intriguingly tells us: "I will be doing a burlesque dance with the theme of the exorcist. My goal is to take the spectators on a journey where creepy meets sexy, with a hint of comedy to spice it up." 
Solo electric guitarist Mathis Haller reveals that his "will be a short story where each piece is introduced by a narrative section that describes the events that will take place in the song."
Our third headliner is Yuyutsu RD Sharma, an internationally acclaimed South Asian poet and translator.
The prolific Nepalese-American author has published nine poetry collections and translated and edited several anthologies of contemporary Nepali poetry into English, most recently the Himalayan Arts Folio of American magazine Drunken Boat. 
Yuyutsu's own work has been translated into German, French, Italian, Slovenian, Hebrew, Spanish, and Dutch, and he has launched a literary movement, Kathya Kayakalpa (Content Metamorphosis) in Nepali poetry. A widely traveled author, he has read his works, and held workshops in creative writing and translation, at many prestigious places around the world. When back home, he goes trekking in the Himalayas. We are honored to have him stop by.
Our open mic happens bi-monthly, under the lively guidance of Peter Seaton-Clark, the boisterous MC, a master of guises and posh accent I'd gladly chop my Strunk for. Peter explains that the motley mundane salad of guests and performers gather exactly for the purpose of celebrating each of its ingredients: domestic, smooth, bristly, milky, coffey, exotic, bitter, sweet, sour, disheveled, sleek, straight, crooked, sung and danced.
In all flavors and seasons of the year.
In our September edition, the spacious dancing studio was filling fast, drinks jingled with ice and heightening spirits, and the evening took off on the harvest wave of the 1003 Nights (of Leipzig) Literary Contest. Julie Sophia Schöttner, winner in the fiction category, read her piece Und weiter und fort. It was quite moving to hear the young talented author's voice, the work that your humble cauliflower liked so much as to name her winner.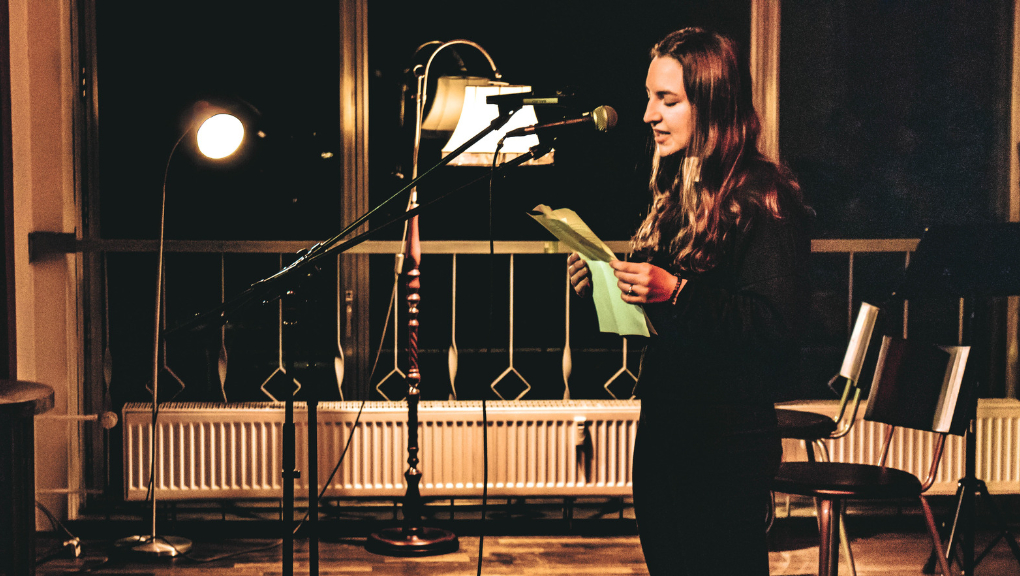 Later, your humble cauliflower perched at the mic to read the winning poem, in Ukrainian and English, by Vyacheslav Huk, and the winning mixed genre story by Adam Carrington, who both couldn't be there in person. There was also some music, for instance parts of 11 different songs with the same four chords, performed by the renaissance power behind the international open mic, Ana Ribeiro, and the one behind Leipzig's Free Walking Tours, Matej Eber. For me, the deftly crafted symbol of LeipGlo has from then on been strapped onto her mezzo soprano mellowing out hits.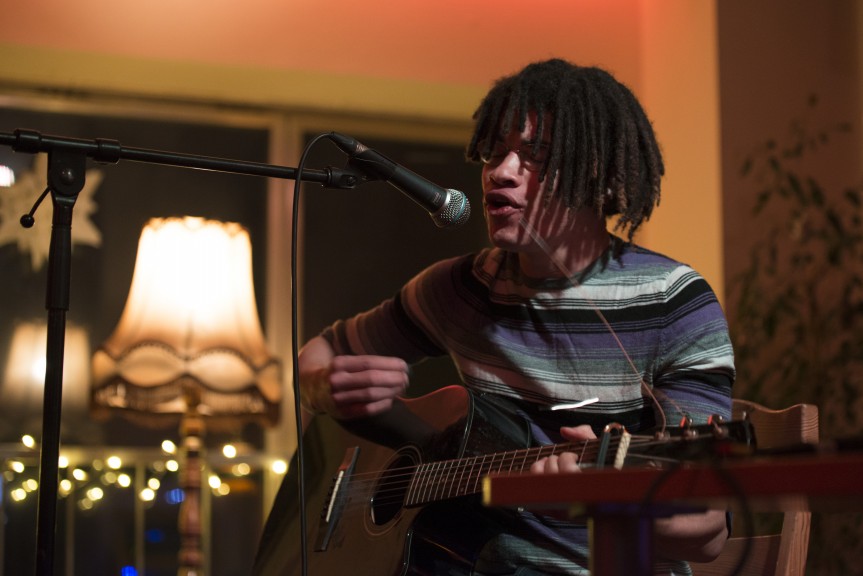 And then, the elves of versatility wiggled their magic tails once again. A fairy-like young lady and her partner (Natasha Drake and Juan Villanueva), in mischievously nonchalant guise, fluttered onto the stage.
I was sure it would be a humorous sketch they would show. They spoke a little, indeed, but then a magic tap of sound turned (more precisely, Opera on Tap), and there poured… the virtuoso Mermaid aria by Dvořak.
More September 14th memories burst into my head now, and out onto the page.
Stirrup. Stop. Start. Strap! All of a sudden, the stage is flooded. Deluge. Invasion. By a single person.
Formidable and furiously burlesque looks the audience will fail to ever forget, like, you close your eyes, pinch yourself, but it's not a dream. It's a real voice inside a mighty frame instantly taking you by your wits and privates at once.
With the ease of Jamie Oliver on YouTube publicly revealing a new-fangled recipe, Smut Slam's Cameryn Moore unravels before us the real life story of a sex adventure with a retro strap-on as a protagonist. Her stunning sincerity, strapped onto searing wit, saying the words of the intimate register I've only dared to utter on a page, made some of my fellow spectators squirm and fidget in their seats nervously, but the majority capitulated without fight before this unique, blatant stand-up comedian.
I should have ascribed each of the performers a fruit, domestic or exotic, once I made all the agriculture analogies. But since I'm just reveling in versatile memories and currently free of a novelist's duty to hang a gun on the wall only if it's going to shoot, I'll be negligent and self-indulgent.
I think if you come to the next Cocktail Open Mic on the 23rd, you're bound to get (a) shot anyway. Of inspiration: Hazardous. Contagious. Makeover of vegetables into fruit.
All are welcome to perform (first-come, first-served), or to simply watch and relax, and to reminisce over ghosts of seasons past.
---
Cover shot: Dolores Delices, captured by Justina Smile Photography.
---
Friday the 23rd of November, 8-11:30 PM
LOCATION:
Baileo – Tanzpassion Leipzig is right upstairs (second floor) from the club ELSTERARTIG – Dittrichring 17, 04109 Leipzig
HEADLINERS:
Yuyutsu RD Sharma (poetry)
Dolores Delices (burlesque)
Mathis Haller (electric guitar)
HOST:
Peter Seaton-Clark
---
Performers sign up at door and get in free between 8 and 9 PM, plus one free drink of their choice
---
PROGRAM:
8-8:30 PM: Welcome drink & mingling
8:30-8:45 PM: Yuyutsu RD Sharma
8:45-9:35 PM: Open stage (anyone can perform)
9:35-10 PM: Mathis Haller
10-10:20 PM: Break & mingling
10:20-10:40 PM: Dolores Delices
10:40-11:30 PM: Open stage (anyone can perform)
---
BYOM – bring your own music
---
5€ cover | 3€ reduced
THOSE ARRIVING IN FIRST HALF HOUR GET A WELCOME DRINK
Part of the proceeds goes to LeipGlo fund