Do you enjoy meeting friends over a cuppa? Having solitary reading or study time, indulging in a sweet treat, or just being out? Me too! Follow along to my top 5 cafe hangouts around Leipzig.
#1: Coffee Culture (Zentrum)
Sometimes I think I might be too much a creature of habit. I was introduced to Coffee Culture by an acquaintance who told me it's a great place, centrally located, with low prices. Did she get that right!
It's probably the cheapest cafe I've been to in Leipzig. It is a good size, with individual wooden seats at a communal table. Some tables are smaller, with cushioned chairs. Suitable seats depending on what your aims are for the day.
This place gets top priority on my list.
Usually when heading to a cafe, I'm looking to pop my earbuds in, listen to some classical music, and power through some work I've been avoiding. They have free WiFi (not just the Vodafone, Telekom, or Leipziger) – I mean actual WiFi for their establishment.
You will also find electrical outlets! With my laptop being over 5 years old, the battery life isn't so great anymore. With this in mind, having an outlet I can plug my smooth piece of technology into for lengthy usage is a huge plus!
Oh, try a shortbread Keks, they have chocolate chunks in them plus the load of butter expected of a shortbread cookie.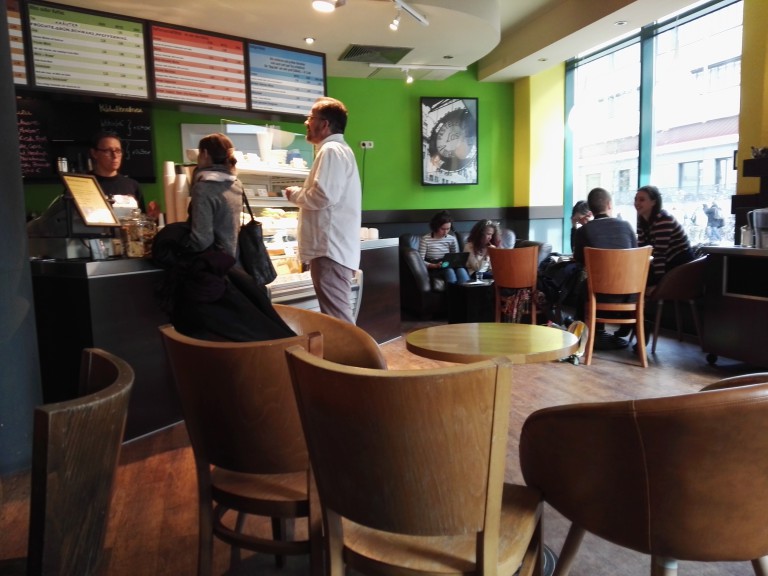 #2: Konditorei & Café Krüsmann (West)
Total and complete sweet sugar indulgence. Spoiler alert: I ordered my wedding cake here from local suggestions for an inexpensive, yet wonderfully delicious bakery. Sehr frohe that I did.
Every now and then, I will walk the 30 minutes or so from my home to enjoy a decadent slice of cake. The decor might be a bit of a trip, but if you love all things 80s and 90s, you might feel right at home.
I am pretty sure it is also a neighborhood cafe, as each time I'm in there, I'll overhear some elderly German folk conversing over their Kaffee und Kuchen. On your way to buy groceries at the Lindenauer Markt Kaufland, you can stop in for some dessert a few minutes away.
This lovely little gem is also open on Sundays! So why not grab a cheap hotdog on Karl-Heine-Straße before waltzing your way to eat one of the best desserts in town?
#3: Dankbar Cafe Leipzig (Zentrum-West)
This hidden little joint is relatively new to me. The chef makes a vegan friendly Wochenkarte – I haven't eaten there yet, but it smells delectable.
This cafe also sports free WiFi, for those who'd like to spend a solid few hours nose-down at a table. They serve alcoholic beverages, in case you're interested and having that extra difficult morning or afternoon (no judgement!)
Throughout the day, there's a breakfast menu and a few freshly made pastries to choose from. Rumor has it there are a couple of power outlets in the back area, but you better snatch that table first thing when they open.
This cafe is a great location for a social meeting with a friend or colleague.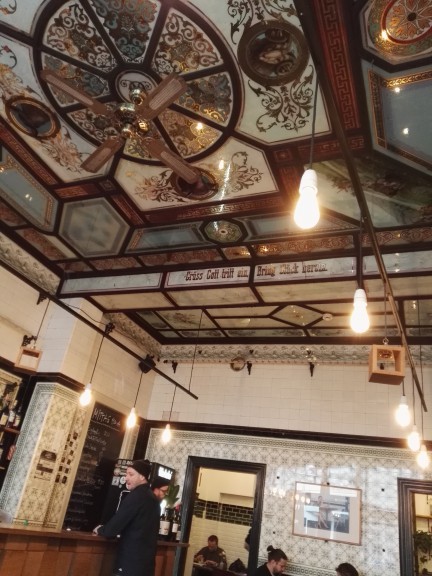 I particularly enjoyed looking up at these beautiful ceiling tiles; it reminds me of an elegant Portuguese restaurant. The venue is sort of long and narrow, and at the front there is a row of 2-person tables along the wall. There are two tiny back rooms patiently accommodating the rest of the patrons. You can even find some reading materials in one room for your reading pleasure.
#4: Cafe Maitre (Süd)
This lovely French-inspired local is pretty well-known and popular already, and they've got the tasty galettes and meringue to back it up.  Located partway down Karli, the cafe is on a corner, and in warm weather it provides a good amount of outdoor seating.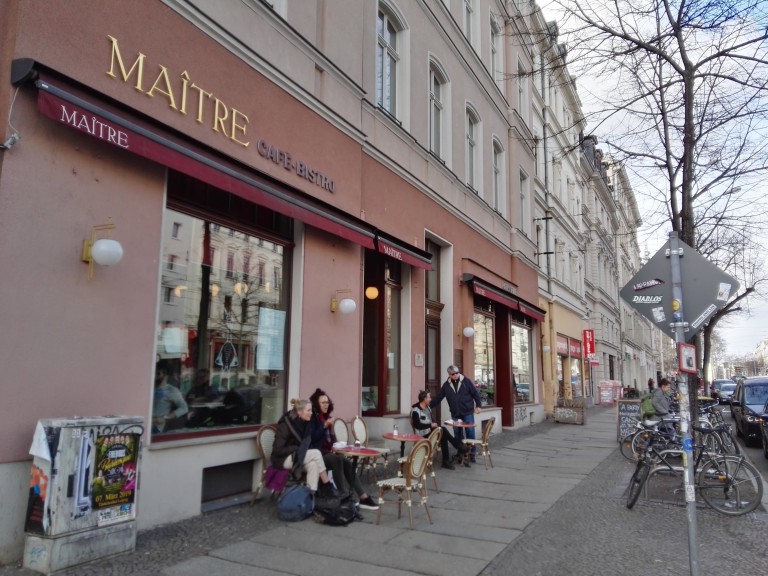 Inside, it has one bar table with a couple of seats. If you're there just for a dessert, go into the bakery side and pick something sweet from the display cases. My personal favorite is the lemon meringue squares. Is anyone else hungry yet for some pastries and desserts? C'est tres bien!
This cafe sells some take-away items as well, such as chocolates made in-house, and some imported treats, too. My partner loves spicy food and dearly misses a good hot sauce here in Leipzig. Lo and behold! Cafe Maitre provides a small glass bottle of hot sauce that made it all the way across the water from Ireland.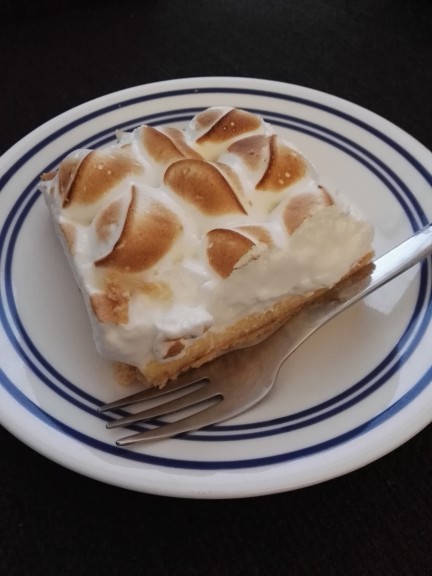 #5: Leipziger Brotschule (Zentrum-Süd)
This is another new stop in my cafe rotations. It is quite large and located just on the outskirts of the city center.
They have some mega sandwiches available for take-away, fresh bread and buns. You can choose to eat in and order off the menu or have something prepared from the glass cabinets.
Last time I went, I had a typical German breakfast. (WAY too much food for one person!) I brought home three buns – after I finished eating. It came with a variety of deli meats, cheeses, fruit, and marmalade.
It's a little pricier, or more-than-average pricing for Leipzig, I should say. They have WiFi available, but I do not think they have power outlets for customers. I'll have to investigate!
All the food was delicious and I appreciated the variety of fresh meats and cheeses on offer. I wonder if they have bread-making workshops in their large kitchen in the back?
A couple of honorable mentions in the Plagwitz-Lindenau area
Cafe Albert, which I have gone to several times for the German breakfast, and it never disappoints. They also have some street seating in warmer weather.
Suss + Salzig, a small little place off Merseburgerstraße that you definitely need a reservation for if you are planning a weekend brunch.
Leipzig has a nice variety of cafe hangouts for hard study time, upper-scale breakfast, lunch or treats, the German usuals, as well as bakeries. My recommendation would be to try out the different coffee shops and simply see where you are most comfortable. Happy cafe exploring around Leipzig!