There is a lot of buzz about the 9,000-plus who came to the opening of Yoko Ono's retrospective, Peace is Power, at MdbK Leipzig last month. The Japanese-American artist who many credit for "breaking up the Beatles" is generally misunderstood by the general public. That's because the Fluxus movement that Yoko Ono was part of was such a radical action against the status quo that, from many, it still evokes a "that's not art."
Fluxus was a reaction to the norm.
Yoko has said:
Fluxus is Fluxus. Fluxus is what you make of it.
In the 50s, there was an increasing standardization of what was considered good and acceptable. This led to a few artists from multiple genres fighting back in a burst of radical and experimental creativity. One of the main influences was John Cage, whom Yoko laughingly referred to as, "JC, like Jesus Christ." Humor was common in the Fluxus movement.
Cage taught a series of experimental composition classes in NYC from 1957-59, in which they created pieces focused on using chance. This meant they had the potential to be performed in an infinite number of ways. Some of the artists and musicians who became involved in Fluxus – including Jackson Mac Low, La Monte Young, George Brecht, Al Hansen, and Dick Higgins – attended Cage's classes.
Fluxus ripped stagnate art off the wall and replaced it with happenings which included video, performance, conceptual work, poetry, etc. The focus was shifted from prescribed meaning to personal interpretation or experience.
At the MdBK opening, Yoko One's Cut Piece was performed by Chinese performance artist Echo Morgan.
Cut Piece continues to be controversial; or, to my mind, successful. It has been interpreted according to context from the very beginning when she debuted it in Tokyo in 1964. Wearing her best outfit, Yoko announced that members of the audience were free to come cut a piece of her clothing and take it as a souvenir. She then sat still with a pair of scissors in front of her.
Some say Yoko Ono's Cut Piece is a response to war.
On the Bates College Museum of Art website, Meg DiRuggiero writes, "There has been analysis done that imagines this piece is a protest against war, particularly the atomic bombing of Hiroshima. The way Ono's clothing is cut and torn replicates the clothing of the people of Japan after the bomb fell." Others have likened it to a John Cage score.
If you watch various performances of Cut Piece, you will find similar patterns arise. Several such patterns happened in Leipzig. I gasped when one woman took a huge chunk out of the fabric covering the Chinese artist's breast. It felt aggressive. Another moment was when the man who cut off her bra swung it in the air like some sort of trophy. This is when two local artists broke in line to cover Echo Morgan with scarves.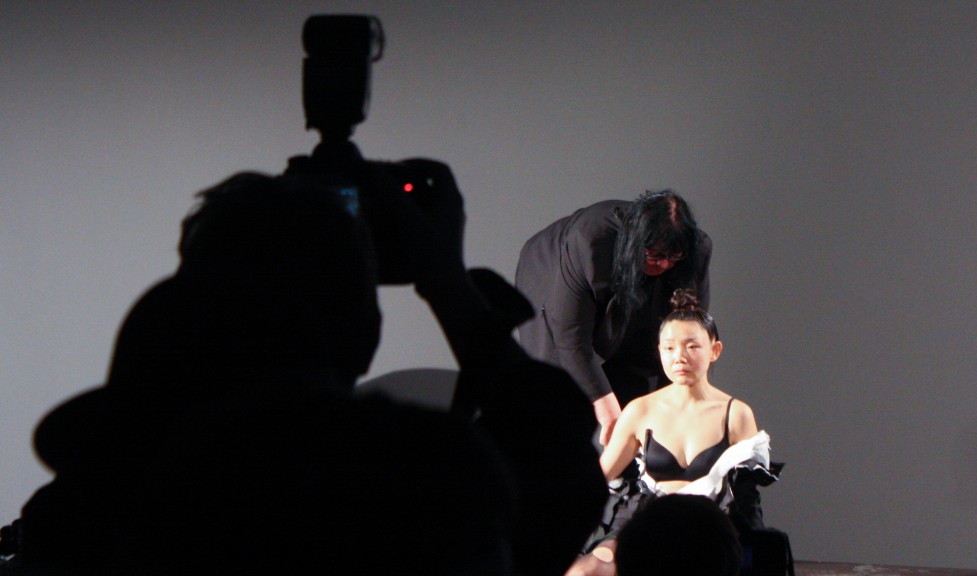 Which brings us to another very popular meaning ascribed to Cut Piece – that it talks about the role of women in the art world. They have  historically been the painted rather than the painters and, in most cases, painted in the nude.
The artists who covered Echo were taking it a step further. They were commenting on institutional sexism in the art world. LVZ commented about the show being opened by four men and said they thought MdbK had missed a chance to make a statement by using a male to do the performance.
It was partly inspired by Buddha and his giving himself to a hungry tigress, and partly by the fact that her experience as a woman has been that people take more than she wants to give. The piece dictates that it is over when the artist decides, which actually gave her more power than she felt she had in real life.
The performer's power was also evident in Leipzig, when Echo removed the scarves that had been placed on her. I am sure she was responding to the fact that people stopped cutting afterwards. She was the one who decided when the performance was over.
Yoko has performed the piece six times. She remarks that the piece notably changed from location to location. The first performance in Tokyo was very sedate (a later Japanese performance had a man hold the scissors as though he were going to stab her), while the one in London was more interactive and went much faster. She credits the lively art scene in London at the time for that.
But the beauty of the piece is that it can be interpreted over and over again.
It is left to the viewer and participant to take what they need. I felt the tension in the room. People looked on with anticipation. Necks were craned. People popped up and down like meerkats. Some participated. Others said they wouldn't be part of it because they had "decency." I even knew some who left the space in protest. This work is truly timeless and universal.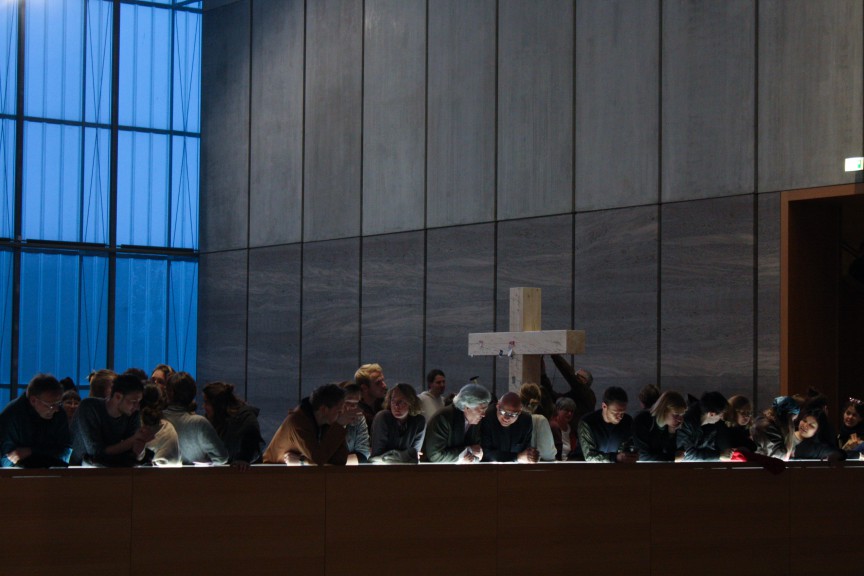 "I've experienced racism, sexism and, now, ageism."
Of course I was among the disappointed that Yoko was not at the opening. That was until I got there and saw 9,000 visitors. While there, I thought it would be too much for a woman in her 80s to have all those people wanting to see you. To be honest, I didn't even get through the entire building. I was overwhelmed and opted for food at some point.
Despite all the wonderful works on display, LVZ chose "Werkschau in Leipzig ohne Yoko Ono eröffnet" (Leipzig exhibition opened without Yoko Ono) for their headline. Surely, that was not the most important part of the evening.
Yoko may not have been at the opening, but she is in every room, and I have it from museum sources that she had a say in every piece that is there.
The retrospective is definitely worth experiencing. When I was there on a weekday recently, I saw people interacting. Teens were gluing together broken tea cups and saucers and excitedly stamping peace on parts of maps. Preteens were asking questions. Adults of all ages were enthralled.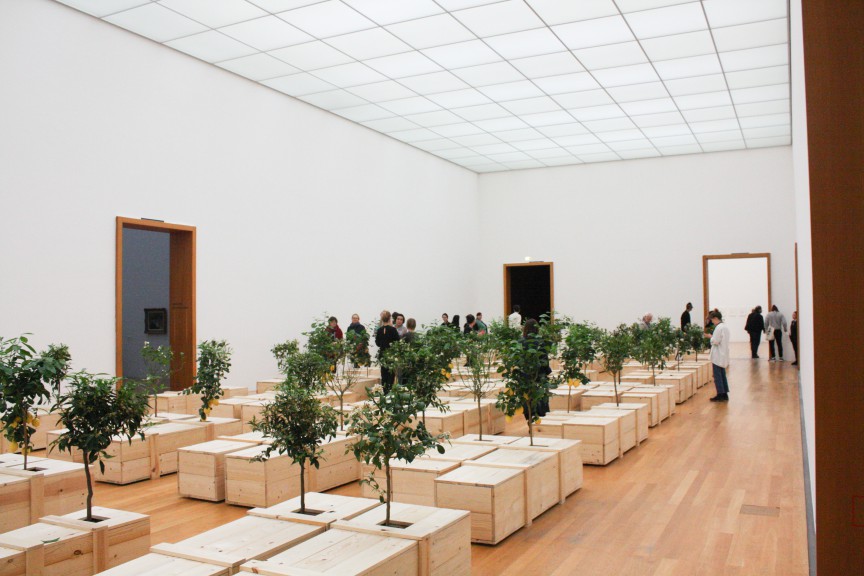 The hardest room for me to leave was the one where Exit is installed. Yoko explains: "There may be death, but then there's always life growing from it."
Exit is on the third floor, where natural light can be had. It consists of 100 trees growing from coffins. The trees are lemons, oranges and jasmine. The fragrance hypnotized me the moment I walked in the room. I felt calm immediately.
There is an overwhelming feeling of peace and tranquility, despite the coffins which are made of crate-like materials. They come in three sizes: man, woman and child. Do they represent natural disaster, war or the transient nature of life itself?
None of us will escape death.
The growth from death is especially poignant to me, as I enter the second year from my sister's death, and as personal loss grows into the collective as Brexit looms for many of us and the world votes on leaders who seem unfathomable. It is a reminder that this time will pass and something better will replace it. That comfort gives us a place of recharging while we plan our next action.
https://www.youtube.com/watch?v=8f5SbaMMI7U
"Art can benefit… and change the world." – Yoko Ono
---
Museum der bildenden Künste Leipzig (MdbK)
4 April – 7 July 2019