Imagine yourself, sitting, patiently waiting for your food to be placed in front of you. Knowing that the food will be coming out of the kitchen shortly, you lick your lips in anticipation. The server speedily walks over to you, carrying the hot, steaming, sizzling bowl.
This image that you've just been asked to picture is for a Korean dish called bibimbap.
I first came across this dish when visiting a cafe in Canada owned by Koreans. They had a couple of Korean desserts and a beef or tofu option of bibimbap for lunch. The dish was already prepared and therefore wasn't in the stone bowl that it is traditionally served in.
Bibimbap is a traditional Korean rice dish cooked with mixed vegetables and topped with a fried egg. It could also be described as a bowl filled with a rainbow of colours.
I happily learned to use chopsticks to scoop up the bits of sticky rice with the medley of mixed vegetables and protein. You might find eating this dish a little easier if you can use chopsticks, because it's served in a bowl. You can shovel the food into the side of the bowl to help scoop momentum to get it into your mouth and enjoy all the flavours.
It all begins with rice.
Following this you have a vast variety of vegetables to choose from. I've become accustomed to having cucumber, shredded carrot, bean sprouts, maybe some mushrooms, and spinach. You then have a choice of beef, pork, kimchi, tofu, fish, or seafood. A freshly fried egg placed on the bowl is the metaphorical cherry on top of this dish. It might be served with some fermented treat, soy sauce, or other sauces.
Leipzig has two Korean restaurants that I've found thus far – and was I glad that I did! Leipzig has a large Vietnamese population, which makes pho and crispy duck easy to find at reasonable prices. However, I haven't found many of the other Asian cuisines (or cuisines from other parts of the world) in Leipzig that I was accustomed to in Canada.
Anyway, here we are.
Where to find bibimbap in Leipzig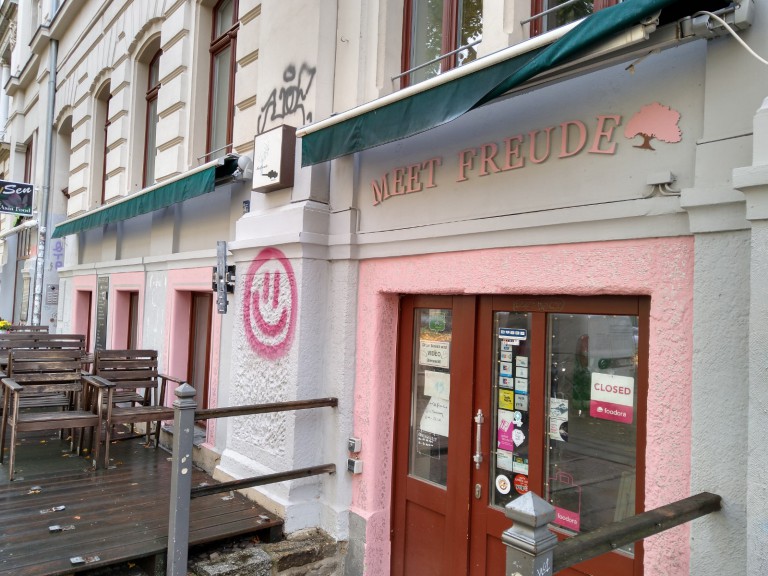 Meetfreude
Walking down Karli there's a plethora of options among cafes, bars and restaurants. Heading south you will see Meetfreude, a small Korean restaurant. In warmer weather, they have a few tables available along the sidewalk. There are a few tables inside, making reservations worth it. Of course I knew before I got there what I would eat: bibimbap. It was only a choice of which protein to have with it.
The dish has rice as the base, with different vegetables that are all steamed for different amounts of time placed evenly on top. You have a choice of four sauces at Meetfreude that are served on the side (for you to add the amount that you'd like).
In Canada, I was used to eating bibimbap with beef, so I chose that option here. I was a bit hesitant, therefore wanting to stick with an already familiar flavour. It did not disappoint. Our tummies were full, in the best sense, at the end of this meal.
Tobagi
A few weeks later I tried my luck at the other Korean restaurant I read about in Leipzig, Tobagi. This restaurant is located closer to the centre at the corner of Münzgasse, a small yet very popular street for restaurants. I'm a sucker for Google reviews; when searching to fill my craving, both restaurants appeared.
Tobagi looks even smaller from the street windows. However, once inside, if you travel downstairs, you'll find many more tables. I do not believe they have a patio though, so I recommend saving this one for cooler evenings.
The options at Tobagi are a little different, in that all the listings under bibimbap have scharf written beside. I'm not a fan of spicy food and the German scharf is about as spicy as I can handle (although I'm assured from spicy-food eaters, that this is most definitely mild). My spice-odometer hovers above one. I kindly asked the server/cook, "Bitte, nicht scharf für mich." I think he obliged (though there was still a bit of hot sauce, which I avoided).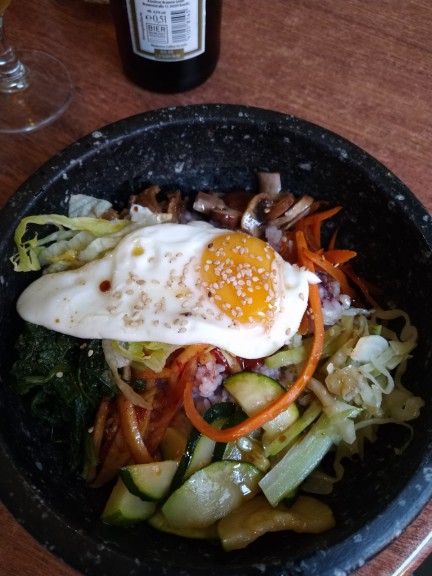 The cook at Tobagi instructed us to mix our bowls. He said that bibimbap means "to mix" in Korean. I didn't know one way or the other, and my dining partner had suggested at previous dinners that you don't mix the ingredients so that you leave some crispy rice at the bottom of the bowl. I was fine to mix my ingredients, seeing as I'm a person who likes to eat a bit of all the different foods in one bite.
It's all about the bowl.
A stone bowl is the proper dish to serve bibimbap in, and it stays hot while you're eating. (Be sure not to touch or you may burn yourself!) If you're eating with a stone bowl, leave the rice for a couple of minutes before mixing, it will pick up a light crunch. What an interesting learning experience!
To note: at both restaurants, to have the dish served hot in traditional bowls costs you an extra 1 to 2 euros. I didn't ask why, but I assume it has to do with the actual dish. Perhaps the equipment used to steam the vegetables as well. Maybe next time I'll be brave enough to inquire.
It is definitely worth it to pay extra in order to eat the dish the way it is intended to be eaten.
Thrilled that Leipzig has at least two restaurants that can fill a craving for this particular Korean dish, I look forward to continuing to explore different restaurants and dining experiences. Do you have suggestions on where else to eat? Let me know! I love hearing personal recommendations and the story behind why to try somewhere.
---
More eating in Leipzig: