Let's get real for a second here. How much do you love food? I love it, I mean, I really love eating. What can I say, I'm a glutton.
It seems safe to say that most residents of Leipzig have their own treasured neighbourhood restaurants. Since moving to Germany a couple of years ago, I've thoroughly enjoyed exploring local (international) gastronomy, such as Vietnamese restaurants within walking distance of my home.
But as far as actually going to Asia, the fact that I don't eat fish or seafood, which includes seaweed (so no, I also don't enjoy any type of sushi) had made me hesitant. I finally decided to take my chances when the opportunity presented itself for an Asian stopover while traveling to Australia in February 2020.
The trip taught me that they have SO much gastronomic variety in Vietnam that we don't necessarily get to experience when transported to the Leipzig scene. There are so many different herbs or vegetable leaves, like perilla, which I didn't know existed! It was an exploratory haven.
At the same time, it was learning about Vietnamese culture right here in Leipzig had helped pique my interest in visiting the country.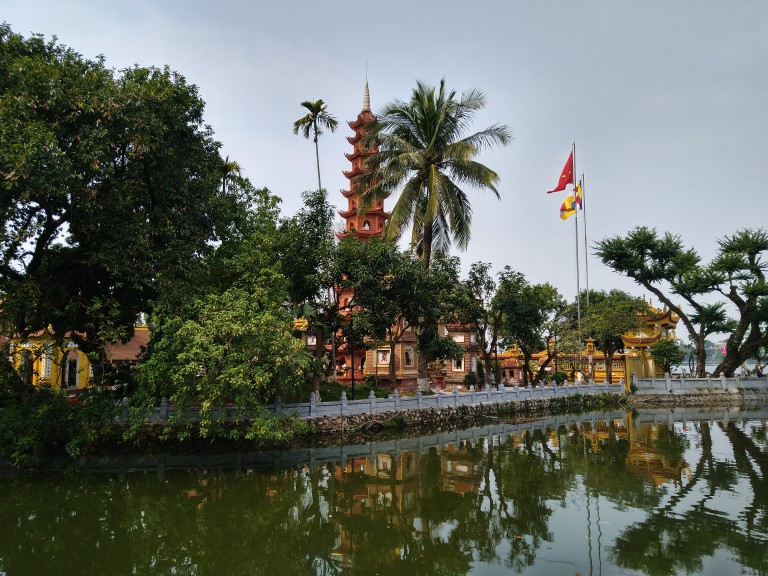 One time, a few months into living in Leipzig, I went to get some fake nails. I visited a nail salon in the city centre. (Hey, I was getting married and I wanted to sparkle – never again will I do such a thing to my body. But, if you like it, all the power to you!) I had a lovely Vietnamese man working on my nails. I believe all the staff in this salon were Vietnamese.
At the time I was taking German classes. I was particularly enjoying any conversation I could have with anyone – in German. He spoke hardly any English, so I used this time to struggle through with his kind patience and dialogue.
He told me that he moved to Germany many years ago to find a good job and to live here with his family. His teenage daughter was shyly watching from the stairs, while on her phone. He told me that he likes Leipzig, that his family has a good life and his daughter has a good education here. It was so interesting for me to hear his story.
Fast forward:
About a year later I'm taking an Integrationskurs at VHS (Volkshochschule Leipzig). In this class, we learned about the populations of Gastarbeiter who came to East Germany. In the 1960s, other Socialist or Communist nations had partnerships, and many people from Vietnam, Cuba, and Mozambique came to the GDR (German Democratic Republic) during this time for work. (To a certain extent, they still do.) I had one of these 'aha' lightbulb moments – well this would certainly make sense as to why there are so many Vietnamese restaurants in Leipzig. It was a curiosity to me.
Seeing pictures of a few good friends who visited Vietnam in the last several years further made me interested to visit. When looking through countries to connect through from Germany on our way to Australia, Vietnam showed a direct flight from Frankfurt. Ladies and gents, we have a winner! Frankfurt direct to the capital, Hanoi, for about 9.5 hours in a Vietnam Airlines aircraft, here we come!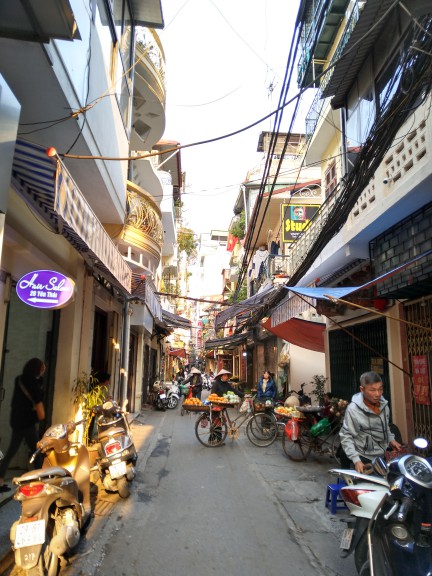 So let's get to the real reason you want to read this article: 5 days of eating in Hanoi!
I need to begin this section by saying, I was completely mesmerized by Hanoi. Having had the opportunity to visit a unique and robust culture like this keeps me beaming as I relive these memories.
A Vietnamese friend here in Leipzig suggested that we definitely should try coconut coffee. Ok, we'll add that to the list. I also did some "research" by watching CNN's Parts Unknown with Anthony Bourdain and his 2016 episode in Hanoi, Vietnam. As I do with all of my travel planning, I wrote a list of restaurants to eat at and a selection of sights to visit. I also did my best at practicing "xin chào" and "cảm ơn". Gee, when I thought speaking another language was challenging: self, meet Vietnamese pronunciation. I attempted several other basic phrases, but they didn't go as well.
Ready with my travel notebook, a few thousand Dong, sleep deprivation, and excitement, we went out to the streets of Hanoi. I would recommend staying in the Old Quarter as it's a central neighbourhood, with many people who can speak some or good English, and lots to see and eat. I break down the next part into a few favourite foods and the location for each, followed by where to get the best egg coffee and coconut coffee.
As anyone who's been to Hanoi will tell you – beware of counterfeits (fakes). And be sure you're going to the RIGHT location, or else you might be disappointed in the food.
There's tonnes of places with similar names or the exact same name. In Hanoi, food places are basically all a focus on ONE dish, whatever it may be. You go there, maybe have an accompanying spring roll, order the bowl with a drink, and that's what you get. It's simple and excellent. Sometimes at a restaurant I'm overwhelmed by what the menu has to offer – not there, you get what you go for.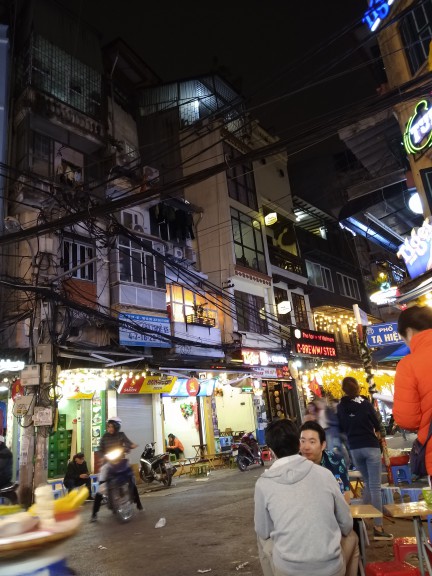 Trust me, these places on the list here are the total opposite of disappointing. Again, these are some of my favourites, but there are many, many more places to explore! If you're up for it, visit the Beer Corner at night for some hilarious people watching and 20-cent beers.
Bun cha is a broth dish with grilled pork cooked in a few different ways. I think much of Northern Vietnamese food is based on a broth. Interestingly, bun cha is a fish-sauce-based dish, and I was very hesitant to try it due to this reason. I can happily report that there's no fish taste at all! (Unless you add in extra fish sauce when you're flavouring your dish.)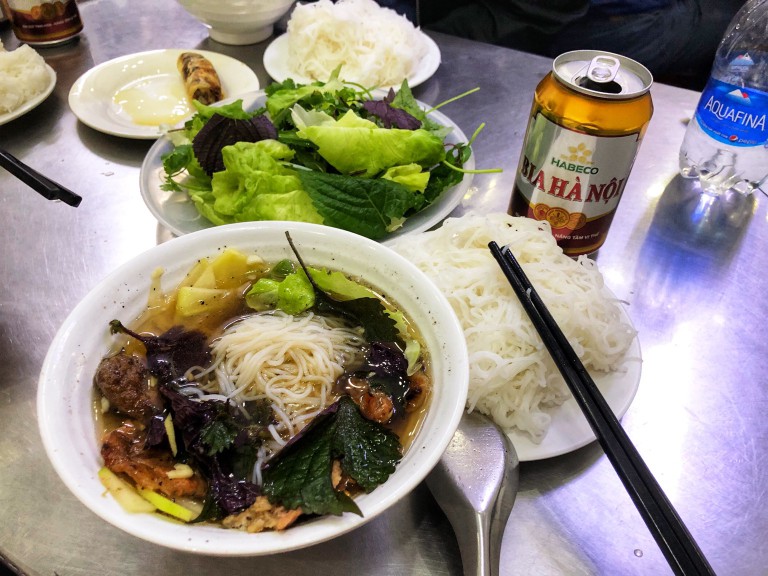 The broth comes with the grilled pork as well as some herbs. On the side, you have a plate of cold vermicelli (rice) noodles and fresh lettuce leaves. Then, using your chopsticks, you put in however much of the noodles and lettuce you want while you're eating.
This restaurant is especially famous because Anthony Bourdain took then-US President Barack Obama here in 2016. The place has certainly capitalized on that bump in awareness – even their hand wipes are branded saying that Obama ate here.
They have pictures of Bourdain and Obama eating together, and I can say it's a beautiful part of the episode where Obama talks about the future of relations between the US and Vietnam. It's also fun to watch them just dig in.
This is one of those locations to pay special attention to. There's another Bun bo nam bo place just a few doors down – this one, at 67 Hang Dieu, is the correct location to visit.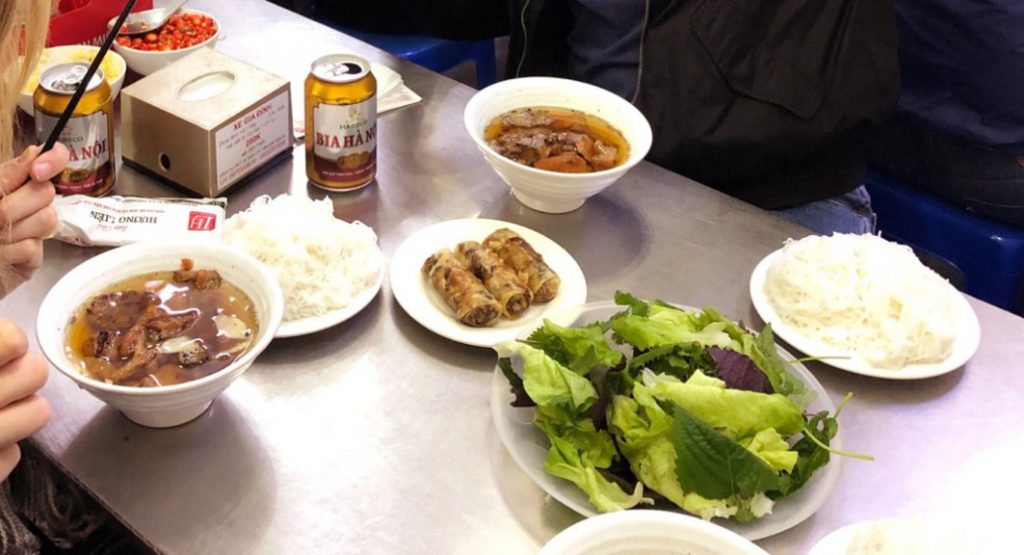 This was one of my favourites, primarily because of the roasted garlic adding a sweet, special flavour. This (light on the broth) bowl is served with roast beef slices and a mixture of fresh vegetables, bean sprouts, and a medley of lettuce.
The restaurant, like so many others, offers communal seating with low stools. Each table area has chopsticks readily available, spoons, soya sauce, some other sauce(s), fresh chopped chilis, and these little limes to squeeze into your bowl.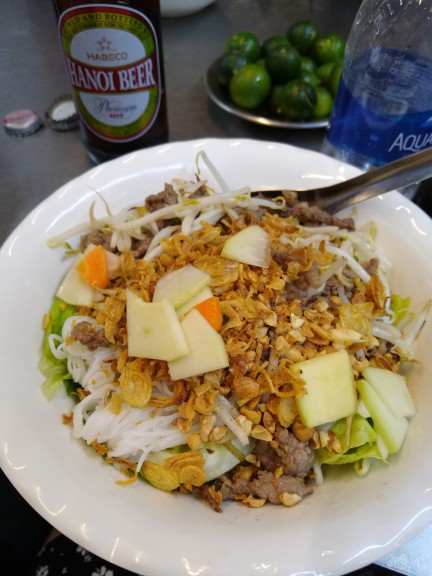 Bánh Mỳ P (12 Hàng Buồm, Hoàn Kiếm):
France has a long history with Vietnam from when they invaded in the 1860s and occupied Vietnam. While doing this, they brought bread with them. This delicious sandwich was created in the 1950s in Ho Chi Minh City (or Saigon) and was brought up to Northern Vietnam as well.
This is a super simple, and easy meal. It refers to both the name for 'bread' in Vietnamese while also a baguette sandwich. They have a variety of fillings. What I tried was a fried pork Banh Mi and a meatball one (which I preferred). You can get these sandwiches basically everywhere, it seems! And, if you're busy exploring the sights of the city, this is a great takeaway option.
Some of the lovely and exceptionally friendly staff at our hotel, The Bonsella Hotel, recommended Banh My P as a favourite in the Old Quarter. Another place to get this delicious French-inspired sandwich is Bánh Mỳ 25 (25 Hàng Cá, P, Hoàn Kiếm).
Quán Bún Dọc Mùng (18 Bát Đàn, Hàng Bồ, Hoàn Kiếm):
This little place was another one visited by Anthony Bourdain; the tip is given in the episode to not doddle with your order.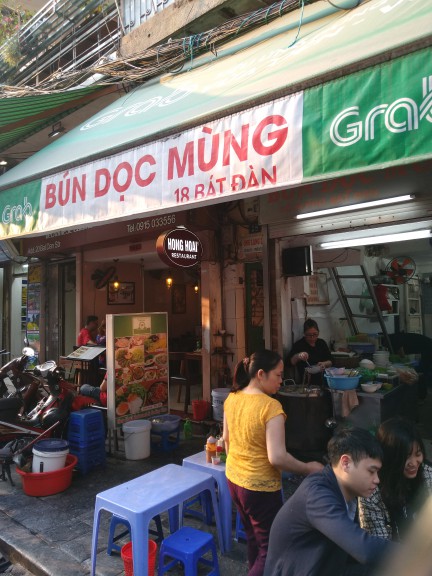 We had some laughs! We sat outside on some of the tiniest plastic stools we had been on yet with a tiny plastic table for four of us. The one woman working pointed at us and pointed at the woman cooking and held up four fingers. We nodded yes. After she spoke some very fast Vietnamese to her colleague, she looked at us again, holding up a bottle of pop. We shook our heads no. She held up water. We shook our heads no. We asked "Bia Hoi"? She held up a beer. We nodded yes and held up four fingers.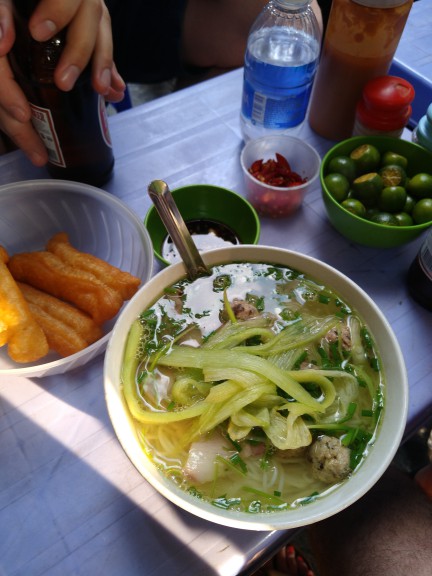 The bowls filled with pork hoc, pork meatballs, and tonnes of green taro came within a minute or two. It was another, exceptionally tasty dish! I tried to ask the woman beside us, are we supposed to pour the soya sauce with raw garlic INTO the bowls or dip the meat? She didn't understand English, but she watched my gestures and asked her (I assume) son to tell us. This nice young man instructed us to dip the meatballs in the sauce for extra flavour. Perfect!
And now for other Vietnamese delicacies…
Here's a popular drink around Hanoi. A close friend took us to Cong Caphe, across from St. Joseph's Cathedral, for a coconut coffee. I've chosen to simply provide a link for this cafe, as there are tonnes of little cafes everywhere around the city with coconut coffees to order. Cong Caphe is a chain, but their coffee did not disappoint! You can choose to get an ice coconut coffee or a hot one; both are the right decision.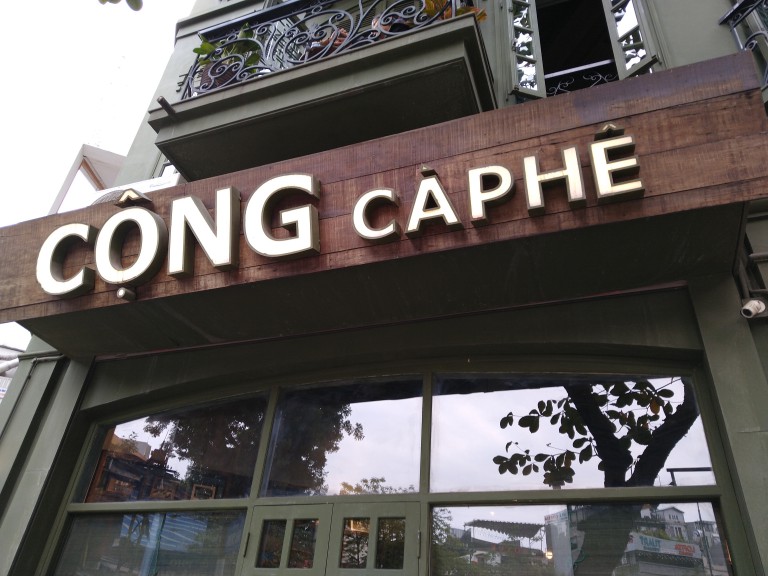 The iced looks more like a fancy drink with layers. For those of us who aren't coffee drinkers, a fresh glass of watermelon juice is a great option, and quite refreshing. It's quite pleasant to simply sit on some tiny stools, order a coconut coffee, and watch traffic breeze by.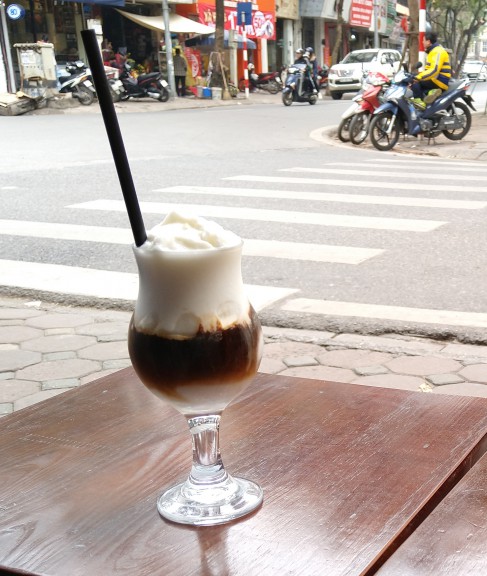 Cà phê trúng (egg coffee) is a thick, creamy beverage. The top is frothy egg seated nicely above some dense Vietnamese coffee. It sounds kind of gnarly, I know, especially as someone who does not enjoy Eggnog, but I have to say (as a non-coffee connoisseur) this is a delightful sweet treat! There are different approaches to making it and there is one cafe that takes the claim to early creations, but I think it's dependent on taste buds and what your day is like.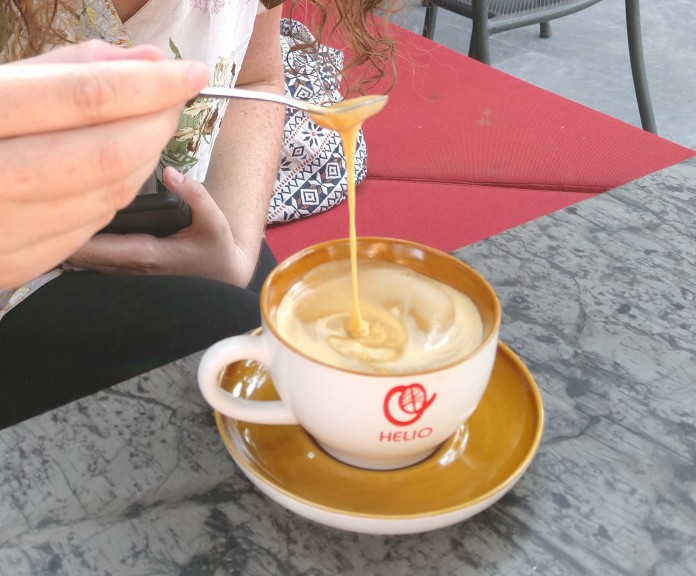 One place that was nice to stop, enjoy the scenery, and have an egg coffee (pictured here) is at the cafe in the Ho Chi Minh Mausoleum. The entrance is around 50 or 60,000 Dong (which translates to roughly 2 EUR)l it's worthwhile to explore the grounds on your own, and then stop for a goupy, sweet egg coffee!
The most pleasant egg coffee consumed on this trip was at The Red Train cafe. This is located on the infamous train street. Don't listen to the guards at the end of the street, simply waive them off and mutter how you're going to this cafe. Some regulations were put in place to stop such high volumes of tourists on this street, but have no fear, you are still allowed down it!
Enjoy your beverage from this little cafe and watch as the train comes frighteningly close on either side of the tracks of this narrow road. Ha, our wonderful server told us that theirs is the best egg coffee in the city because of a special ingredient used – check them out to find out!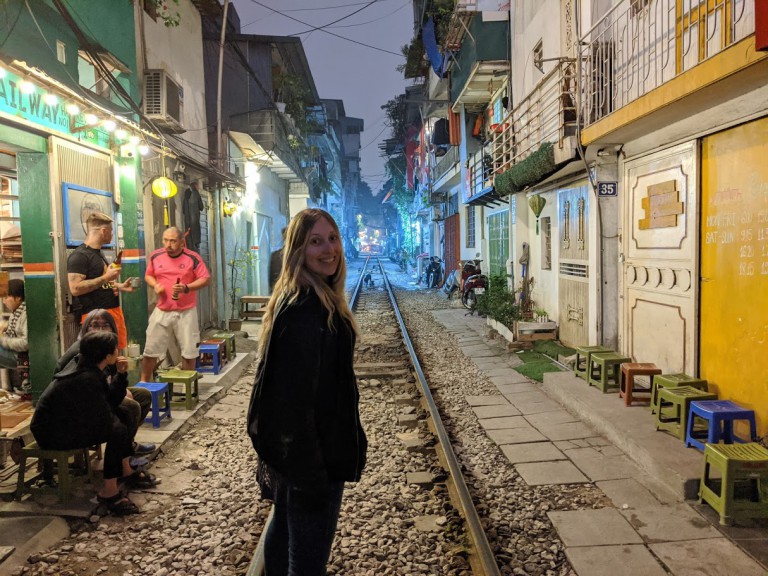 Needless to say, I loved visiting Hanoi as my first adventure into the land of Asia.
The kind and friendly demeanour of the Vietnamese people is incredible. The special dance pedestrians do with road traffic is a memory to last a lifetime. Go! Try some food, visit some sights, talk with folks about their home, and – perhaps, most importantly – enjoy yourself!