Since our LeipGlo Job Fair in Werk 2 on the 10th of November was cancelled due to the second lockdown, we came up with digital solutions to still keep internationals connected and moving forward in these tough times. The central project in this initiative is LeipGlo Matching, our new platform connecting local businesses and international-minded people on an individual level and with the kind of care and attention our community expects of a Leipzig Glocal project.
By signing up, you will be able to indicate exactly what kind of connections you are looking for, be it a new job, help getting settled in or any other services that might support you along your path here in Mitteldeutschland. We will then reach out to our wide international-minded network of employers and service providers to find the right fit for you. Sign up now for free!
---
To accompany this exciting new platform, we kicked off our Leipzig Career Hacks event series with a session on optimizing your German CV, and have a new webinar scheduled for 17 December, this one on work visas.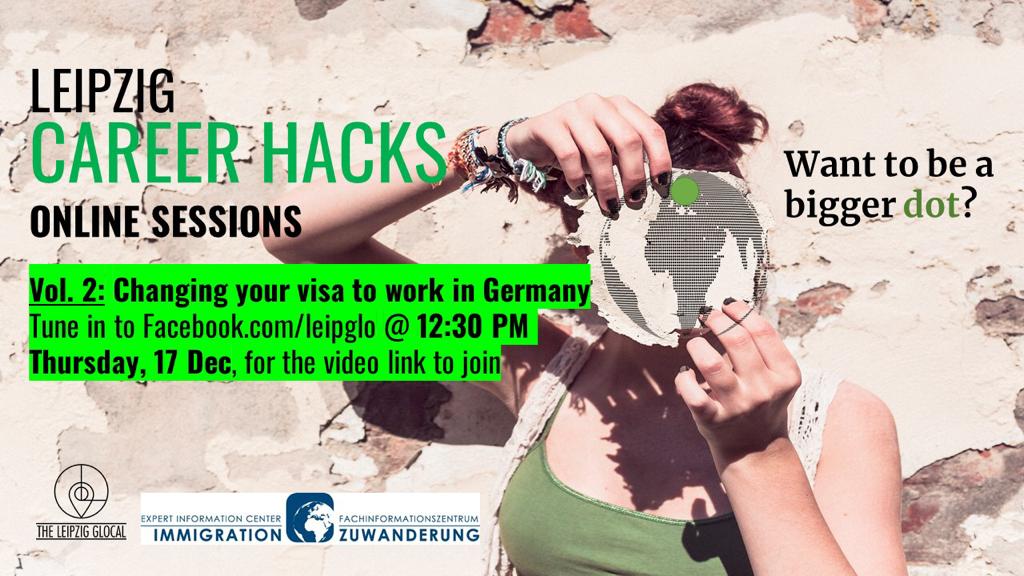 Our first session, "10 tips for a successful CV and applications in Germany," took place on 27 November and was a huge success. It brought together 30 participants, 20 of them staying the full hour and a half. They really appreciated getting personalized guidance from the presenter, expert Susanne Benko from Career Service Uni Leipzig.
Thank you Susanne, this was incredibly helpful!
Many thanks for your efforts and the event, it was very nice!
Thanks a lot for all the information! Very helpful!
CV's are always a tough subject, and one on the forefront of our minds several times per lifetime. How much of me should be in there? How lean should I keep it to make sure it actually gets read? It's a fine balance and the criteria can always shift, depending on various factors.
Often, internationals fall victim to the many European and global templates out there, which do not apply to every EU country. The rules and job application culture in Germany may differ in significant ways. Details that seem small can actually make or break someone's chances at their next job. Hence, figuring out these differences in CV cultures in relation to the country you're applying in, and having your CV and self-presentation reflect them, is a crucial part of your application.
Susanne found the perfect approach in relaying the specifics of German application processes to the webinar's participants. You can find her presentation, with all 10 tips, right below. Click through and optimize your own CV!
One of the specifics that stood out to us from her presentation is the CV photo (see Tip #7). While often seen as a standard in other countries, in Germany it is not a necessity at all. Susanne's point here is, if you have a good, professional-looking photo, you should feel free to add it to your CV. But if the photos at your disposal do not fit the criteria, if they veer into either being too personal, unprofessional or over-confident, it's best to leave out the picture altogether.
The same goes for any formatting decisions that you might feel represent you best. It's okay to choose a different font than Arial (see Tip #5) but any choice that might be construed as unprofessional or, even worse, make the CV less readable, should be reconsidered.
Susanne encouraged as much interaction as possible as she progressed through the 10 tips. To be sure, participants in the live Q&A had some intriguing questions of their own. One involved the signature at the end of the CV, which is a very typical element in German applications. It gives an air of authenticity and individual care for each submission. However, it can also be a lot of work to manually sign your name on every new application. So the best practice here is to scan your hand-written signature and digitize it for reuse.
When it was all said and done, we received nice feedback and encouragement to do more of this.
Thank you very much for holding this webinar. The information was very helpful. Thank you as well for sharing the presentation with us. I am looking forward to the upcoming webinars.
Be sure to join us for our next Leipzig Career Hacks session on work visas with Expert Information Center Immigration. We will have another specialist in the field who will answer your questions and give you a good overview. You can RSVP now, right here!
---
You asked us numerous times and we have cleared it with Susanne, so we are also happy to share her full presentation as a free download. Just click the link below to save your copy for future use.