Bats use sonar, a method of echolocation, to create sonic images of their environments. There is a current trend of teaching the blind to use echolocation in a similar way. Choreographer and dancer Sebastian Weber was intrigued when he heard about the blind being able to navigate unknown landscapes by using a series of tongue clicks. Since he was out of town at the time, he thought he'd do a little research.
He didn't close his eyes, but he tried to tune his seeing out and turn up his listening. He heard the rumble of engines, snippets of conversations, heels hitting the pavement, birds singing, coffee cups as they rejoined saucers…. Ahead he noticed a pizza place and wondered what it would sound like. Instead his sense of smell took over. All our senses combine to create our version of the world.
SWDC interconnectivity
As Sebastian continued on this sensory exploration, he came to the realization that everything feels everything. The floor adjusts as it takes on the weight of our bodies each time we step. Perhaps there is an ant making its way across a chair at precisely the moment we sit. Everything is interconnected. His new piece, currently in the research phase, is called Bats and it is about these connections.
With the world in the throws of a pandemic, our interconnectivity has become quite obvious. Maybe it all started with a bat. Maybe not. At this point, perhaps that's not the most important lesson to move forward with. Perhaps it is how we affect everything around us.
Sebastian Weber Dance Company (SWDC) is constantly addressing topics that fall under the umbrella of being connected. It currently consists of nine members, only three of whom live in Leipzig. And that is just because two have recently moved here.  Sebastian has purposely selected each member of the company to be part of the whole. Each one comes with a unique set of strengths and abilities. They may not all be able to do a fouette, but they are all damn good at tap.
"Tap dance at its most serious and intricate is far more sophisticated than ballet." Brenda Bufalino
Tap dance itself is a series of relationships. Dancers don't just move, they use their feet as percussive instruments. It is a conversation: dancer to audience, dancer to musician and dancer to dancer. 30 years ago Sebastian was attracted to this camaraderie between dancers. He knew he wanted in, so he started on his lifelong learning process.
Tap has a long and complicated history. The golden age of film raised it to great heights. In the 1920s, everybody who was anyone in Hollywood would come to the Cotton Club in Harlem to get new moves. Tap evolved with each person who embodied it. Then, in 1955 the musical Oklahoma! brought a new kind of choreography to the screen. No one was interested in tap anymore. The advent of TV made things even worse. People watched at home. Clubs and venues closed.
Tap re-emerges
By the time Sebastian came in contact with it, tap was making a comeback in a new form. Where it had once been married to jazz, it was now being fused with hip hop and even classical. Tap was not dead. It was just taking a nap. What had not disappeared was the relationship between its lovers. The 1989 PBS show, Gregory Hines' Tap Dance in America, shows the old with the new. It shows the love of tap and how it is passed on from generation to generation. You can see why Sebastian wanted to be part of it.
With total respect for those who came before, there is room to build. Just like Sebastian wanted to be part of what was happening all those years ago, SWDC members want to be part of what Sebastian is building. The company uses a variety of influences and connects them through tap.
This Saturday the company was scheduled to show FOLK FICTION at the Lofft. FOLK FICTION looks at who we are as individuals and how we fit in groups. Which groups are beneficial, benign or even destructive? How does the nature of the group affect this? Are they superficial or intimate? When does being part of a collective remove the ability to be an individual?
Becoming SWDC
Creating the piece pushed the company to its limits. "It was never planned like this, but all of us had to surpass our expectations of ourselves to dance FOLK FICTION and do something we never thought we could pull off. We almost failed. After the final rehearsals, we were all absolutely exhausted. The fact that we managed to succeed after all has made us so much stronger. Thanks to FOLK FICTION, we've really become a company. And so it turned out that dealing with collective identity actually created an identity." I really wanted to see it.
Because of COVID restrictions, there can be no audience. The plan was to livestream it. Here's where the interconnectivity kicks in. Members of the company are not allowed to travel from London and Oslo. So, what now?
Late Night Shuffle
Now we take from life and the company, like me, has apparently been watching Stephen Colbert on repeat. This Saturday we will be able to watch Late Night Shuffle livestreamed from the Lofft. I'm pretty excited! They are planning to do a series of around 4 over the next year. It will be a mix of chat and bits from their repertoire. It will be mainly in English. Yay! There should be no shortage of banter and stories with guest host opera and concert singer Carolin Masur, who has performed all over the world. We'll get some insight into the making of the SWDC pieces. There will be games. It will be funny. They will be charming. The performances will be amazing. Most of all, like the company, it will be genuine.
I believe SWDC's ability to connect with the public is because of their authenticity. The story behind the sweat is real. Sebastian is one of a handful of choreographers in Leipzig to be continuously realizing projects over the last 30 years. This hard work is being recognized and the company has recently received a three year conceptual grant from city and federal funding through Tanzpakt Reconnect. That's big! Congrats!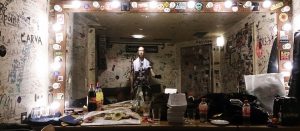 "Thought-provoking tap dance that is catchy and surprising. The Sebastian Weber Dance Company shows dance that wants to express something and tells a story. Wide awake, sweaty and nimble. Angry, tender, cheesy, silly, but never indifferent."
---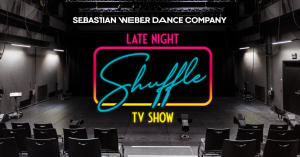 Sat 13 Feb 20:15
livestreamed from
The LOFFT
hosted by
Carolin Masur
click to stream and
choose your ticket price
15€/8€/4€