Now that the online vote for the Migrants' Council is over, we have another submission to share. Carmen Olaru is a candidate for the second pillar of the selection process. For the second pillar, there is no public vote. Instead, of all the candidates, six people are selected by the City Council directly. Anyone with a migration background and five signed supporters who are also eligible for the online vote can run for the second pillar. For more details on all the three pillars of the Migrants' Council selection process, have a look at our article Voting in Leipzig Migrants' Council selection process. Find all our articles on the Migrants' Council, including all previously interviewed candidates from the public online vote pillar here.
---
Carmen Olaru, Romania
Geographic region: Süd- und Osteuropa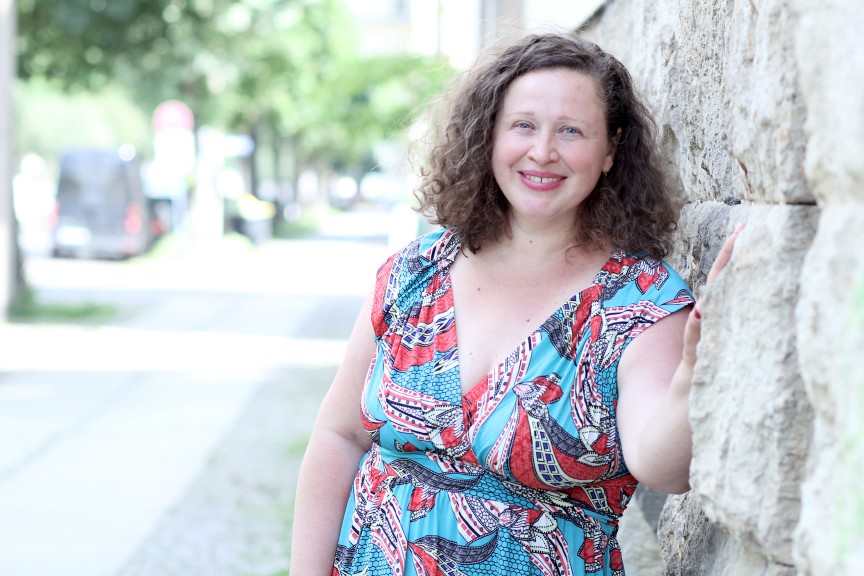 Who are you? Tell us a little bit about you.
My name is Carmen Olaru, I am 41 and I live in Leipzig with my small but very loving family and our two cats. I must admit that our experience with diversity is a vast one with deep-seeded roots in our home. Here we sometimes speak Romanian, then in no time we switch to German and the diversity doesn't stop here since even in terms of religion we also embrace different ways. There are two family members that have been baptized according to the Christian-Orthodox tradition and we also have among us a declared atheist.
We have respect for one another and we do not judge each other and I am happy to say that we all live in harmony.
Since 2013 I am an entrepreneur and together with my partner we have been running our own business in Leipzig (Fika Shop GmbH), which is a B2B service company.
When and why did you move to Leipzig?
I live in Leipzig since December 2010, so there have been more than ten years now since my arrival in Leipzig during DOK and if I recall correctly it was the festival's 2007 or 2008 edition. Leipzig was a little bit different back then from what you see now. I remember that it was autumn and that I fell in love with this city right away. I thought to myself: If this place is so amazing for me, even if it's cold and rainy, then I know for a fact that it is the place where I´d love to live. So that being said I exchanged Bucharest for Leipzig.
Why are you running for the Leipzig Migrants' Council? What are your goals?
I think I have very good reasons to be running for this job. My motivation starts with the fact that now I have more time for this kind of engagement.
I have reached a point in my life where I have my priorities straight and I can firmly say: from now on, I'll take more time to serve the community. And if I'll get this job, then this will be something permanent, maybe almost on a daily basis. I also think that a very valuable attribute of mine is that I have reached an age when I can listen better.
There is also this important thing, that if you want to help on a larger scale or a bigger amount of people in your community at once, then maybe the local administration is the right place to start.
If I am to be selected for the Leipzig Migrant Council, my goals are:
1. Enlighten and convey. There is also a common misconception about Romanians among many institutions. I know that they are seen as a big social and economic issue. I aim to help where is needed and encourage everyone to have a second look upon this group of immigrants. Not all Romanians are criminals or coming to Leipzig to make problems or are in need of social assistance.
2. Raise awareness about Romanians' talents and support them in their particular issues. Romanians are now the biggest group of immigrants in Leipzig, according to the statistics of the City Hall. They are coming in big numbers here and the majority is also deciding to stay. Romanian citizens have lots of skills but one of the problems is that they address them here mostly in their own community, which doesn't help at all with their own integration process. If they learn to speak German, then they will be able to promote themselves on a wider market, not only addressing the Romanian community. It will be a huge step ahead for the entire community.
3. Sow and nurse the feeling of being part of this city. Not only among Romanians, but among other South-East European immigrants and ultimately why not, among Germans coming from other parts of the country.
Have you been involved in politics before? If so, where and in what capacity?
I have been involved in political activity before and plan to do so even from now on. Aren't we all doing politics? Because in fact, what does it mean doing politics? In politics, participants come together in communities to serve a purpose. Nevertheless, this is a political year and we all should raise our interest towards our political scene.
Since my arrival here in Leipzig I have been constantly involved in supporting activities among foreigners, and in the beginning, even in promoting the Romanian language here to be more precise.
I started to make friends among my German-learning classmates who in turn knew other expats. My first community project consisted in me organizing "regular dates" – "die rumänisch-deutsche Stammtische" in Beyerhaus. There were people like me that wanted to learn German and were happy to meet native speakers and there were locals who were curious about the Romanian language. It all rapidly developed into very interesting conversations, free discussions without a given topic, with the goal of everyone finding themselves a partner to do their tandem lessons with.
I strongly believe we cannot expect that only the public administration should play the active role of integrating the immigrants. It is up to each and every one of us to take the social integration and participation of foreigners into our own hands.
When the wave of Syrian asylum seekers came, I immediately tried to get involved in their integration process here in Leipzig and in my research, I discovered a volunteer organization who put me in contact with two Syrian girls: Aya (6 years old) and Hala (5 years old). I was a sort of a tutor for them, a kind of "Patin" as is referred to in German. I used to organize their weekends and took them to spend time together with my family. We've had trips, visited local markets, theatre and so on.
If I am to be elected, I am also very eager to meet representatives from other parties in the Leipzig Migrants' Council, members that are open to hear, understand and solve the issues of immigrants and that are willing to support their initiatives.
What do you wish was different in Leipzig for foreigners?
I wish for them to have a shorter integration process, both from the administrative and from socioeconomic point of view. That they can quickly feel home and safe here. That they can take care by themselves of the next newcomers in Leipzig, of their families, friends or relatives.
I also wish for them to willingly engage in volunteer activities in their neighborhood in order to meet German Citizens, so they can be valuable participants in the community's life. Remaining stuck in your own tribe in Leipzig is like living your entire life only in the corridor of a beautiful house. It is uncomfortable and doesn't make any sense.
It would also be great for them to have equal chances to get a job. If they were – let's say – bankers in their homeland and come here speaking German with a foreigner's accent, it doesn't mean that they are not compatible for the job as banker in Leipzig. The competencies and not the appearances should prevail in each competition.
What is the best, worst or most memorable experience you have had as a foreigner in Leipzig? (Optional question)
I don't recall having a bad experience as a newcomer in Leipzig. I have always chosen my surroundings carefully and my first friends in Leipzig were either Germans or with me in the same German class ("Integrationkurs"). They were curious about my previous life, about my traditions, about my reason to immigrate.
The most memorable experience for me as a foreigner in Leipzig is the day I was deleted from the database of the Ausländerbehörde, meaning the day I received my German citizenship. I was so excited that I couldn't sleep the night before I got my German citizenship certificate.
Still I think I'll never get rid of the question: "But where do you come from, actually?"
---