Art is not instantaneous, nor are openings. It took a little while after restrictions lifted, but now there are vernissages all over town, pretty much every weekend. Excited people arrive early and find lines out the door, some are turned away due to capacity restrictions. Wait, did I say art exhibitions or clubs? Now is the perfect timing for Harry Hachmeister's solo show at MdbK, Von Disko zu Disko.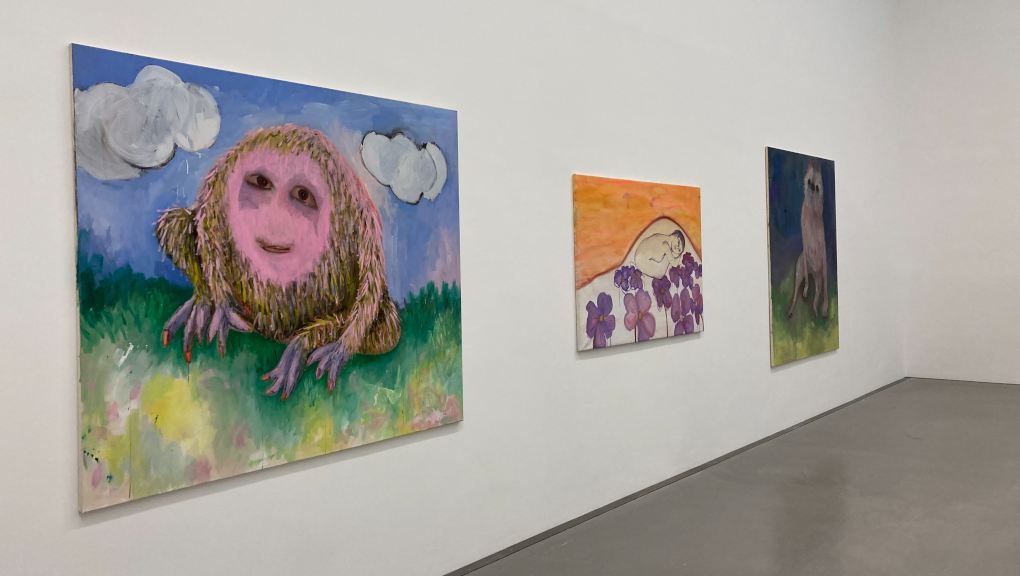 This is not your typical night out. We are at club Harry. Faces light up as guests enter to find brightly colored sculptures on the multi-tiered dance floor. The large-scale paintings on the wall resemble the party-goers. There are benches on either side for people to sit on and observe. And all around the room cats are enjoying being part of a group, while keeping a safe distance. There's even a chill-out room where people can get to know each other better.
I asked Harry, "Why the title?"
He explained that as we club hop, we are greeted with expectations from those around us. They may change depending on the venue, but they never really stop. The same can be said of gender expectations. And this is why the club in the exhibition is a construction site, complete with temporary fencing and a rubble-filled wheelbarrow. Just like lifting weights, this is a way of working your body traditionally dominated by males.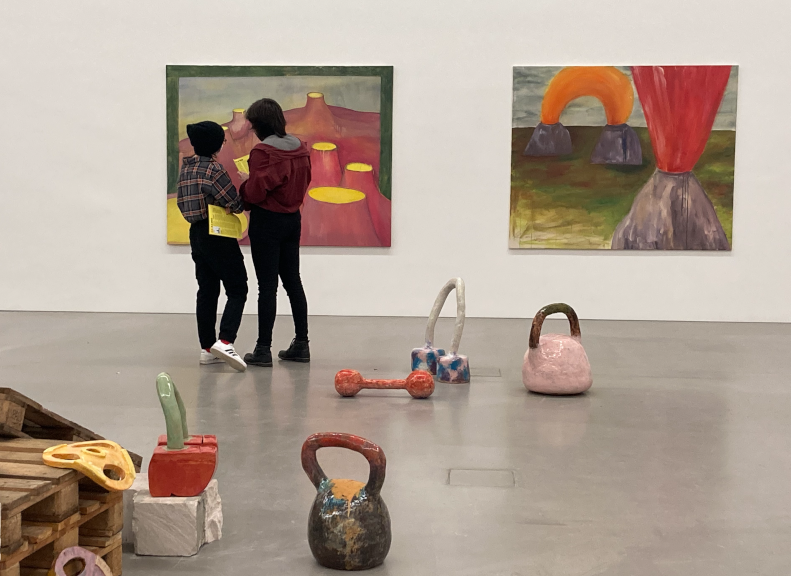 The naïve sculptures dance on cinderblocks, while the cats look on. Are they wishing they could be free of expectations and just enjoy the music? Maybe they are testing the water to see if they match up to societal standards. Meanwhile, the paintings on the wall show the volcanoes bubbling beneath the surface. Even the ones which are erupting are not free to flow naturally. They meet in the middle and cancel each other out… Or is one erupting and another taking the energy? Are they protecting society or are they hiding from it?
Why cats?
Cats are normally thought of as solitary creatures, but Harry thought they needed to socialize. Lockdown has forced us to redefine ourselves in relation to others. One would think that introverts would have been in heaven, but that wasn't necessarily the case.
Harry Hachmeister with one of the cats in the exhibition. Image by maeshelle west-davies.

"Social connections are a basic human need… Being an introvert doesn't mean you don't want to socialize at all." State psychologists, Danièle Gubler and Katja Schlegel from the University of Bern, Switzerland.
Their research showed that introverts and extroverts suffered equally during the pandemic. It's not that introverts hate people, they just have a harder time dealing with the emotions involved. That means they are also ill-equipped to deal with those that might come up in enforced isolation. They need to meet life's challenges on their own terms.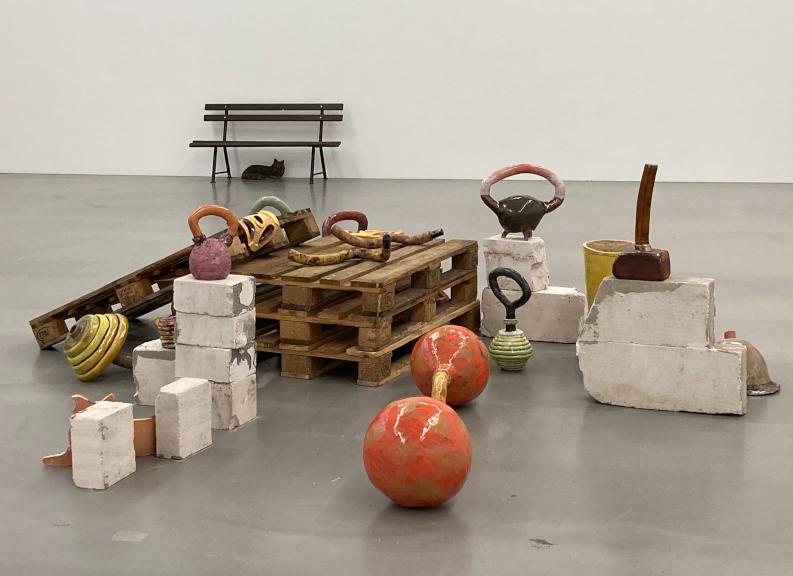 Other studies in Canada and Australia showed introverts having more difficulty in lockdown. With smaller friend circles, to begin with, many lost the connection to their support systems. Extroverts were more likely to stay in touch in any way they could. They didn't need to be face to face and took full advantage of online tools to meet remotely.
Fully visible behind glass
During the vernissage, the enclosed space to the side of the dance floor stayed pretty full. The exterior walls remain in DIY process, while the inside is filled with a revisited past. Small scale drawings hang in a standard format on purple walls, but the drawings are anything but.
The pieces are recreations of older pieces Harry has done, many of which have gone on to be included in private collections. Originally on paper, the pieces have been reproduced on glass, to be viewed from the other side. Called Hinterglasmalerei, this involves a reverse process where you start with the last stroke because everything you do after that will be behind it. So, as in any good party, the glitter comes first.
This traditional technique has long had a place in churches. The color purple is used in the clothing of the clergy. Churches are often a place of gathering and community, more than places of worship. Harry's drawings reveal intimate acts in a variety of non-conventional forms. Again, naïve is how I would characterize Von Disko zu Disko. Honest and pure, it shows a place where one can just be, a place where consent is the only expectation.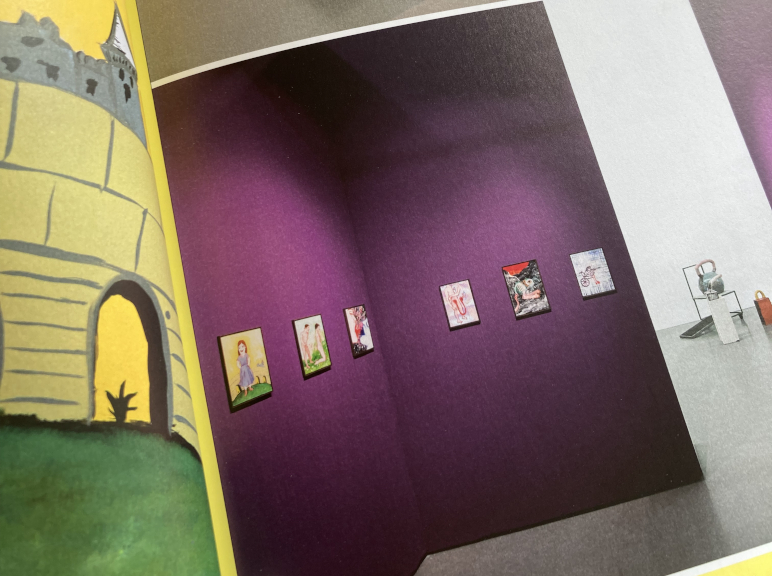 The intimacy of purple
The constrained purple of the church gives way to its physical effects on us. As described by designer and color specialist, Kate Smith, "Purple both calms and stimulates our bodies, putting us in the right place for introspection and focused insight. It fosters creativity by awakening our senses while promoting the quiet necessary to make intuitive, insightful observations. Purple creates a harmonious balance of awareness and peace." Harry and I both agreed that it's one of our favorite colors. I had a little rush of endorphins the moment I saw it, even before I saw the wonderful paintings it made pop.
Clubs are set to open soon. We will no longer have to gather in construction sites or kitchens to sweat as we release ourselves to the beat, but maybe we'll want to. I wonder how this will affect the way we see Harry Hachmeister's exhibition. Will our critical view of societal expectations give way to the rhythm?
I absolutely love this show!
---
Harry Hachmeister
Von Disko zu Disko
Mdbk
03.02.2022 – 08.05.2022