In its earlier styles, art was generally meant to represent nature. But modern art, and abstract art, in particular, has often professed to embody its operations. Thus Jackson Pollock's celebrated affirmation: "I am nature!"
Today, technological developments range from digital imaging to actual cloning of organisms. Our sense of both reality and its representation is rendered less stable and more fluid. Artists like Viktor Witkowski, whose exhibition forms part of the Tapetenwerkfest 27.0, seem to delight in this juxtaposition. Abstract art is attractive because it can be a little of each, both a representation of reality and a sample of its processes. On a more mundane note, it can be inoffensive and neutral when needed, powerful and moving at other times.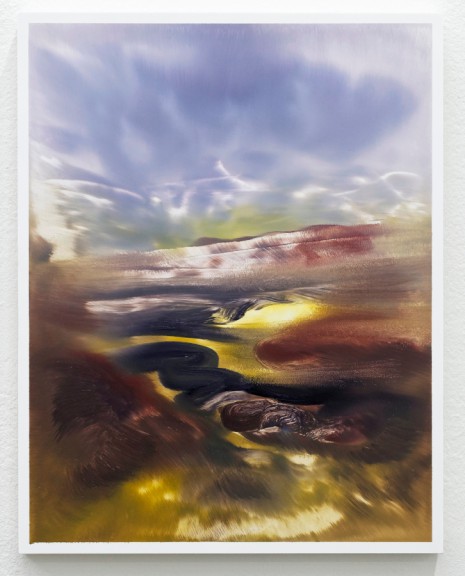 In most of Witkowski's paintings, it seems that colour is the primary means for sparking the dialogue (or showdown) between artifice and nature. What usually energizes a painting is the painter's awareness of the constant struggle between the actual and the virtual.
This frolic between reality and artifice has always been the artist's focus. And Witkowski's focus is on point.
My first impression was that it is merely a presentation of colourful abstract art. The artist conjures translucent organic forms from free-flowing paint. As a result, his fluent compositions are both harmonious and conflicted. They sway in a skirmish of arresting tints and graceful encounters. The elegant blots of chance celebrate the bewitching essence of nature. At the same time, the untamed bright shadows allow us to revel in their vivid flow. While these images have been created by a physical presence, they remain wonderfully raw and radiant.
A second look, however, brought up impressions, shadows, and hints of other things. Almost like a half-remembered dream loitering at the edge of consciousness. The more you look at each piece, the more possibilities you see, as the colours and shapes lead you around each canvas. Pulling back to see the whole picture is possible, but inevitably you are drawn back in for another look. Another plunge into the unknown and unknowable.
This exhibition focuses on the subject of landscape and questions of representing it.
How can 'landscape' be represented? What are its options via painting, how concrete or how abstract can one depict landscapes? Even though they can be enjoyed as simple artistic explorations, these semi-abstract landscapes carry some darker, more disturbing, and even violent undertones.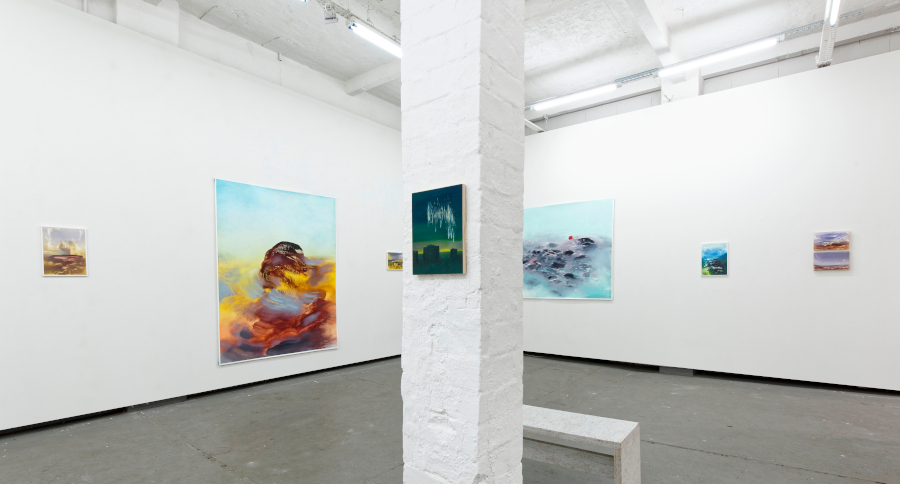 Viktor Witkowski is a painter and filmmaker. He was born in Poland and grew up in Germany, where he completed his First State Examination at the Hochschule für Bildende Künste and the TU Braunschweig in 2006. That same year, he emigrated to the US and earned an MFA in Liberal Arts from Rutgers University in New Jersey in 2010. He currently divides his time between Vermont (US) and Leipzig. When not painting or working on films, he lectures in liberal arts at Dartmouth College in Hanover, New Hampshire.
Witkowski explores the points of contact between abstract and figurative representation.
His series of abstract landscapes is titled "O.T." (from the German, "Ohne Titel" – without titles). It begs the question of how to represent nature and landscape in the face of a looming climate catastrophe. Forms and colours flow together and break apart, fooling the eye into touching the heart and mind. Definitely landscapes, but then again, somehow not.
We were viewing the exhibition together with a fairly indifferent (and dare I say, unsympathetic) teenager and we fully expected to have to put up with whines of, "It's just shapes!" or "Can we go now?" Against all expectations, she seemed fascinated by the depth of personal interpretation needed to appreciate them and we talked for a good long while about each piece.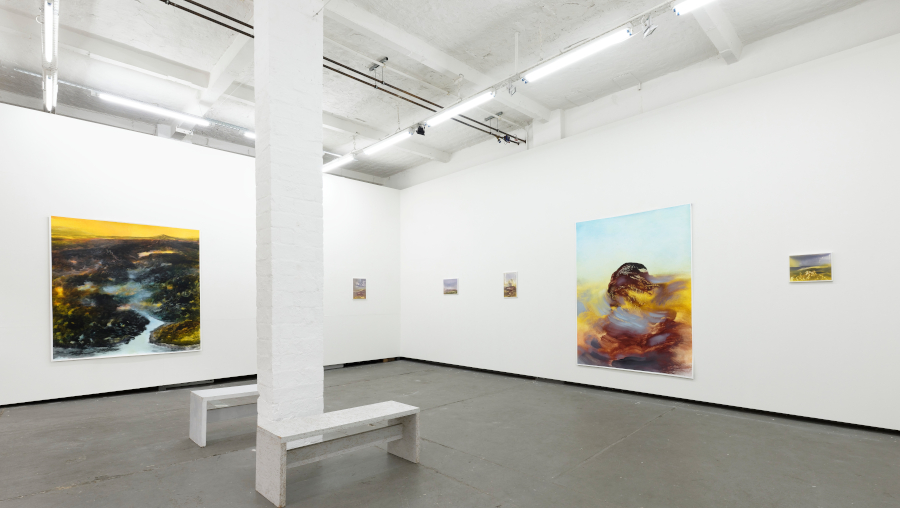 Coming at the tail-end of two unnerving years, this exhibition serves as more than just something to look at. It is during periods like the current pandemic that we are forced to reflect on many things. Witkowski's exhibition certainly encourages introspection on a variety of levels. Traveling to see different landscapes remains difficult right now. Thus it is fitting that this exhibition gives us an opportunity to journey in a different way. Abstract art such as this can stir a rousing of spirit and positive energy because it encourages us to see beyond the physical. To welcome new methods of introspection.
In an uncertain world, valuable solutions can often come from within.
Whilst the work remains personal in terms of inner explorations, it is the freedom summoned by this journey that encourages us to extend our own sense of liberty. Functioning as part of a wider, richly varied smörgåsbord of images which is the Tapetenwerkfest 27.0, it is definitely worth a visit. And perhaps even the laying out of some cash to take one of these extraordinary works home with you.