If you've ever been told that you're too loud, too opinionated, too nosy, too self-aware, too sexy, too friendly, too ambitious, or too much of anything, you'll know how hard it can sometimes be to love yourself as you are. Anshita Koul is bringing her solo stand-up show Little Too Much to Leipzig on Monday, February 13th, to give us just the right measure of self-confidence and self-deprecation to fight the patriarchy with humor, perspective, and deep life reflections.
Little Too Much promises to tackle daily-life issues as well as big questions with powerful, insightful punchlines and stories you won't soon forget:
It takes you on a roller coaster ride that is Anshita's life, with stories about why she thinks marriage is a pyramid scheme, why she misses her catcallers back home, why she despises the public enemy number one question 'How are you?', what happened when she came out to her friends and family as a woman with opinions on Indian reality TV shows, and much more.
Originally from India, the 36-year-old is now based in Berlin. Anshita has experience fighting the patriarchy beyond the stage: Before deciding to jump headfirst into comedy, she worked as a software engineer, having broken the code of the male-dominated field. She has also embraced her identity as a married queer woman who does not want children. Her deeply personal stories, as well as her take on societal and political topics, make Little Too Much relatable to audiences of all genders and orientations.
Her background as a software engineer makes her choice of venue in Leipzig, Basislager Coworking, fitting to perform her traveling comedy show; besides their love of startups, the space and its manager are known for their open-mindedness and support of the arts.
Anshita has taken her show on the road internationally, and despite the challenges of performing during the pandemic, she's managed to connect with audiences globally. She's a rising star in the comedy world, and it's easy to see why.
The performer's career in comedy began on the Indian reality TV show Queens of Comedy, which was available on Netflix from 2017 to 2019 (and has since been taken down, much to Anshita's relief). From there, she's gone on to perform in over 20 cities across the European Union and the UK, including the Edinburgh Fringe and Tallinn Fringe and what she describes as "the backyard of a rich Flemish man."
In 2021, Anshita was named "One to Watch" at the Funny Women Stage Awards, and a finalist in 2022. She's also the founder of Comedy Bazaar Berlin, and the co-founder of Clit Comedy Club and of Festrogen, the first women-centric comedy festival in Luxembourg.
Anshita's comedy, which she does on and offline, has gotten press in Luxembourg and Belgium and some glowing reviews on her Instagram page:
"From the get-go of seeing you enter the stage, your energy takes ownership of the room. Infectious and warm! Living as an expat in Germany for a while, the subtle witty nuances from an Indian's perspective made me feel heard and crackle in the same minute. The frontrunner gags against patriarchy come across with articulate observations that really make you think, then Woot out loud! A relatable energizer bunny with an hour long funny bone, deriving from professional personal experiences along her path of unlearning, specially in an endless pandemic is nothing short of courageous."
"Anshita's comedy can be described as slice-of-life, an Indian woman's journey growing up in a patriarchal society and needing therapy from the experience. Her content maintains a fine balance by being funny and also gently tugging at your conscience. A courageous decision considering that popular comedy – still – is dominated by slap stick/low brow content and casual sexism. The title of her maiden show – 'A little too much' is something you must have heard if you have ever tried to speak out against anything. 'Aren't you doing/talking/making a fuss about something a little too much?'"
So, if you're looking for a good laugh and a fresh take on life, catch Little Too Much by Anshita Koul, 7pm February 13th, at Basislager Coworking Leipzig. The show is in English. You save by purchasing tickets in advance on Eventbrite.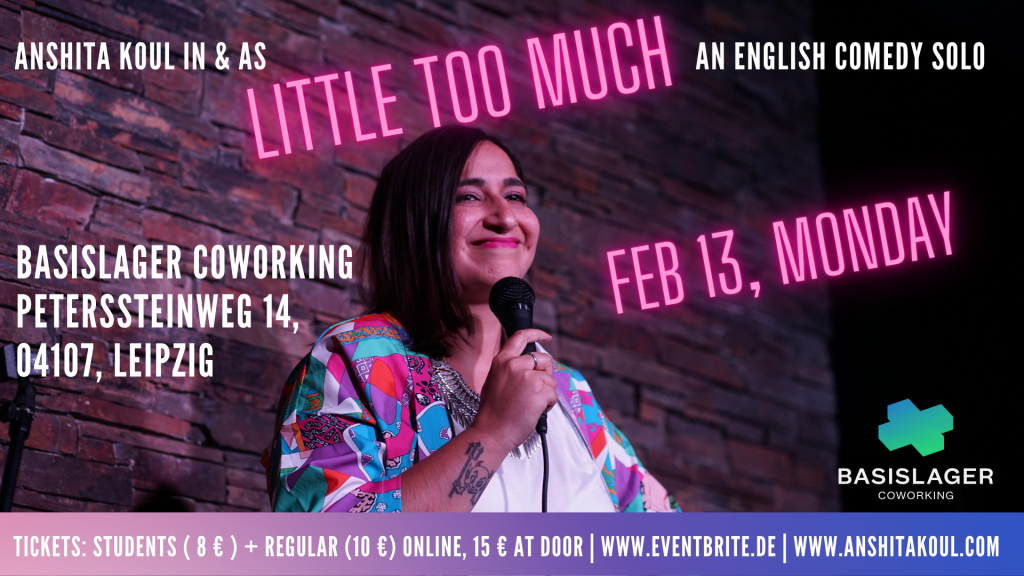 You can find more information about Anshita and her international comedy tour on her website and on Instagram. And if you do see the show, be sure to leave a review and let her know what you thought!
Check out this and more events on our Leipzig Events Calendar, and post your own for a chance to be featured here as an article like this one.