We are chasing the sunset, guzzling cheap beers. This reminds my photographer-partner-in-crime of when we chased Werner Herzog through DOK Leipzig, guzzling Lidl-bought wine and taking bites out of a block of cheese. These surreal invitations are becoming a pattern for us two down-home girls. This time, we visit one of Germany's hottest techno clubs, Institut für Zukunft (IfZ), our names on the press list for a concert and installation.
She isn't taking photos once we go in, though. They're not allowed inside the building; only outside. She only brought her smartphone camera anyway.
"I'd heard of this club even before I moved to Leipzig," she tells me. Well, so did Vice.com, before going to check it out and labeling it "the first techno club in Leipzig with a dark room." Comparisons with Berlin's iconic sex-friendly – and highly visitor-restrictive – techno club Berghain abound.
Someone fashionable I know was turned away at IfZ's door with her female posse, got miffed, and never returned. I feel underdressed as we approach the giant rundown building on An den Tierkliniken.
Despite the state of the building facade, the club's reputation led me to expect something entirely different from what its inside looks and feels like.
In a bit of a hurry, I fumble with my Swapfiets lock and tie the bike to the railing. We descend into the dimly lit bowels of an abandoned gymnasium, or is it an old factory? Actually it's the cellar of a re-purposed market hall, as I later find out, but it feels like a dungeon. You wouldn't dress like a princess to visit a modern dungeon, unless it's Xena the Warrior Princess.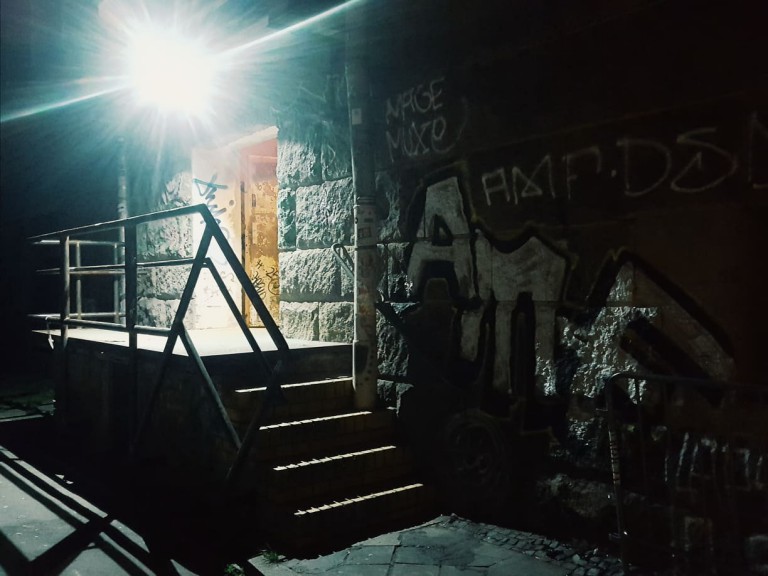 Suddenly, it all makes sense to me. I remember a fetish party I wrote about, and its restrictive door policy – in short, you gotta fit into the niche somehow. The IfZ has got its own culture too, in its now five years of existence.
Stickers pop out in the stalls of the factory-like bathroom. "Gegen Deutschland und seine Nazis," one reads. Online, the IfZ has a statement condemning racial, sexual and gender-based discrimination.
We descend further, into the main room, and plop down on a couch in the back to watch Bells Echo, the show we went there for. It seemingly aims to put you into a trance, with repetitive sounds from live instruments and artistically rendered digital images. Then it startles you as a booming sound makes the room vibrate – over and over again, at paced intervals. The steps of a stone giant?
Fittingly, a bigger version of the light and music installation is playing in the stone giant known as Völkerschlachtdenkmal, on 26 April.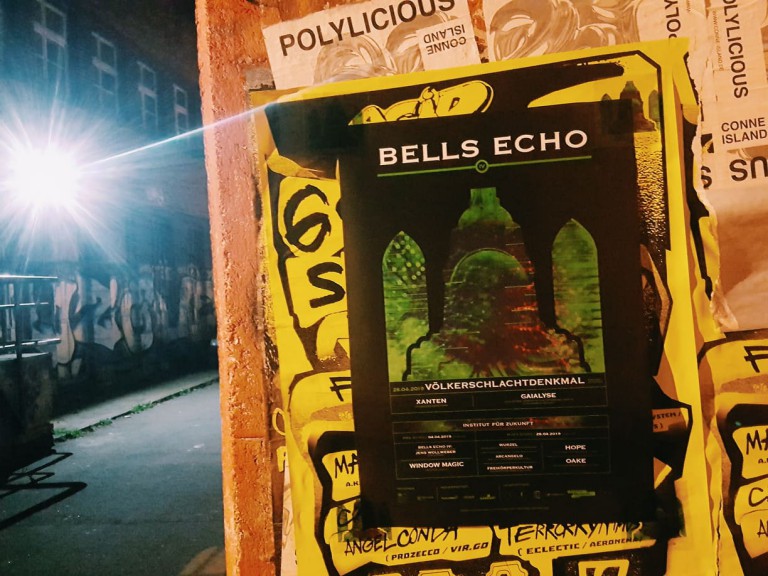 Kind of tired, we get up and hit the IfZ bar.
Its unassuming vibe pleasantly surprises me, and so do its prices: between €3 and €9. My photographer friend grabs us salty pretzel sticks from cups on the bar top. It's pretty quiet, but that's because it isn't open as a techno club at 9:30 on a Thursday evening.
"We open at midnight and normally go until 10 in the morning on the weekends," the bartender tells me in English, patiently answering each of my questions. "Sometimes we close at noon. It's mostly electronic music, though sometimes we have concerts. Usually it's pretty loud and crowded."
"What's the criteria for letting people in? I'm curious because I've heard stories," I inquire. He's wearing a light athletics jacket; in fact, no one there is dressed up. He does not mention a dress code.
"I don't know why we got this kind of rep," he assures me. "Maybe it's because of Berghain. Some who got turned away here say we're prejudiced. But we're not."
He advises:
Just don't be an asshole; be yourself. Try to get to the door early. And don't come in a big group of guys. There are too many men in clubs.
Sounds basic enough. He encourages me to return and "come to a real party."
Because the bartender is so friendly, I end up ordering two cocktails on a school night and spending €13, my dinner money. I can hear the hypnotic sounds emanating from the room where the second part of the concert is taking place. Lazy, I stay back in the bar. I try to savor the sweet liquid before the ice melts, sitting in an old theater-style seat against the wall.
Their Mojito is what really hypnotizes me. The best I've had so far in Leipzig. If you get into IfZ one of these nights, ask Stu to make you one.
Pure minty wizardry, from a guy in a tracksuit.