One would think that a country had learned from its Nazi past. Entering the 21st century, we may have thought that discrimination in Germany, on the basis of ethnicity and also race, nationality, gender, and sexual preference, had become a lot less severe. But with the far-right critters emerging from the underground and multiplying, xenophobia, sexism, racism, and derivatives are once again on the rise. This comes not only from white German heterosexuals – minorities sometimes discriminate against other minorities, or even "their own."
I met an Iraqi refugee in Leipzig who openly told my German boyfriend about disliking Turkish people. Talking to me, a Brazilian-American, the Iraqi praised President Donald Trump's executive order to ban people from certain countries from entering the US, including Iraq. He reminded me a bit of some Brazilians I knew in South Florida, who did not want to move to neighborhoods where there were "too many Latinos," fellow Brazilians included, and did not want to send their kids to public schools with "too many blacks."
It didn't surprise me much to hear a (light-skinned) Brazilian-American say she voted for far-right President Jair Bolsonaro in Brazil but not for Trump in the US. She takes issue with the fact that Trump makes it difficult for her loved ones to migrate to the US, but Bolsonaro's blatant discrimination against and disregard for minorities in Brazil did not deter her from voting for him. Why? Because her priority was for President Lula da Silva and the Workers' Party to be brought down, which she believed would turn around corruption, violence and economic recession in Brazil. In other words, minorities losing their rights would be an unfortunate (and according to her "not likely") side effect of Bolsonaro's election, but not so unfortunate as to change her vote.
The same Brazilian woman told me she'd be left-wing in Europe, because it's "easier" here. Her Brazilian husband, on the other hand, blamed a communist conspiracy for all the troubles in Brazil. A relative of theirs born, raised and living in Rio de Janeiro accused immigrants of stealing Brazilians' jobs – sound familiar? – and the poor of invading her spaces and bringing in drugs and crime. Meanwhile, she wanted to spend a month's salary going to a lavish and trendy party organized by drug lords.
People seem to adjust their discrimination based on their priorities, even if unconsciously.
In other words: What kind of "other" is it more beneficial to blame, or even dehumanize, to increase one's social standing and/or explain one's loss of job, security, loved ones? Which group membership is more profitable in a given social context? Via propaganda and fear tactics, populists are adept at channeling the discrimination people grew up around towards an enemy of choice, and bringing out the potential for hatred that lay dormant in times of greater prosperity. Hence Hitler, as the outspoken Pope Francis has noted.
Speaking at our most recent open mic in Leipzig, a Brazilian friend of mine gave the audience a small glimpse into his battle bursting out of the environment we both grew up in, laced with discrimination against anyone not fitting the mold our colonizers imposed on us. Europeanized Brazil may not have had the Holocaust, but it has had its own genocide, that of native Brazilians. Also, it received millions of African slaves, became one of the last countries to free them, and provided no transition plan for them into society. Brazil has never had a Civil Rights Movement.
We were taught we should strive to be thin-white-Christian-God-fearing heterosexuals, with everyone else relegated to a footnote or folksy caricature in our history. Becoming increasingly frustrated and hurt at the bullying we received for being different, we directed our anger towards bullying others. Simply put, it's about bringing people down – even those we consider mostly "like us" – to make ourselves look better in comparison.
It took me many years to figure out that this is an elaborate trap to make us easy to instrumentalize, to turn us against each other, to divide and conquer.
Once I decided to start going down the path of accepting myself and others, as well as their personal tastes and choices, life started becoming easier on the whole. Of course, I also had to accept the difficult fact that I myself face discrimination, and it's hard being shown on a daily basis that I don't belong; but understanding more of who I am and how society works has given me some important tools to survive and maybe even thrive.
There is no longer any need for me to pretend, or to think what the right values or actions would be for a certain social context. In any social context, the right answer is to enable everyone to be their authentic selves, and to fight against any force that prevents it, whenever we are able to.
In fighting against discrimination in Germany, I am also fighting against it in Brazil, the US, Denmark, Poland – the other places I've lived. These ripples spread, in this age of omnipresent social media.
Over the next few days in Leipzig, we have at least two opportunities to take and make a stand for ourselves and our fellow humans, also offline.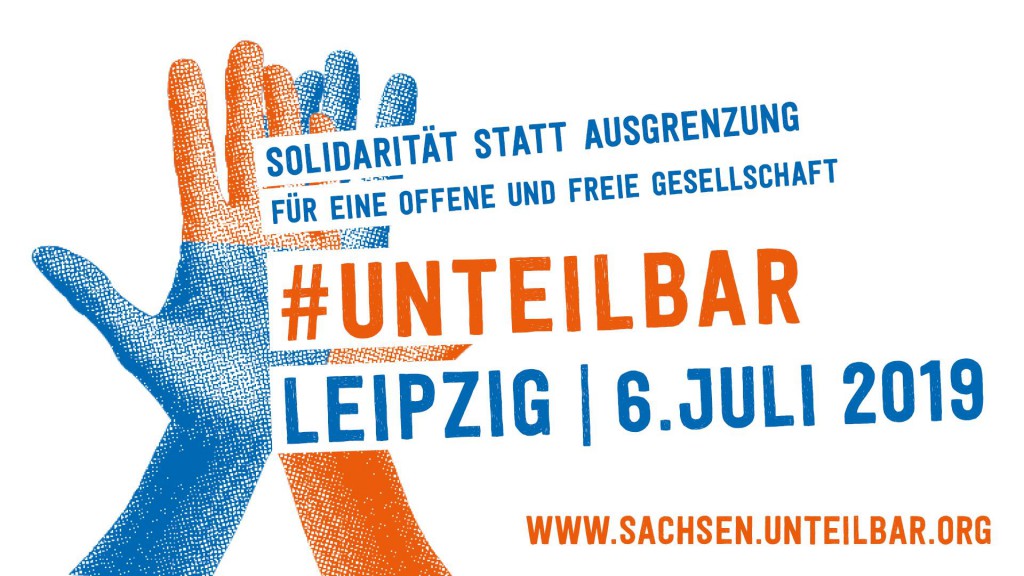 #Unteilbar Saxony
The #unteilbar-alliance in Saxony will kick off its activities with a demonstration on 6 July in Leipzig: "With this we will start the summer of solidarity," culminating with a mass protest on 24 August 2019 in Dresden.
Start: 2 PM, Windmühlenstraße, 04017 Leipzig
Finish: 9 PM, Clara-Zetkin-Park (Sachsenbrücke), 04017 Leipzig
"In 1989, the people of Saxony collectively took to the streets and marched under the banner 'For an open country with free people.' The relevance of their message continues to endure to this day. In this coming summer, the memories of those who marched before us will be remembered and relived. Together we rise up against discrimination, poverty, racism, sexism, disenfranchisement, and nationalism in all forms.
"Gross social injustice and irresponsible environmental destruction is the result of policies that put profits and growth before human lives. These very same policies are slowly legitimizing exclusion and separation – with deadly consequences not only at the borders of the EU, but far beyond. This is our fight and #unteilbar, as a civil alliance, will continue to use our progressive platform to fight all forms of hate, bigotry, and marginalization."
More information and program for Leipzig demonstration | Facebook event
---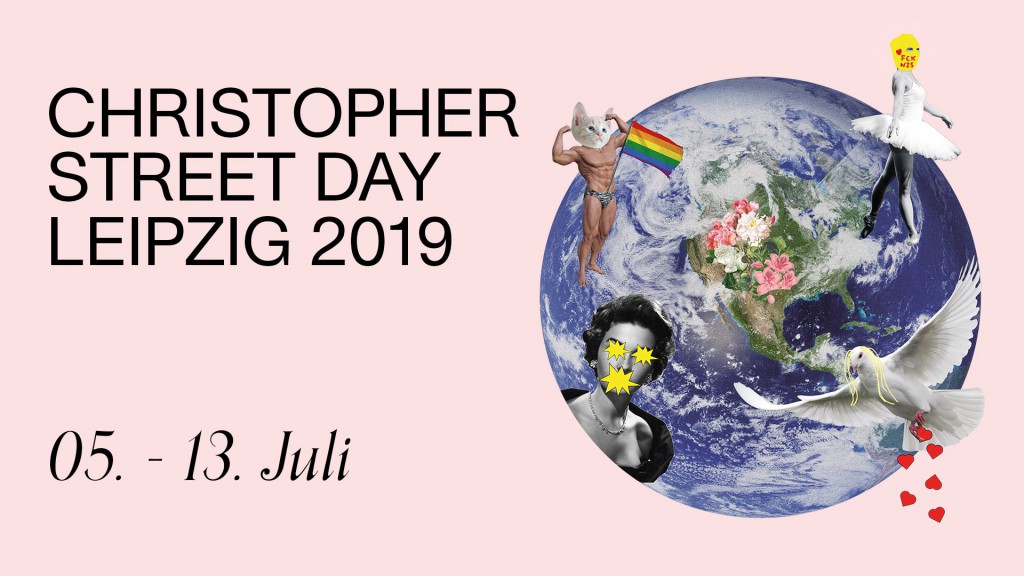 Christopher Street Day (CSD) Leipzig 2019
"CSD Leipzig is organized by an association of NPOs, initiatives, self-help groups, student councils, artists and committed private people. Relevant topics are spoken about in a… democratic manner, a common focus is agreed upon and the event week, as well as the protest march, are planned accordingly. [Among other points,] we demand that every human being, homo-bi-trans-inter-gay-hetero, can walk freely in Leipzig and anywhere else. Nobody should have to be scared of physical, psychological, verbal or structural violence!"
This year, CSD Leipzig's event week takes place from 5-13 July, and ends with the demonstration, the street festival and the Prideball on Saturday the 13th.
All events (in German) can be found in the official program. You can also visit the Facebook event for more information, and read a bit about the movement's history in this LeipGlo article.