Jesse Wragg is a Brit who has also lived in Australia, and now finds himself in Leipzig as co-founder of tech startup eCommeleon. In his 28 years of life, he has gathered a lot of practical experience internationally to get to this point.
After working in real estate in Canberra, Jesse would end up moving to Leipzig for love and to be closer to family in Europe. He would take up a sales job with a company named InterCultural Elements (ICE), whose business model is based on hiring internationals in Leipzig to translate and localize e-commerce for clients abroad.
Wragg decided not to continue his studies at the university level, in favor of working full-time and honing his professional skills. He moved up the ladder at ICE over the years and got to lead the sales department, developing a taste for running a team.
He built rapport with ICE co-founder Eduard Gerritsen, a data expert, and they eventually discovered that they could complement each other as business partners. They also shared a passion for getting to know new cultures, as Gerritsen – a Dutchman living in Leipzig for 12 years – had been part of a traveling theater troupe that introduced him to his own ICE co-founders years back. The time for his partnership with Wragg came when ICE decided that the e-commerce software it had created could and should stand on its own.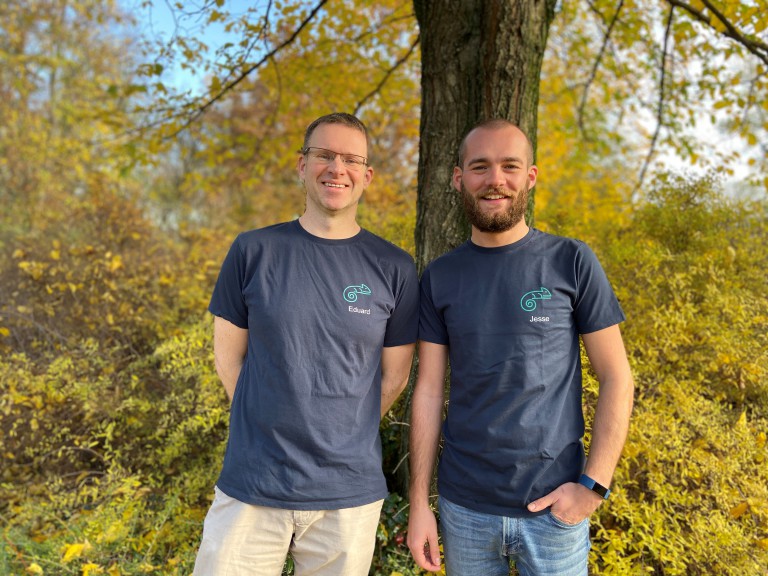 No stranger to moving into new challenges, Wragg joined Gerritsen in founding eCommeleon, the tech startup spinning off of ICE.
"The very nice part about it is that while we're a startup, we're able to channel years of experience working with ICE, which is already well-established in the industry," Wragg says. "We've raised substantial initial investment to help us to gradually scale our business to markets both in Germany and around the world."
Wragg explains that eCommeleon's system sources the parameters set by e-commerce marketplaces worldwide and delivers these to retailers looking to sell their products on different platforms. It aims to make the process of putting products online and marketing them appropriately take less time and effort, by integrating the information into one software. The e-commerce entrepreneur elaborates:
"The main functionality offered by eCommeleon is a Software as a Service (SaaS) solution for retailers who want to take greater advantage of the huge number of marketplaces available around the world. This is particularly interesting for businesses which are trying to become less reliable on Amazon for their online sales, as they'll now be able to expand into many new sales channels."
eCommeleon is also able to set up a software infrastructure for traditional retailers wanting to take their services online. Retailers are catching up to the fact that they have to adapt to 21st-century technologies and shopping habits if they want to survive.

With this much potential and ambition, the Leipzig-based startup is looking to hire quite a few people to help achieve its goals.
Currently located in Stötteritz, eCommeleon is seeking employees in the area of IT, sales and marketing. This includes different kinds of software developers, senior and junior sales representatives, as well as a working student for communications and marketing.
Wragg emphasizes that interested job-seekers do not necessarily need a university degree or to have held the same position elsewhere. Based on his own professional trajectory, he is a believer "that a strong work ethic and transferrable skills are often worth more than a piece of paper!"
---
eCommeleon is one of the exhibitors at the 3rd Leipzig Glocal Job Fair. Get your FREE TICKET HERE to have a chance to talk to them in person.