To help you follow along the artwalk and find all the stops, we created a Google Map with all locations. Have fun exploring!
---
"What comes after …" artwalk is an international exhibition in Leipzig's east looking into the possible aftermath of the pandemic, among other topics.
How could the after look like?
The small word after often seems to refer to a vague post-COVID-19 time that raises questions: Will there ever be an after? Or do we have to learn to live with this tiny virus with huge consequences? If there is an after, will it be the way it was before or will we face a different reality? Will the members of our society be equally involved in the process of recovery? How will this after feel?
Uniting international artists on a very local level
The local association interaction! Leipzig e.V. addressed this topic in their latest call for submissions. They asked artists with a focus on photography to contribute to an exhibition that can be experienced throughout a whole district of Leipzig.
The neat network of side streets around Eisenbahnstraße in Leipzig Neustadt is a neighborhood with an ambiguous image: Some say it's very dangerous, some even exaggerate by calling Eisenbahnstraße the "worst street of Germany". Others feel it's the only true multicultural area of Leipzig. Filled with art hubs, cultural centers, oriental delis, creative cafes and well-equipped Spätis, it is THE perfect place to go exploring for photos and to stop along the way for refreshments.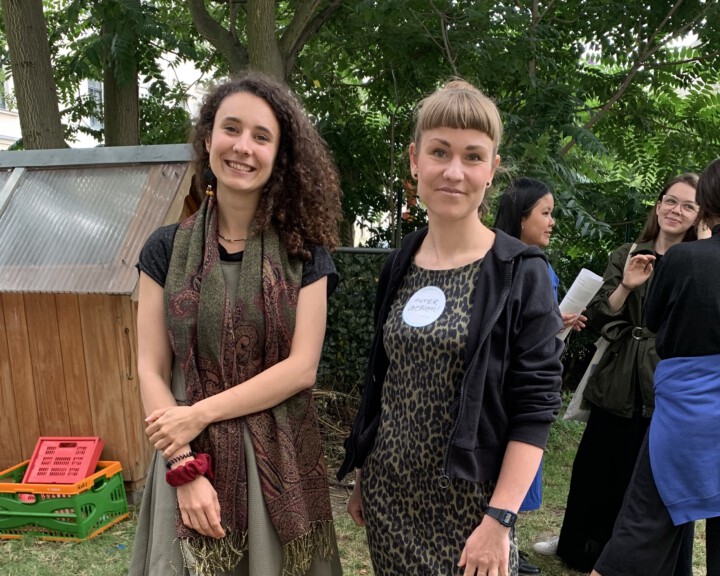 A lot of time and space for every photo
More than 100 artists from near and far answered interaction!'s call for submissions. As a result, their team had to carefully select the photos and concepts, and finally chose 12 artists and one artist collective. They each show very unique impressions in 10 different window galleries. Therefore, the whole exhibition takes place outdoors, opening up the space to a lot more people than in the enclosed space of a gallery.
From quiet and peaceful to the hustle and bustle of Eisenbahnstraße
We join the artwalk on a Friday evening. The walk starts at the culture and neighborhood center Pöge-Haus e.V., under the peaceful red brick Heilig-Kreuz church on the corner of Meißner and Hedwigstraße. The opening night is booked out – it garnered a lot of interest, and COVID-19 precautions limit the group to a maximum.
It is a very happy reunion, many familiar and new faces mix (with social distancing outdoors in the garden!) and make it a very enjoyable get-together. ANALOG Bar in Pöge-Haus has cold drinks ready to prep us for the evening walk. We split into two groups to make sure there will be enough space between us. Some of the artists are able to join us and introduce the ideas behind their photos. The exhibition places are all very unique and seem to complement the photographers' work – a sign of the excellent curation by the interaction! team.
The diversity of the artists is reflected in the carefully selected shop windows and the surrounding area.
From busy Pöge-Haus, we walk to the calmer IDEAL project space and over to Bürgerverein Neustädter Markt e.V. behind the church. At Gumbo, owner Luca offers frozen Ayran topped with sumac flakes and a pinch of salt.
The noises and sounds keep increasing the closer we get to Eisenbahnstraße. On the corner of Galerie Hotel Leipziger Hof, a Späti, an ice cream shop and a pizzeria make up such a great mix of characters and impressions. It's mesmerizing.
Other exhibition spots of the artwalk include senior citizen neighborhood center Südost Inge and Walter (they offer speed dating for the auld folks, how cool!), SherLOCKrooms, Yellow Table Media, Vleischerei  and KunstWerk Leipzig.
---
The artists:
Artists involved are Vijay Patel, Alicia Franzke, Kihwa Lee, Celine Diaz, Jana Ritchie, Magdalena Kallenberger, Malwine Farwig, artist collective Hauspoststille, Daniel Adlmüller, Raisan Hameed, Livia Hanson, Agata Guevara and Matthias Hoch.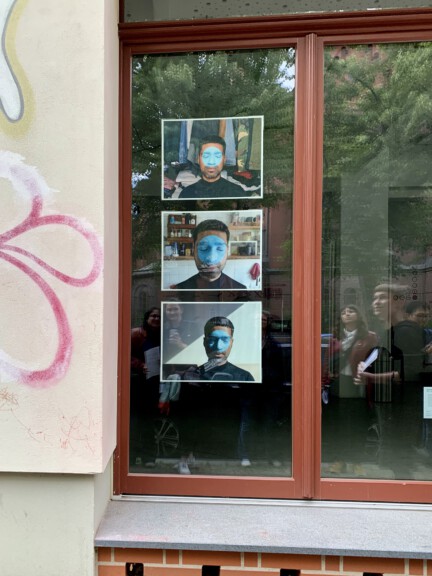 Pandemic stories as unique as the locations
Vijay Patel shows the connection of his home in Porto and his Indian heritage with "Blue."
The only video selected for this exhibition, "stigma" by Alicia Franzke, deals with the issue of binary classifications.
Kihwa Lee asks about an after in the context of death in "Return." In his native language, Korean, one word describes both "return" and "death."
The fascinating interaction of the dark and rugged rocks of Gran Canaria and soft plants and bodies stick out in Celine Diaz's "Agua y Sal."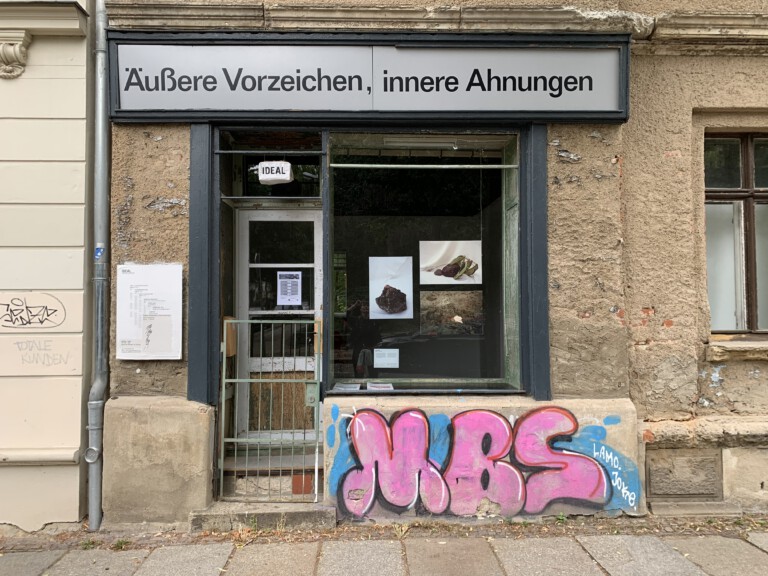 Jana Ritchie calls the portraits of her own family "The Ritchie series." There are only women in these photos. One sister is missing, having recently broken off contact with the others. It remains to be seen whether she will join them again.

Artist Magdalena Kallenberger is literally "Crawling (Up) the Walls" against a discriminatory society also in times of the pandemic. Piles of cucumbers, raw sausages and eggs seem funny at first sight, but all represent phallic objects.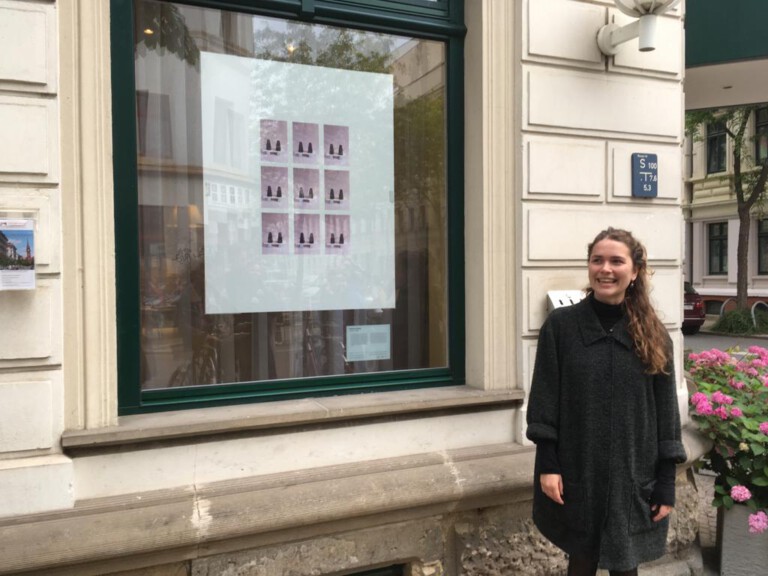 "Rosarot" theories of resonance are introduced to us by Malwine Farwig. She tries to grasp the relationship of the interaction of the subject and its surrounding world.
The artist collective "Hauptpoststille" (find them on Instagram) consists of nine Dortmund-based artists. They capture everyday moments of the COVID-19 crisis, containing the virus in still lives.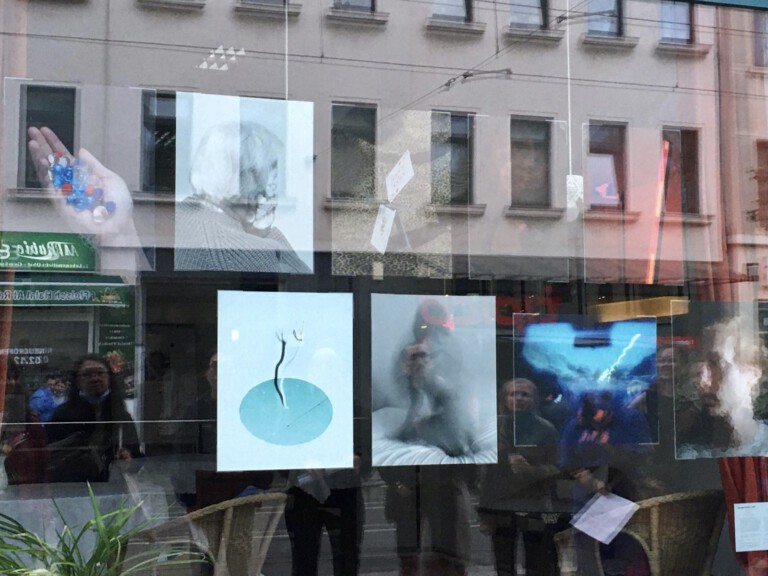 Daniel Adlmüller goes on a balancing act between Germany and the Czech Republic with questions of the before, the now and after in "Utschla/Esko," where he used to spend his childhood summers.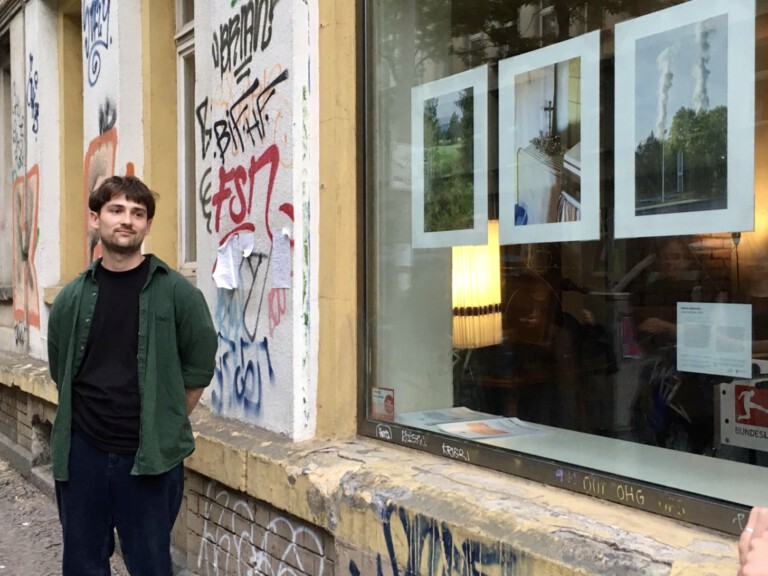 How do you describe a nine-day journey of escape from Iraq to Germany? It takes time and opportunity for it. In "Videography in the Sea/in the Forest", Raisan Hameed shows video stills from his impressions captured in 2015.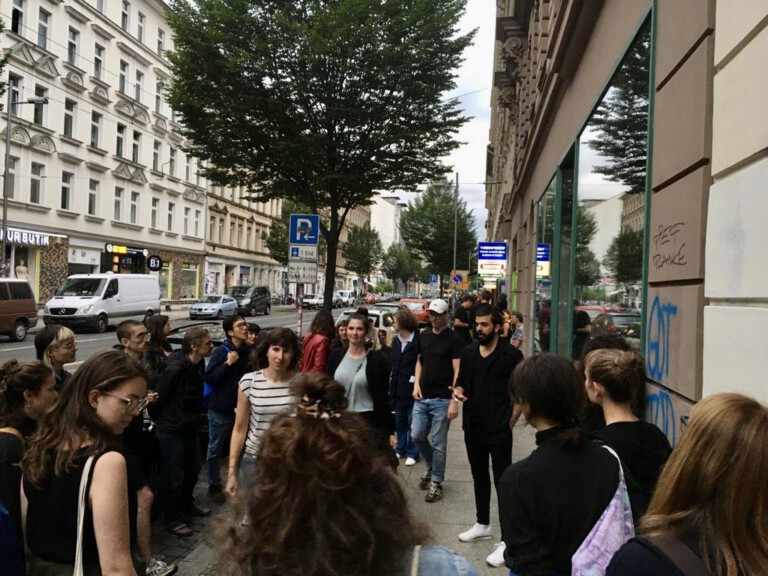 Street corner conversations
We ask a lot of questions about meanings and details. The members of our jolly group stop every now and then for an intense exchange of thoughts, the odd cigarette, and a refreshment. Because it is such a nice evening. That is why time is a bit tight in the end and we rush to the last three exhibition spots and decide to come back for a closer look another time.
Livia Hanson's "Chute" (Fall) reminds us that environmental pollution does not stop and that action is necessary now in order to protect the after.
It has been three years since Agata Guevara started following former FARC rebels trying to make their way back into society after the Colombian government negotiated a peace treaty with their leaders. They are "IN LIMBO."
And last but not least, a stop along our journey brings us to a hotel in Salzburg, Austria. There, Leipzig-based artist Matthias Hoch took photos of a former first-class hotel now hosting refugees. In "Hotel Kobenzl, Salzburg 2014-16," he asks questions about hospitality in today's society.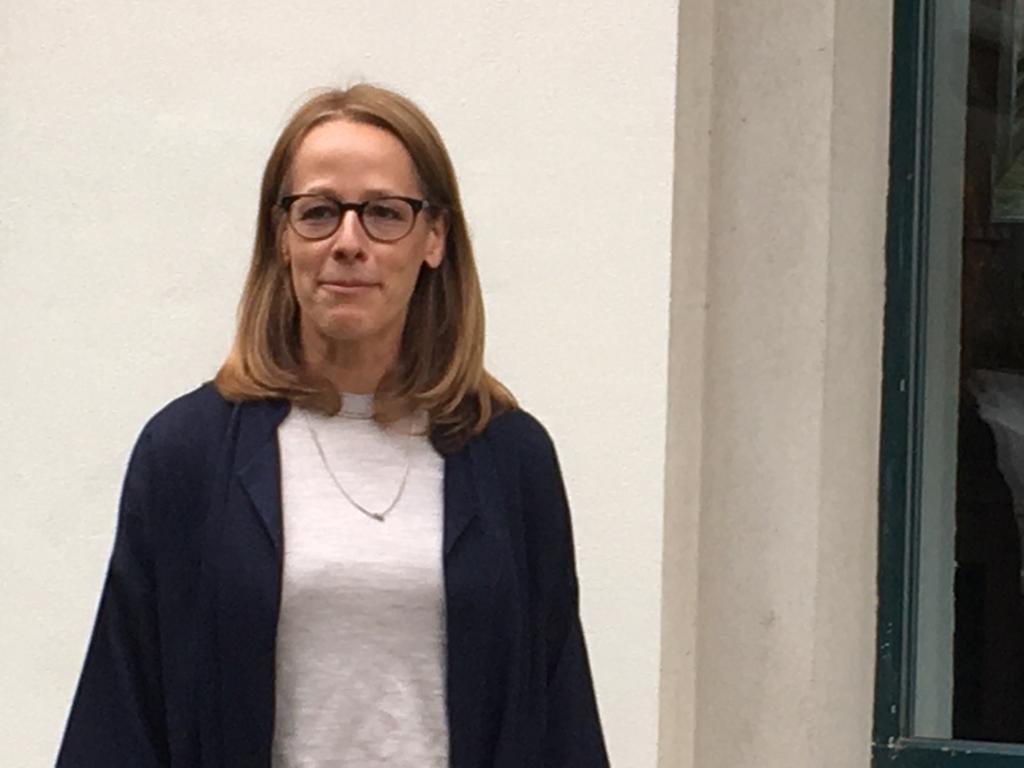 Can we come back for more?
The concept is a fabulous way of opening up the city space for both artists and audience. We will be back to create our own route along the 10 stops and hope that the success of "What comes after…" opens up opportunities for a similar approach in the future.
---
The exhibition was curated by Cihan Cakmak, Julia Eckert and Anja Stopp, assisted by Paula Sánchez Alandete and Sarah Letalik. It will run until August 12th, 2020. Check out interaction! e.V.'s Facebook page for more information and details on the artists.
Are you hosting an event you would like the community to know about? Post it on the LeipGlo Helpboard and events calendar!