Here is a little ode to some sweet and savory local Leipzig area foods and brands. Some of them are unique to our city, others can be found throughout the region.
If you have ever opened a guide book about Leipzig or searched for local specialities, you may have come across "Leipziger Allerlei", "Kümmelschnaps" and "Leipziger Lerche". While the Lerche is featured in this article, there is so much more to discover. As a born and raised Leipzigerin myself, I am not sure if I have ever tasted a true "Leipziger Allerlei", as the freshwater crayfish from the original recipe are no longer so abundantly available in our rivers. No reason to be sad though, as there is so much else to discover. Let's go!

Disclaimer: This article includes brand products. This is mostly due to the fact that the foods I would like to share with you are either produced by only one or very few companies. This post is not sponsored, I paid for the products myself.
---
1. Local CHEESES: Leipziger and Sächsischer Käsesalat (cheese salad) and more from Käse Lehmann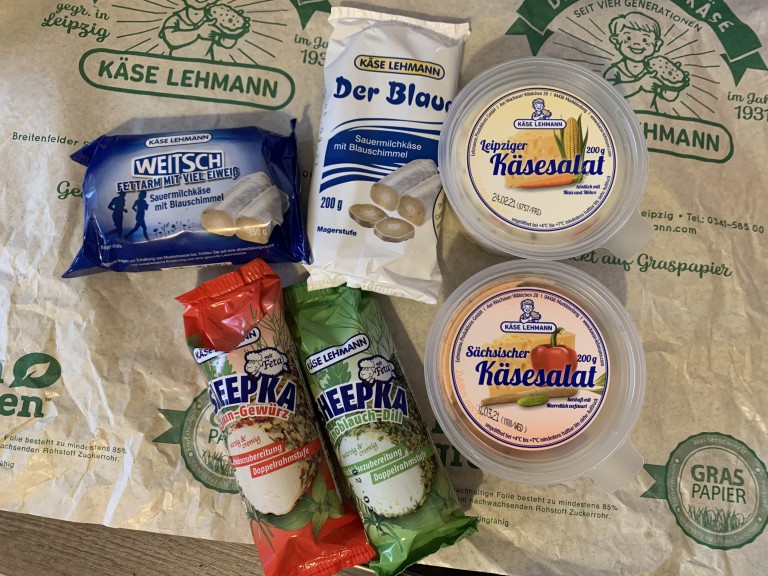 What do you think of when you read cheese "salad"? Fresh leafy greens and a few cubes of nutty cheese combined with a light dressing? Far from it. The Leipziger and Sächsischer cheese salads are more like a heavy dip, but very tasty and wonderfully creamy.
The Leipziger variety comes in a pale yellow shade and features small cheese cubes, canola oil, grated carrots and celery, corn and notes of mustard and vinegar.
The Saxon variety gets its orange-red color from the added paprika and its different taste from added horseradish. I prefer the sightly milder tasting Leipzig one, which I would buy every couple of months, but was positively surprised by the different taste of the Saxon edition which I believe to have tried the first time for this article.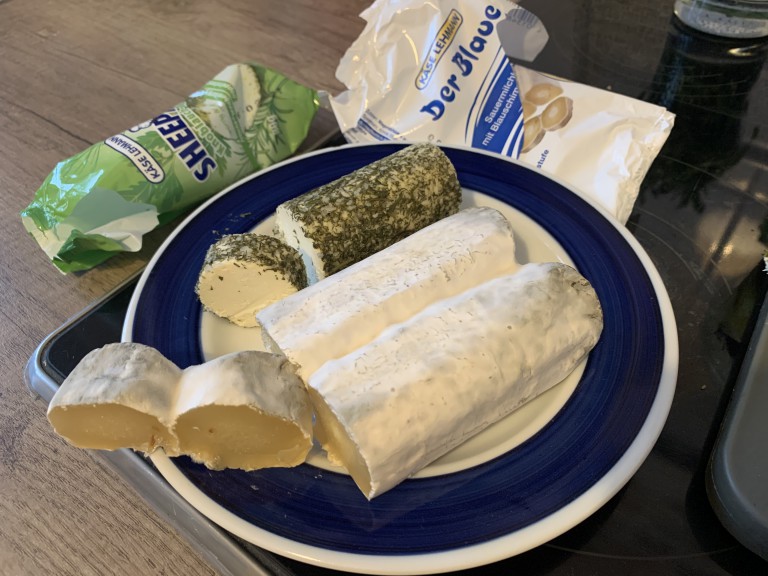 Other popular Käse Lehmann classics are Sheepka and a blue cheese. Sheepka was also new to me and I am already a fan. It is made of a mixture of feta cheese from sheep's milk and cream cheese from cow's milk. The rather dense and stable consistency allow for the cheese to be rolled in the right amount of spices. It comes in two variants: "Balkan spice" (my favorite) and "Garlic-Dill."
The blue cheese (Der Blaue) was a staple of my granny's.
Many people call it the "dead fingers" cheese for its pale, sort of mouldy look. I find it very mild and think that the taste does not trump other added ingredients of my snack too much. Additionally, it is rich in protein with almost no carbs and fat.
Super local: Käse Lehmann have been in Leipzig for more than 100 years. According to their website, the founder's great-grandchildren are now running the production and storage sites and sales points in Markkleeberg and Leipzig.
---
2. Halloren Kugeln
These little praliné delights are produced in our neighbor town Halle. The chocolate factory (that I would definitely recommend for a visit whenever possible again) was founded in 1804. This makes it one of the, if not the oldest of its kind in Germany. Halle has natural brine springs, important for its economic development for many centuries.
A brotherhood of brine workers in Halle and the surrounding valley was founded in 1491, the members of the Halle branch call themselves "Halloren" until this very day.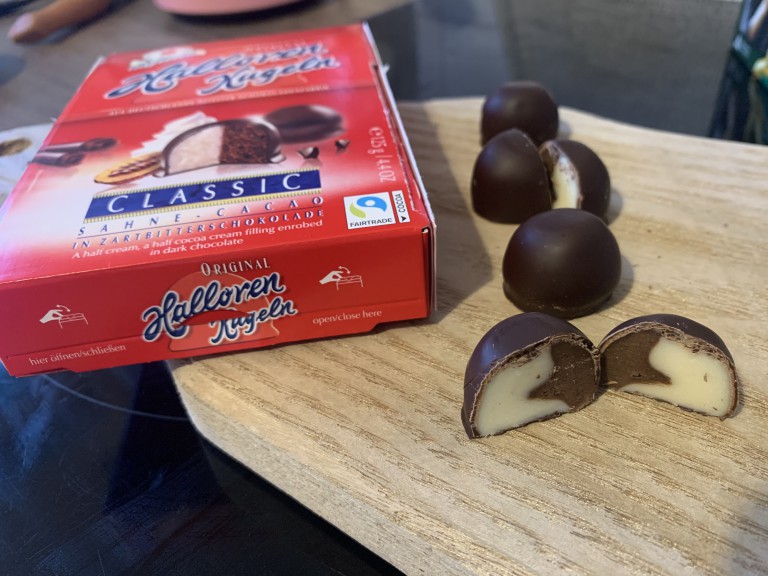 It is said that the Halloren chocolate balls were created in the 1950's, to offer the local population a treat in the gloomy post-war era. My parents told me that in GDR times, Hallorenkugeln were hard to find (i.e. that you had to be lucky and/or know the shop owner to get your hands on them). Since I personally like them so much, it does not surprise me that this product survived the Fall of the Wall in 1989 and can nowadays also be found in the shelves of Western German supermarkets.
The original Hallorenkugel is made of fondant and has a white and a cocoa enriched brown half, covered in chocolate.
You will also find double choc, stacciatella, rum (my personal favorite), eggnog (also yum!) and some other versions along with changing seasonal offers. A vegan version was around a few years ago, but I was not able to find that anywhere.
Ultimate winter warm-up tip: drop one or two Halloren of your choice in hot (plant) milk and stir until dissolved, the result is a rich and very comforting hot chocolate with a twist!
---
3. From Leipzig to Zeitz: Bambina, Knusperflocken and Schlager Süsstafel
Bambina, Knusperflocken and Schlager Süßtafel: These three products are among the Zetti brand's most famous products and each a true classic. Zetti is part of Goldeck Süßwaren GmbH. If you have been round Gohlis and explored the neighborhood of Gohlis castle (Gohliser Schlösschen) and Schillerhaus, you may have come through Menckestraße and seen the "VEB Goldeck" logo painted on the former company headquarters (now apartments next to a Carsharing car park).
While Goldeck still has an office in a different part of Leipzig, Zetti produces in the near-by town of Zeitz, Southwest of Leipzig.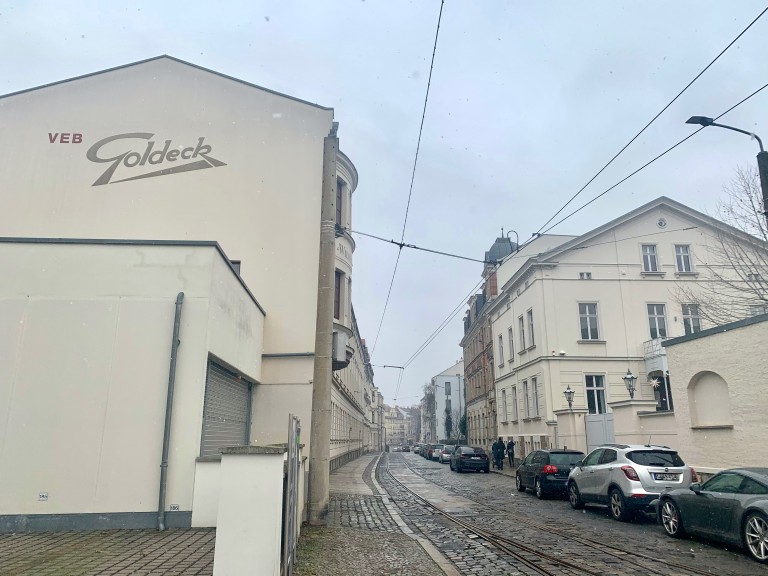 Bambina is a type of milk-and-butter-caramel covered in milk chocolate. There are strawberry mascarpone and egg nog variations and Zetti only recently announced that they have a new dark chocolate edition, too. The packaging features a cow that makes it very easily identifiable.
I enjoy Bambina, but in small quantities. I find it a just a tad too rich to be eating a lot of it at a time.
Knusperflocken are my guilty binge-food. That may be down to the fact that I personally need to eat quite a number of them to get the full flavour. These little brown drops are a mix of milk chocolate and crumbs from whole meal rye crispbread ("Knäckebrot").
The more I eat and chew, the better the crumbs and choc mix up. This may sound strange, but totally makes sense in my head. Whenever I can, I try to get the seasonal limited editions (for example speculoos spice for winter, iced coffee taste for summer). Worth a try!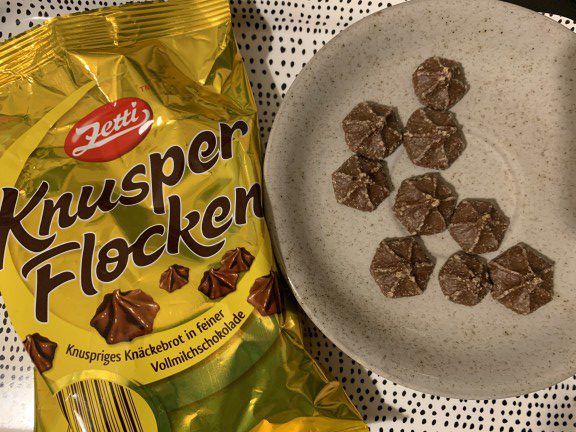 The Schlager-Süßtafel [Schlager-Sweet Bar] is a milk chocolate bar with peanuts. Personally, I would prefer it with either more peanuts or more chocolate. Why Schlager, you ask? If you are not famililar with German Schlager music, I suggest you sit down and just type "Schlager Hits" into the search bar of a music app of your choice. Believe me, your life will change forever (no judgement here if you happen to like it, whatever gets you through the day).
Therefore, the huge peanut on the packaging is illuminated by a disco ball, clearly a Schlager star.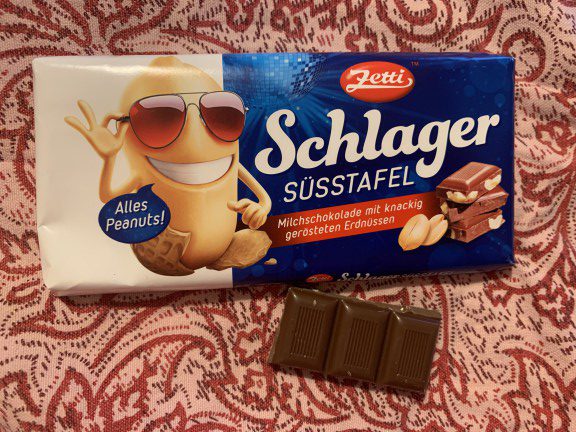 ---
4. Local colas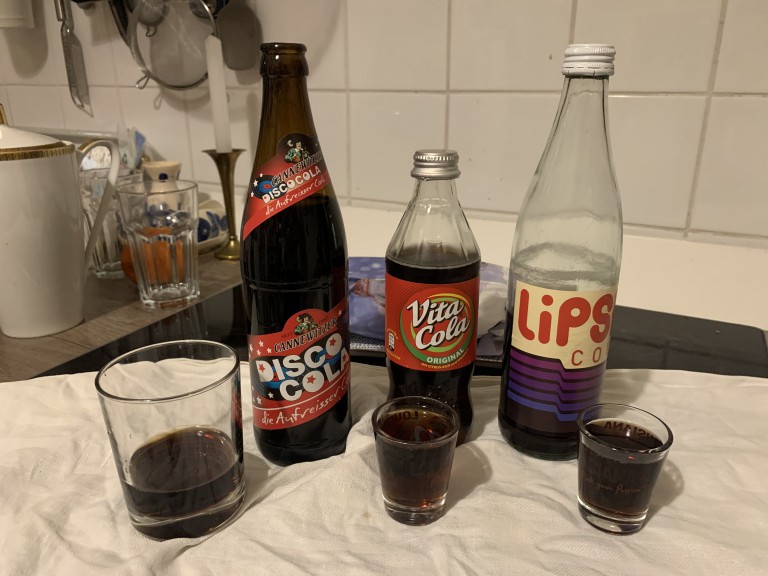 Vita Cola from Thüringen is very popular in Eastern Germany. They sell more Vita Cola in Thüringen than their red-and-white US American competitor. You don't even have to look as far as Saxony's neighbor state, we have a small but fine range of local caffeine drinks in Leipzig and surrounding towns. My personal favorite is "Disco Cola" from Cannewitz Brewery near Grimma. I recently discovered a new cola from Gohlis that also had me hooked instantly: Lipsk Cola (from the owners of Weisse Elster brewery and ahoi Spätis; not to be confused with the Lipz spritzers from Plagwitz). Especially the Lipsk cola-orange version was wonderfully zesty (I found them in one of the ahoi Spätis, they plan to expand to other shops soon).
Give them a try, one of them could become your new favorite!
---
5. Pfeffi (peppermint schnapps)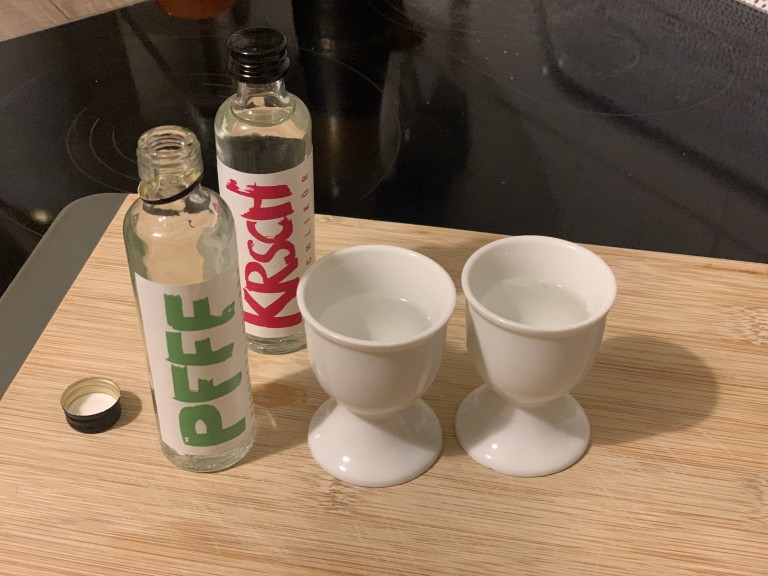 Pfefferminz-Schnaps, or short Pfeffi, catapults me back to the time of my late teens and early twenties, somewhat between 16 and 21. It reminds me of countless parties, get-togethers in the park and maybe more than one hangover. If you do not know Pfeffi: It is refreshing and cool without trying to immitate mouthwash or After Eight. You may not want to drink a whole bottle of it, which is good I guess, but it will accompany your beer or a late night party snack in a charming way (think of the good breath afterwards… while keeping the bad side-effects of alcohol in mind…). Our editor-in-chief Heiner recently told me that he regularly exports this type of schnapps to his family in Northern Germany, and that means something, right?!
When one of my grandmothers passed away a good 10 years ago, we emptied her apartment and found a still sealed bottle of this green elixir in her cupboard.
It even had the GDR price tag still on it. Will 18% of alcohol in a drink last for decades, you ask? This one definitely did. I brought it to a friend's birthday party, knowing that he also shared the true pfeffi love, and it still did its magic.
While the "original" Pfeffi from GDR times often comes in a bright green color, I prefer a more modern, local one: The "PFFF" by Auwald Destille is crystal clear and tastes more like natural peppermint extracts (compared to for example the Nordhäuser one from Thüringen, which is still good and a bit cheaper). The small bottle is perfect for two shots, the bigger one for that post-Covid party or at least drink we are all waiting for. The producers have only recently opened Auwald Bar in Schaubühne Lindenfels.
---
6. Quarkkäulchen with Apfelmuß (quark balls with apple sauce)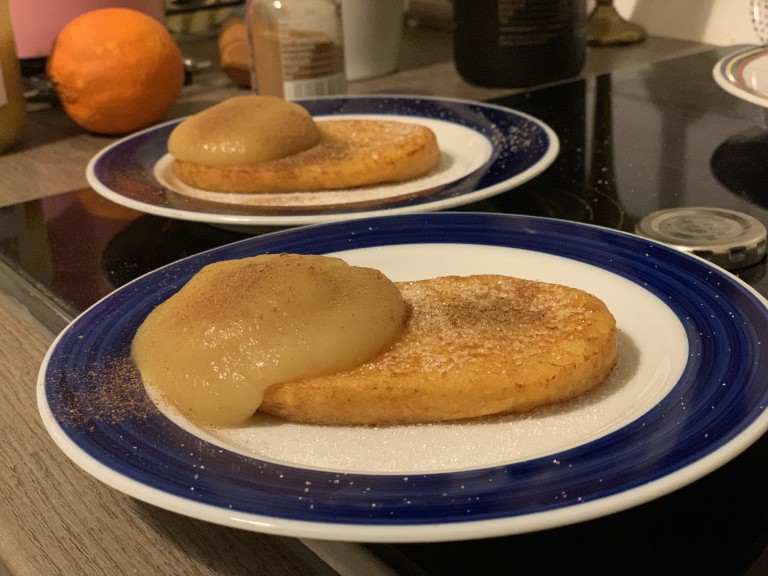 A truly Saxon specialty: Quarkkäulchen are a filling and easy dish, very often served with pureed apple sauce or sometimes only sugar and cinnamon. I used to have the instant version in my school cantine or a homemade, much tastier one from my grandma. I learned from Wikipedia that "Käulchen" derives from the Central German word "Kaule" which means ball (amongst other things). Top it with sugar, cinnamon and ideally apple suace and voilà!
---
7. Russisch Ei (Russian Egg)
The debates I have had on this one, OH MY. People are definitely on different minds here. One thing is for certain: Even though the local food scene here is becoming more diverse and more international, Russisch Ei is not a Russian thing and has not much in common with the traditional devilish egg style preparation of the eggs you could find in Russia.
It is basically one hard-boiled egg in half with the cut side facing the bottom part of a round plastic container.
Add a few pickled veggies for the looks (typically one slice of pickled cucumber and a cube or so of pickled bell pepper). Fill it up with aspic (clear bone jelly) until the egg halves are just about covered. Once the bone jelly is hard and has a smooth surface, it is topped with Fleischsalat. GROSS?! YES! GOOD? OH YES!!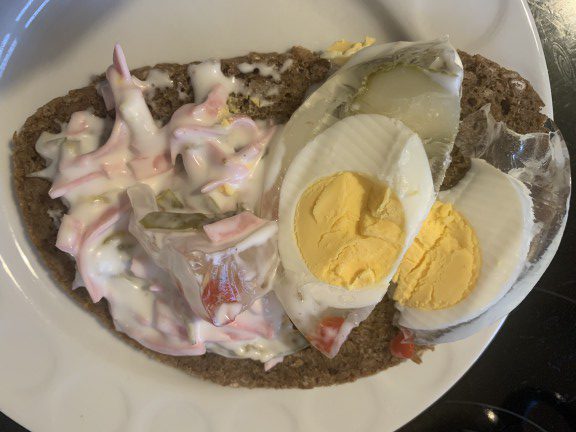 Russisch Ei could be called the antichrist of veganism.
Russisch Ei could be called the antichrist of veganism, but I have to admit that I will keep buying it every now and then, it reminds me of family breakfasts on weekends which is a totally legit excuse, especially in times of a pandemic.
---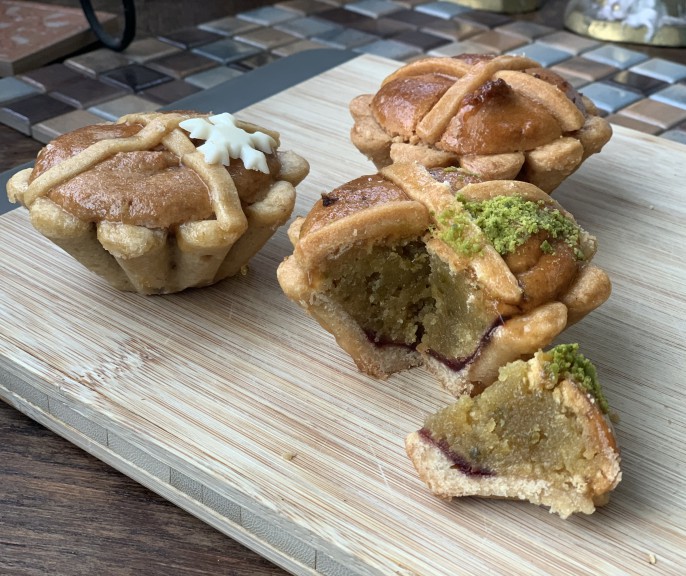 Leipziger Lerchen are anything but an insider tip when it comes to local Leipzig foods. You can find them in many bakeries or gift shops, the really fancy ones come in a small, clear plastic gift and contain the story behind this little Leipzig treasure printed on a small piece of paper, rolled up and bound to the top of the bag.
Why is a small, round piece of pastry called a "lark"? These pastries were allegedly invented by local bakers to comfort the Leipzigers after the main ingredient of popular dishes – lark birds – had been put on a hunting-ban list.
King Albert of Saxony signed the decree in 1876 (rumour has it that the king and noblemen from the region reserved the right to hunt larks for themselves while claiming that it was banned for animal protection reasons). The cross on top of the Lerche is supposed to represent the thread originally used to stitch the bird-pasty dish together.

If you bought one Lerche from 100 bakeries in Leipzig, you would probably have 100 different taste and consistency experiences.
My personal and team LeipGlo's favorites in general include those from Bäckerei Kleinert (so rich, perfect ratio of shortcrust pastry and moist marzipan filling – try the pistachio one!) and Martina's Brotgefühle (always gluten-free and vegan, they are, in my opinion, the most modern approach to this traditional local food with classic, chili or fruity versions).
---
Made from yeast dough, with a fruity jam core and either sprinkled or glazed, the Reformationsbrötchen (Reformation Rolls) remind us of one of the biggest reformers of the Christian church: Martin Luther.
The rolls are eaten around Reformation Day, which annually commemorates October 31st 1517, when German monk Martin Luther allegedly nailed his ninety-five Theses on the door of the All Saints' Church in Wittenberg. In these theses, he f.ex. demanded to end the practice of members of the clergy selling plenary indulgences (certificates) to reduce the temporal punishment in purgatory for sins committed by the purchaseers or the loved ones. You could basically buy yourself out of your sins!
In 1530, Luther seal, the Luther Rose was designed at the behest of John Frederick I, Elector of Saxony. The Reformation rolls are modelled after this seal.
The ideal roll for me would be made from a rich and moist yeast dough, the jam center would be refreshingly fruity, yet not too sticky. LeipGlo member Jorge home-made some last year and loved them, I will put that on my to do-list for this year.
Do you have a super-local product not featured on our list? Mail us your ideas to contact@leipglo.com!