The Eastern Saxon city of Görlitz was once a thriving Jewish community in the greater area of Upper Lusatia (Oberlausitz). Persecution by the Nazis decimated the community entirely during the Shoah. Nowadays the city is divided into a German part, Görlitz, and a Polish part, Zgorzelec. A young American woman living in Görlitz, Lauren Leiderman, has started to dig deeper into the city's Jewish heritage. She is restoring some of the memories of the area previously thought to be lost to time. Lauren is the director of the Jewish Remembrance Week Görlitz/Zgorzelec and just published The Poesie Book of Eva Goldberg. I attended the book launch at GRASSI Museum für Völkerkunde in Leipzig on Tuesday, July 12, 2022.
In Judaism, a minyan (count or number in Hebrew) refers to the quorum of ten Jewish adults necessary for some religious obligations and ceremonies. Léontine Meijer-van Mensch, director of the State Ethnographic Collections of Saxony, explains. The GRASSI Museum für Völkerkunde forms part of these ethnographic collections. It's the early evening of the book launch in Leipzig. The sun is shining bright, the air is mild and we can hear the muffled sounds of the city in the background. We sit in the museum's courtyard, our pastel green and orange chairs grouped around the little sun-illuminated stage. We are many more than ten people. And even though we did not come together for a prayer ceremony, we came together for a very special, almost magical historic document: The Poesie Book of Eva Goldberg.
Author Lauren Leiderman came across young Eva Goldberg's poesie book by accident.
Eva was a Jewish girl, born and raised in Görlitz. Lauren discovered the digitized version of Eva's memories in the online archives of the United States Holocaust Memorial Museum (Washington D.C.). At that time, she had already spent a lot of time researching the families and descendants of those who were forced to leave their homes in Görlitz during the Nazi dictatorship. Either to freedom in exile or to death in one of the concentration or forced-labor camps of the Third Reich. Eva and her parents were lucky to make their way out via Amsterdam, London, New York, and finally to Sacramento, California. Lauren turned these archived finds into a lively document of global history, reflecting Görlitz's past.
What is a poesie book?
A poesie book is basically a friendship book, filled with memories of friends, family and companions. A book with empty pages for plenty of personal photos and messages. It can be plain and clean, or richly embellished and playful. I myself have a dark green, fabric-covered poesie album, with the word "Poesies" written on it. My kindergarten teacher gave it to me as a goodbye gift and memento when I was about to enter primary school (ca. 1996). My lovely teacher had all of the children in my group scribble their names or draw something on a double page each. One side features a friend's photo, and the other page has drawings or personal notes. As much as writing something was possible at the age of four to six! I still have it to this very day.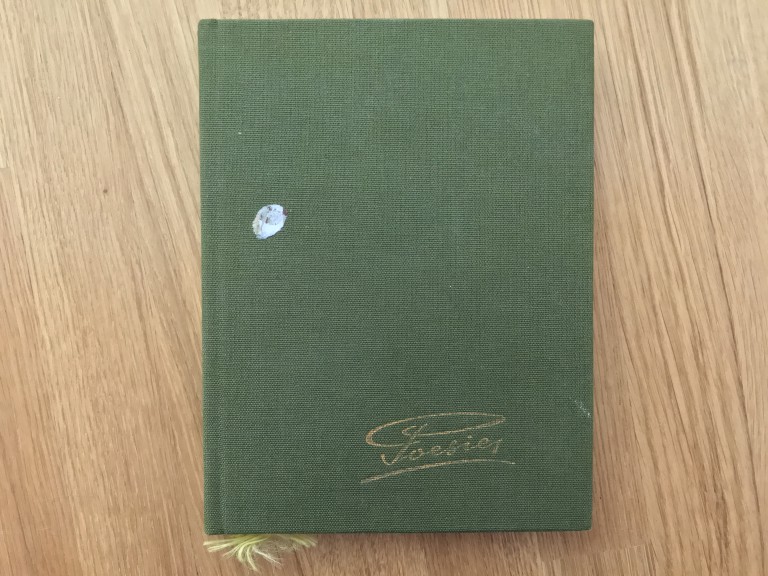 My book contains personal, fun, and rather inconsequential memories. However, Eva Goldberg's poesie book indirectly tells us about one of the worst crimes in human history, the Holocaust. Eva's father, Leipzig-born Max Goldberg, had given her the album in early 1938. It was supposed to distract the young girl from the already ongoing restrictions against Jewish people. These restrictions and the discrimination against Jewish people were increasing even before World War II broke out.
The notes from Eva's friends and family members are very often also joyful, sometimes a little sentimental. However, it documents the stations of her family's flight from Görlitz shortly after the Pogroms of 1938. This was a few months after Eva started the poesie album. If the family had not escaped, there may not have been entries from friends in Amsterdam, including the young Anne Frank. Or from London, and Brighton, where children were evacuated to when the Nazis started bombing London. Or on the ship from the UK to Ellis Island, New York. Neither from Sacramento, California, where the Goldbergs eventually found a new home.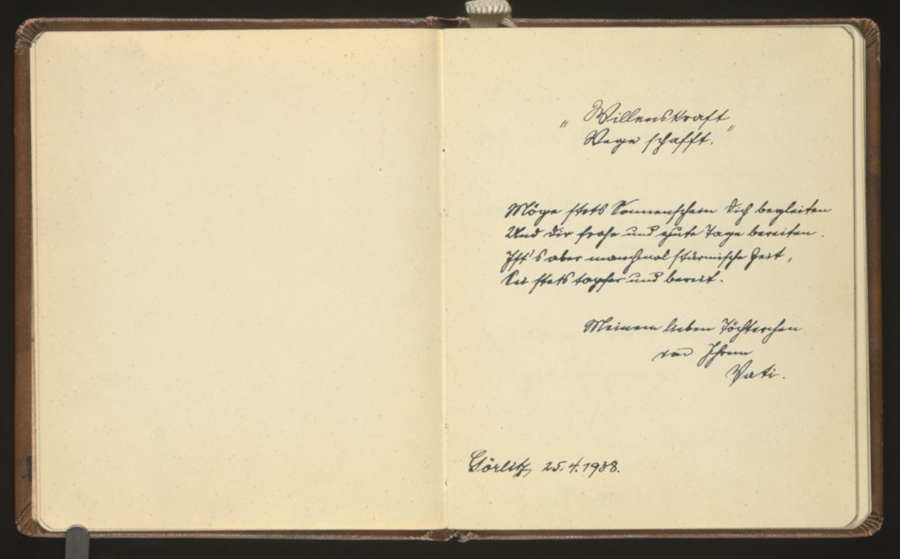 A Southern States girl in Görlitz
The story behind this book is so intriguing that I asked Lauren Leiderman for an interview. Lauren and Léontine Meijer-van Mensch were due to talk about Eva's book at 7 PM on this wonderful summer's evening. Lauren and I sat down in another corner of the GRASSI Museum courtyard beforehand to chat. She brought along her two adorable children, a toddler boy, and a baby girl. They are one of the main reasons why Lauren started to look into Görlitz's Jewish past. Despite Lauren herself being born into an evangelical family in central Louisiana in the Southern United States. Lauren's husband, Mark, is Jewish, and his family members are secular Jews from Israel.
Lauren tells me that not only did she fall in love with her future husband but also with his family. His parents see her as their daughter and vice versa. They never expected her to convert to Judaism. However, when Lauren and Mark's first child was born, her father-in-law kindly asked her to raise their child with Jewish traditions. A wish she and her husband granted wholeheartedly. They celebrate the Jewish holidays and guide their two children along the major pillars of the Jewish faith. So that they can learn about the history and traditions of their ancestors, their lives, and their religion.
Starting with Stolpersteine
Lauren wears a beautiful, understated gold necklace with a little Star of David pendant. The necklace glistens in the sun and compliments her elegant blue and white summer dress perfectly. We enjoy a coffee while the baby snoozes and her little boy explores the courtyard.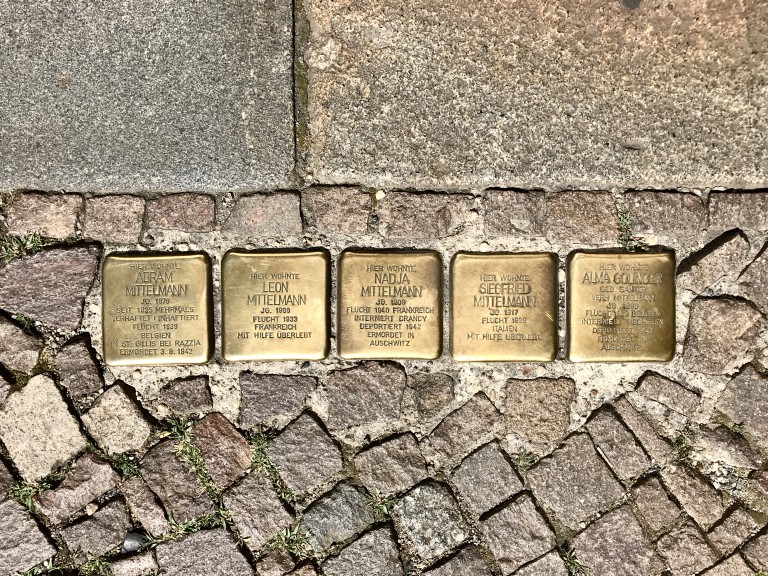 Lisa C. Renner: Lauren, thank you so much for taking the time to talk about your project. How did all of this happen? How did you get involved in the lives and stories of all these Jewish people from Görlitz?
Lauren Leiderman: Let me start at the beginning. My husband's studies had led us to Dresden. I had been looking for a way to show my children what being Jewish can mean. I became interested in the Stolpersteine Project and had been in touch with the locals responsible in Dresden. By learning about the lives and traditions of Jewish citizens in our home country, my kids can get a good, diverse picture of their family's religion.
Note: Stolpersteine (stumbling blocks) are roughly 10 x 10 cm brass cubes. They can often be found in front of houses or important places where Jewish people used to live, before and during the Shoah. They list their names, the year of birth, and the date and cause of their deaths, if known.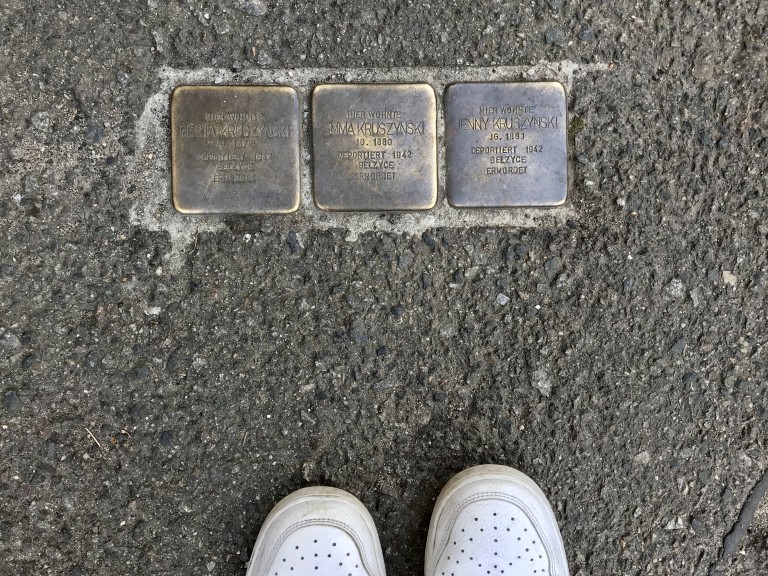 Who was Amanda Hannes?
LCR: So by then you had been in Saxony for a while already. How did you end up at the German-Polish border?
LL: Yes, I have been in Germany since 2014. At the end of 2019, my husband got his first full-time position after uni. As a result, we relocated to Görlitz, about 100 km east of Dresden. Görlitz didn't suffer much damage in the war, and many buildings have been preserved. There is a beautiful synagogue and a very big Jewish cemetery. My son was supposed to go to a local kindergarten and I was about to start a teaching job at the local Volkshochschule.
Then the pandemic hit. No child care, no teaching, but what at first seemed like a bad hit turned out to be a blessing for us. I got in touch with the Görliz Stolperstein project to learn more about the local community and to continue volunteering for this good cause. Unfortunately, the responsible person for laying the stones in Görlitz had recently passed away. One more stone was in the pipeline, but it seemed that nobody knew why this person had been selected for a stone. Her name was Amanda Hannes. I made it my personal quest to find out who she was.
Tracking down descendants
LL: The internet really is a great source for these kinds of queries. In the end, I found Amanda's great-granddaughter, Judith Hannes Mendelsohn, in Florida. When I first contacted her, she thought I was a scammer. How on earth would an opera singer-turned-teacher from Louisiana, married to an Israeli, researching the history of Jewish families, end up in Görtliz of all places? A few video calls later, Judi and I were best friends; she is such a good person. She is like another mother to me. She was delighted that I told her about Amanda's Stolperstein and Görlitz. One day, she asked me: "Lauren, do you think there are others like me? Descendants of Jewish people who had to leave Görlitz?" And that's how it all really started. Let's call Judi, maybe she'll answer!
Lauren takes out her phone and video calls Judi Hannes in southern Florida. She picks up immediately. Lauren introduces us and Judi starts chatting away. Within a few minutes, I understand what Lauren meant that Judi is one of the most kind-hearted people she has ever met. She is so friendly and open, I feel like I have known her for much longer than just these few moments. Lauren's children call Judi "Omi" (the German version of "Granny" or "Nana") by now.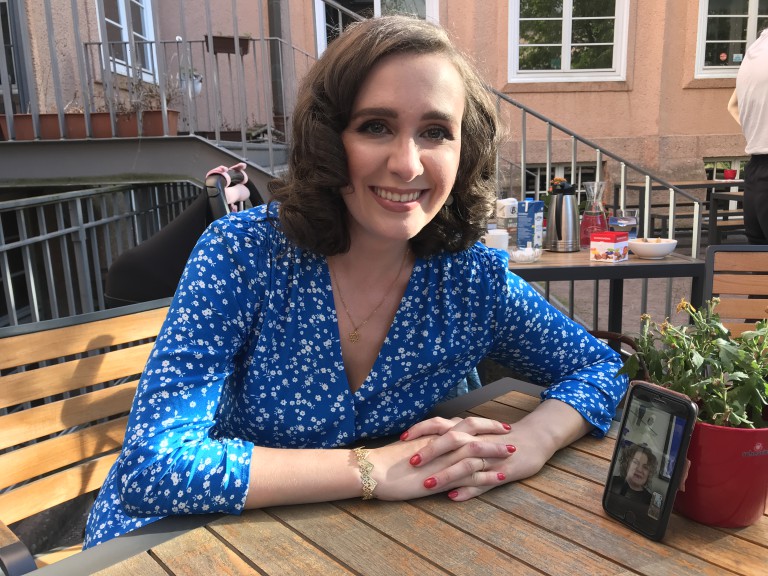 Judi tells me that she was very surprised to hear from Lauren. Mostly because she is from an area that is almost like "no man's land" to many Americans, it is so remote. The pieces came together very quickly. Judi's daughter, Lisa, was very ill when Lauren entered Judi's life. Judi the family historian and thinks that perhaps through some nudge by God or the universe, Lauren was sent into their lives. Lisa, unfortunately, passed away a few months ago, but the family research project lives on. I ask Judi if I can take a photo of her on the screen next to Lauren in the Grassi courtyard. She quickly touches up her lipstick and illuminates the phone screen with her gorgeous, warm smile.

Researching the missing links between museum databases
LL: You see, Judi is like family to me. We learned that her great-grandmother, Amanda, was the first female representative on the Görlitz City Council. Some of the male family members died from the Spanish Flu during the First World War. Therefore the women in the Hannes family led businesses and had a lot of responsibility in the community. This encouraged me to keep looking. I started researching the online archives of Holocaust and Jewish museums around the globe. I knew that all the Jews had left Görlitz by 1941, so anything before that was very interesting to me.
One of the issues I encountered is that the museum databases are not connected with each other. They often do not know what the respective other museums have in their archives. So I started typing the word "Görlitz" into all the search bars. Sometimes I'd get 500 results, sometimes many more. I went through all of them and this is how I found Eva. One night, I was searching the website of the United States Holocaust Memorial Museum. It must have been somewhere between archive results 200 and 300 that I found the "Poesie Book of Eva Judd", as the entry called it.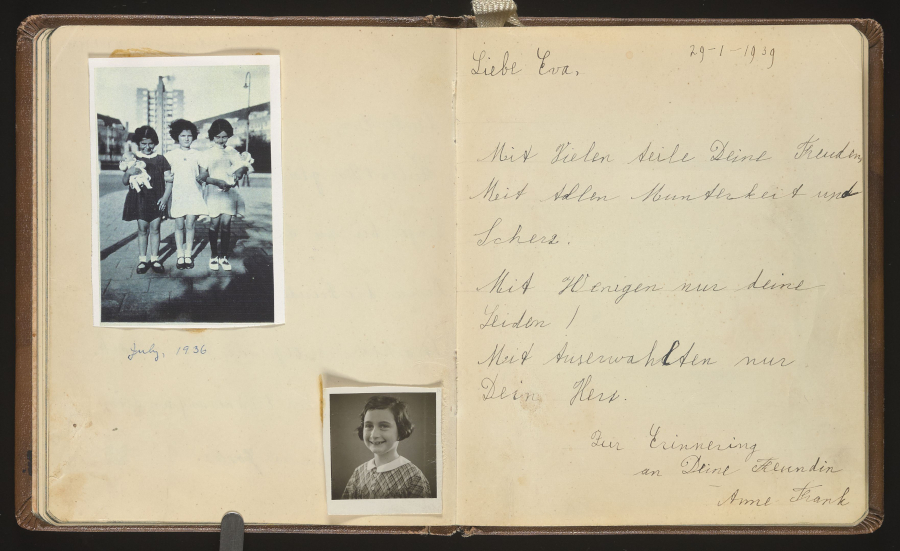 Suddenly this phenomenal album unfolds in front of me. I wasn't sure at first, because some museums' archives mix up the names Görlitz and "Gorlice", a Polish town about 130 km Southeast of Krakow. Quite far from my Görlitz. The Polish name for Görlitz is "Zgorzelec". However, in Eva's book, I can clearly read the handwritten word "Görlitz". The longer I flipped through the digital book, the more excited I became. I got to page 23, with an entry from January 29, 1939. The girl in the photo already seemed familiar and at the bottom, it said: "In memory of your friend Anne Frank". Anne Frank, probably one of the most famous Jewish children in the world!
Eva's mother Helene had a sister in Amsterdam, so the Goldbergs went there for visits regularly. And Anne was one of the German-speaking children that Eva would play with. There was no known connection between Anne Frank and Görlitz until then. I think by that time my husband was afraid I'd gone completely nuts! But I was totally hooked and worked all night to get through the rest of the album. It outlines Eva's family's whole flight from Görlitz, via Amsterdam to London, New York, and finally to Sacramento, California. Eva later married and was thereafter known as Eva Judd.
I'm just a normal person who walked into this at the right time, in the right place.
LCR: So many things come together in this, amazing! When I first heard about Eva's story, I couldn't help but wonder. How did you feel when you came to realize the meaning of the document you had found?
LL: To be honest, I was more shocked than anything. Everything also happened relatively quickly. Initially, at the end of 2019, I wanted to volunteer with the local Stolperstein association. Then I discovered more than 100 family relations of Jewish citizens of Görlitz by mid-2022. With descendants living on all continents but Antarctica. We hosted the first Jewish Remembrance Week Görlitz/Zgorzelec in November 2021. It was the biggest Jewish family gathering in the region since World War II, and we will repeat it in June of 2023.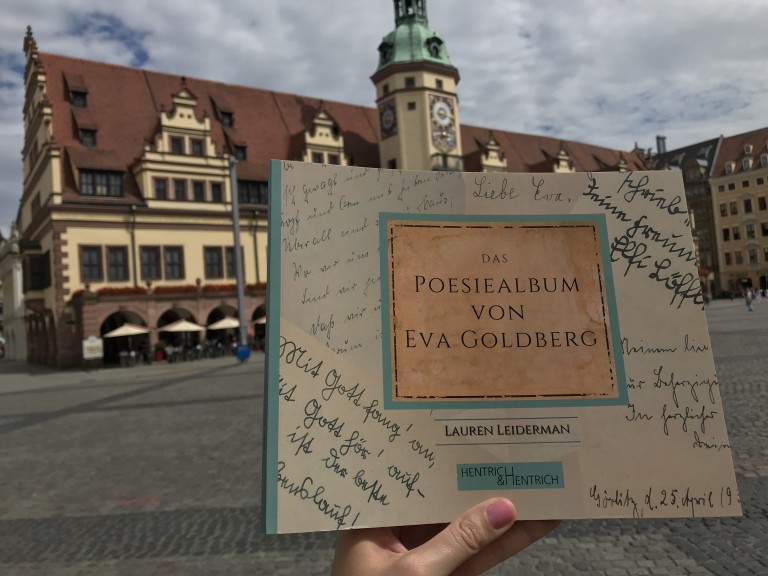 A global reunion
LCR: Did you meet a lot of supporters along the way, or did you face many headwinds during your work?
LL: I have met so many companions of Eva's and supporters along the way. We found Eva's best friend, Renate Muhr, in Brazil. She and Eva had been in touch after their flight until Eva's death in 1997. Renate plans to come to Görlitz in June of 2023. The friends of the Synagogue Görlitz helped us so much, in particular their President, Dr. Markus Bauer. The head of the local Diakonie association wants to support our project with a memorial [The Diakonie is a charitable organization of Protestant churches in Germany, one of the biggest charities in Germany].  Dresden's Jewish community has always backed me up and I have kept them in the loop about what I was doing in Görlitz.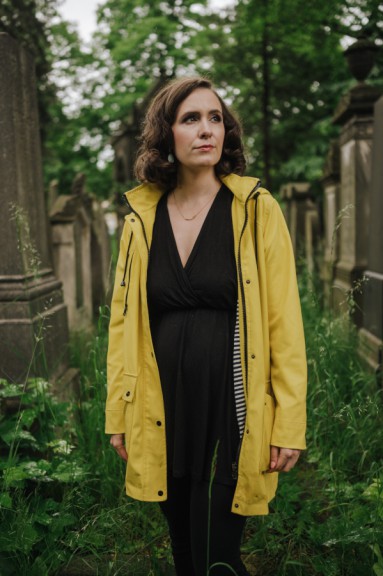 The city of Görlitz also helps us a lot. I think in the beginning they were not quite sure what "this American woman" was doing. Calling for a clean-up of the Jewish cemetery? Would I not need official permission to do that? By now we get on really well and have found our rhythm. I also put a lot of effort into convincing the local historians that they did not know everything about the Jewish past of Görlitz yet and that we had quite some work to do [Lauren smiles]. So many individual and collective efforts have been made to turn this project into the beautiful thing it is.
LCR: It seems like this story was made to be turned into a book. How did this happen so fast?
LL: The team from Hillersche Villa Zittau had also heard about what we are doing. They are a socio-cultural center in the border triangle of Germany, Poland, and the Czech Republic. Their President, Felix Pankonin, contacted me and asked me if I needed any help. Until then I had only considered translating Eva's book for the descendants of those we could identify, as a little gift. The original is in German from Eva's time in Germany and the Netherlands [where she had mostly German friends], and English from her friends in London and onwards.
Why not turn it into a book for more than just the families?
I told Felix that we may be able to raise funds via a crowdfunding campaign. Felix said he may know someone who would be able to help me. A few days later he introduced me to Eric Fraunholz, the Director of the German-American Institute of Saxony, the Deutsch-Amerikanisches Institut Sachsen (DAIS), and the rest is history. DAIS provided most of the costs of our final book! The rest, around €3,500, was covered by our crowd-funding campaign. Dr. Nora Pester from the Leipzig-based Hentrich & Hentrich publishing house helped us to produce exactly the book we wanted. They specialize in Jewish topics and local Jewish history; the perfect match. Everything really happened so quickly! We could not even find a person to do the graphics for the book on such short notice, so I did them all myself. The support for this project is so wonderful.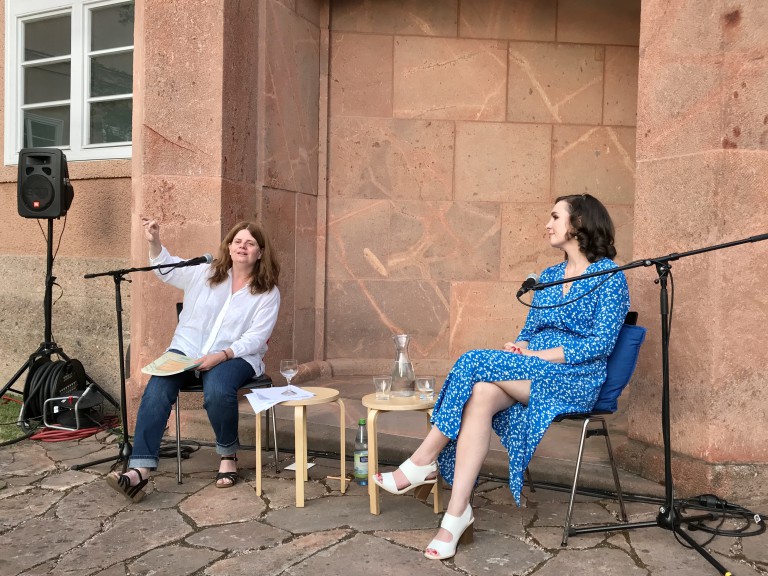 LCR: The book really turned out great. Why did you decide to also have it translated into Polish?
LL: Görlitz and Zgorzelec are separated by a river, the Neisse. What once used to be one city, was divided when the borders were set in 1945. When I was searching for Eva's address at first, I could not find it in the old German street name archives. I tried it on Polish websites and this is where I found her address. Eva and her family lived in Courbièrestraße east of the River Neisse, in what is now Zgorzelec. That was such an important discovery because it made Eva also very relevant on the Polish side. It connects both of the cities that used to be one, it connects countries and storylines. I knew the book would also have to be in Polish. Otherwise, I would not be able to reach school classes, teachers, and other interested people on the Polish side.
LCR: I imagine that this project also taught you so much about the region, you must have gotten to know so many local people and institutions.
LL: Yes, sometimes it is unbelievable.
We have found out what happened to every single Jewish person in Eva's poesie album.
A local reporter had written about the cleaning of the Jewish cemetery and the Stolpersteine. Shortly thereafter I was contacted by someone saying that an elderly woman wanted to talk to me. She had information about Eva. I did not know what to expect at all. She turned out to be Eva's good friend and upstairs neighbor, Elfi Löffler. She lives in Görlitz and was able to share some valuable information about Eva's life with me. I, on the other hand, was able to tell her more about Eva's escape and her life after leaving Görlitz as they had never been in contact again after 1938.
LCR: Each and every one of these many stories is worth a book alone. You've already mentioned the next Jewish Remembrance Week in Görlitz. What else is in the pipeline?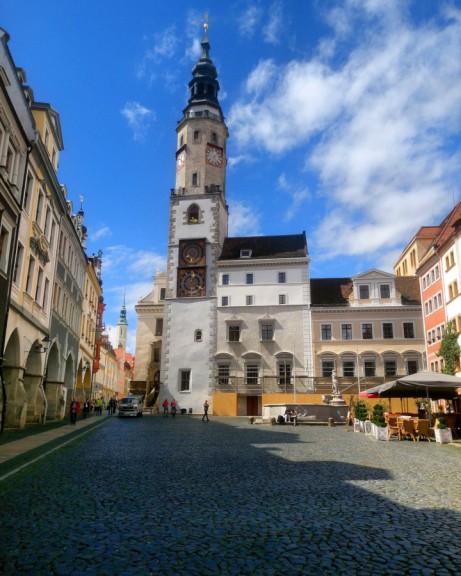 LL: Many things are happening. We keep on working for the Stolpersteine: We laid 24 stones in Görlitz alone in May of this year and are working on more. I am also working on turning Eva's poesie book into "bite-sized chunks" for school classes. Another big project I am working on is "The Butterfly Project": We bring together 100 Polish and 100 German high school students. Each of them works on the biography of a Jewish citizen of Görlitz/Zgorzelec. They will represent their results during the next Jewish Remembrance Week in Görlitz, which will take place from June 19 – 25, 2023. Since we also work with the biographies of survivors, we hope to have some of the students meet the people they have researched.
We're bringing history to life and making it tangible for young people.
LCR: Lauren, thank you very much again for taking the time to chat with me before the event today. I am looking forward to hearing more and to join the Jewish Remembrance Week next year.
LL: Thank you!
Many people have come to listen to Lauren and to Léontine Meijer-van Mensch. Friedrich Opitz, Deputy Director of DAIS opens the event. Léontine asks Lauren the right questions to make everyone want to devour Eva's poesie album instantly. Lauren's accounts are very personal and she carries us away with a journey that started almost 75 years ago. It seems that the ethnology museum is particularly well suited for a talk about Lauren's project.
Léontine is responsible for three ethnological museums in Saxony: in Leipzig, Dresden and Herrnhut. She and her team have done a lot over the past years to rethink museum collections. They were often started with stolen colonial objects, taken without permission of their owners. They have initiated restitution processes over many continents and have redesigned the permanent collections. Lauren Leiderman's project also resituates something. In her case, the memories, traditions, and stories of Jewish life in Görlitz and the surrounding area. She administrates the Stolpersteine in Görlitz/Zgorzelec and has not stopped looking for traces of Jewish life.
The evening ends after the sun sinks behind the beautiful art-déco gate of the GRASSI museum. After many questions from the audience, Léontine invites everyone to enjoy a glass of wine or juice. It brings the conversation to an even more personal level. We all go through Eva's book, all copies of which sell out that night. I leave the museum in the last minutes of daylight, impressed and inspired by what a difference personal commitment and passion can make.
---
Lauren Leiderman is a trained opera singer and holds a Bachelor of Music from the Boston Conservatory of Music. She moved to Germany in 2014. She and her husband Mark have two children, Aidan and Abital. Lauren's book, "The Poesie Album of Eva Goldberg", is available in German, English, and Polish. It can be ordered via the publishing house, Hentrich & Hentrich, or from your favorite local book store. The Leipzig Glocal was provided with a free copy by DAI Sachsen, which funded most of the production costs. The interview took place during an event hosted by DAI Sachsen, Hillersche Villa Zittau, and Literaturhaus Leipzig at the GRASSI Museum für Völkerkunde on Tuesday, July 12th.