To make it easier for new but also long-established Leipzig (g)locals to find their way around this vibrant city, the Afeefa collective created a digital map of cultural and social services in the city. You are in need of counsel but don't know where to turn to? Or you would like to volunteer at a local association but don't know how, when, and where? Afeefa, your digital mapping platform for cultural and social services in Leipzig is there to help.
What is Afeefa?
Afeefa is a digital map connecting Leipzig (g)locals with a diverse range of social and cultural associations in the city. You feel like meeting new friends at a Küfa ("Küche für alle")? Head to Afeefa and look up places to go. Do you want to learn German but don't know where to go? Afeefa has a comprehensive list for you.
You received a letter from the job center and need advice? Afeefa has you covered.
You are desperately searching for a kindergarten place for your child? Afeefa tells you where to get advice. Just hit the search button and see what the database brings up. You can view the results as a list ("WAS" button) or as a map ("WO" button).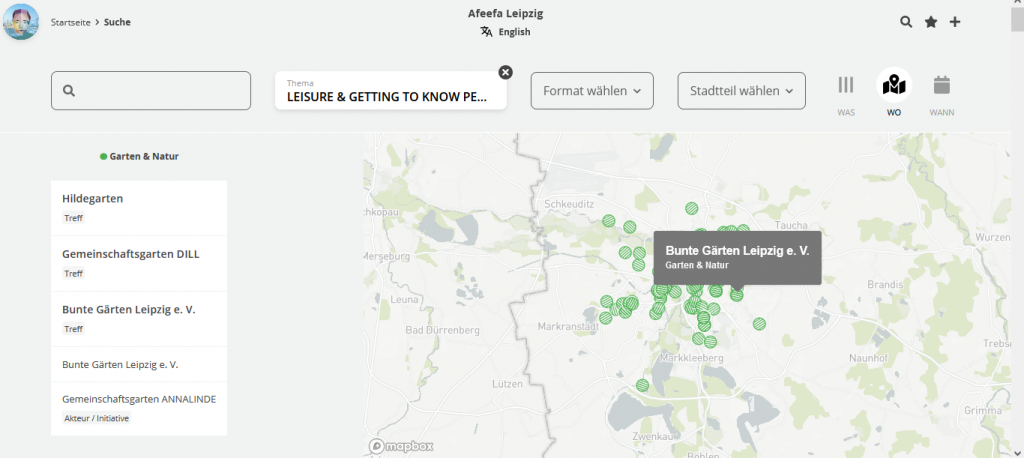 The platform relaunched this summer, now offering updated search functions, along with new thematic clusters such as "getting active/volunteering," "children and family," or "health & doctors" that will help you research subject areas.
The map can point you to doctors practicing in your native language for example, or it might help you find an apartment.
Moreover, you can discover new free time activities, ways to volunteer in Leipzig, language courses, and much more. As of now, there are 279 offers from 189 local actors and initiatives.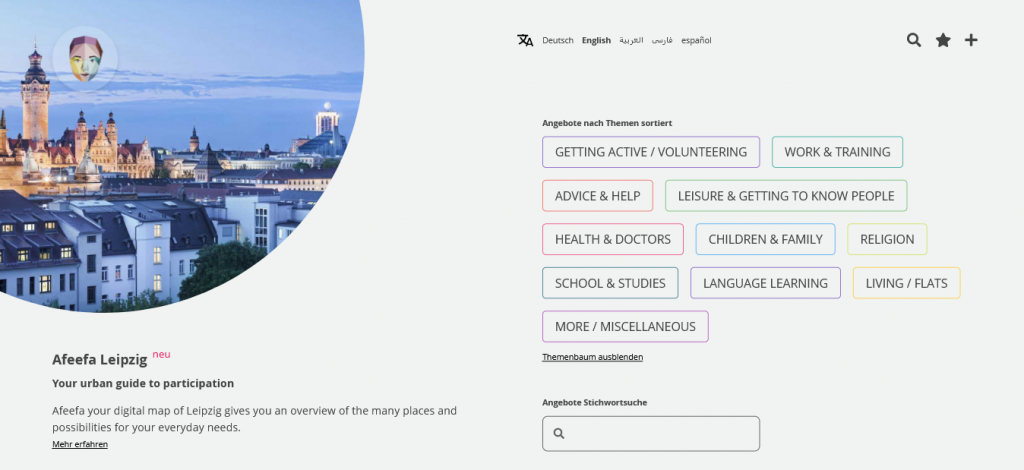 You want to network or place an offer yourself?
Afeefa now also lets you enter your own offers. You are the spokesperson for a local initiative? Present yourself, your work or initiative, and start networking with people from Leipzig. At the moment, the interface is only available in German, but the Afeefa team will help with translations and, after a quick editing process, verify your entry.
Who is behind Afeefa?
The digital platform is managed by interaction Leipzig e.V. in close cooperation with Afeefa – Digitaler Zusammenhalt e.V., a collective from Dresden. The Leipzig branch is also supported by Stadtsportbund Leipzig e.V., Deutsch-Spanischen-Freundschaft e.V., and several volunteers. The project receives funding and support from the Department for Migration and Integration, the Digital City Department, and the Social Welfare Office of the City of Leipzig.
Contact information
Promoter and editorial office Leipzig:
interaction Leipzig e.V.
Arno-Nitzsche-Str. 37
04277 Leipzig
kontakt@interaction-leipzig.de
phone number: 0151 1551 95 02
Software and development:
Afeefa – Digitaler Zusammenhalt e.V.
Böhmische Straße 14
01099 Dresden
team@afeefa.de