As much as it's bold and innovative, the digital native generation seems to be marked by a certain kind of nostalgia for the pre-Internet days.
Music might be the most obvious arena where this is happening. Famous vintage loops and vocals habitually make an appearance in digitally-produced music, and vinyl records are undergoing a renaissance. For instance at the Leipzig joint Vary, one can listen to a record player via headphones while sipping on a cuppa by the window, watching the analog, diverse life of Eisenbahnstraße.
Since the Industrial Revolution, it seems like we'd been going full steam ahead into modernization. Advances came around ever faster, globalizing, until we managed to compress space and time into a screen, and fill our oceans with detritus. Capital was king and everyone was supposed to want to wear the crown, mowing down whatever obstacles, accumulating while discarding.
Now, on many fronts, the international slow living movement urges us to pause, breathe, absorb, reflect, and even refer to ancient wisdom and methods. Legions of bright, entrepreneurial youth who grew up both with the connectivity and isolation of the Internet – and the facilities and traps of mass consumption and instant gratification – are poised to reclaim the balance lost.
These digital natives tend to be full of ambition, but also of social and environmental conscientiousness.
They also would like to improve the way we communicate. Amid a jungle of terabytes and elevator pitches, when we actually meet up outside messenger windows, we often seem to forget to talk to each other rather than at each other.
An idea born in Rome, the quintessential melting pot of old and modern, is bringing digital entrepreneurs together via the ancient method of chatting informally and having drinks together. It happens face to face, in a melting pot of bar and forum.
The project, Digital Yuppies (DY), is seeking to take the edge off networking and promote fruitful conversations and deeper connections across boundaries in Europe.
From Rome, the traveling event has made its way to Milan, Amsterdam and Leipzig via its growing international web of like-minded entrepreneurs.
The core purpose is to meet people who somehow inspire you or can complement your skills, towards collaborative efforts in the digital arena. This is what motivated DY co-founders and business partners Giorgio Gioacchini and Tommaso Politano to kick off the project three years ago. While facing everyday problems with their own digital startup, Studioplace, and visiting webinars, Giorgio found out "there were a lot of people like [us], working in different fields and needing to meet each other."
These digital marketing professionals and local partners have organized more than 20 DY events in various types of venues. Some are fancier-looking than others, but the goal is to be as far away as possible from the type of "boring" event you only attend because your company sends you there. And from webinars also. Simply put, they believe it's time for digital entrepreneurs to get in touch outside the touchscreen.
"The offline interaction is crucial because that's where the magic happens," Giorgio explains. "We believe that people need to interact with each other in the real world and have fun while doing it."
I've experienced that "magic" first-hand.
A few weeks ago, friends of mine from the SpinLab Accelerator, where many of the startups work on finding solutions to our society's quagmires, invited me to headline the DY event at Lucca Bar. The local-based DY team members – Shawn Segundo, Marilu Valente, Katerina Maria Kon, and Mario Wentzel – are not only entrepreneurial but also a blast to hang out with. The events in Leipzig are becoming more and more informal, says Giorgio.
While I did give some sort of presentation at Lucca Bar, there was no PowerPoint (it wouldn't have made any sense), and eating and drinking beforehand helped break any ice there might have been. It felt like an exchange rather than a speech. People expressed their love for LeipGlo. They helped me tell our story, and I listened to theirs. There were future friends and collaborators in that audience maybe I wouldn't have connected with otherwise.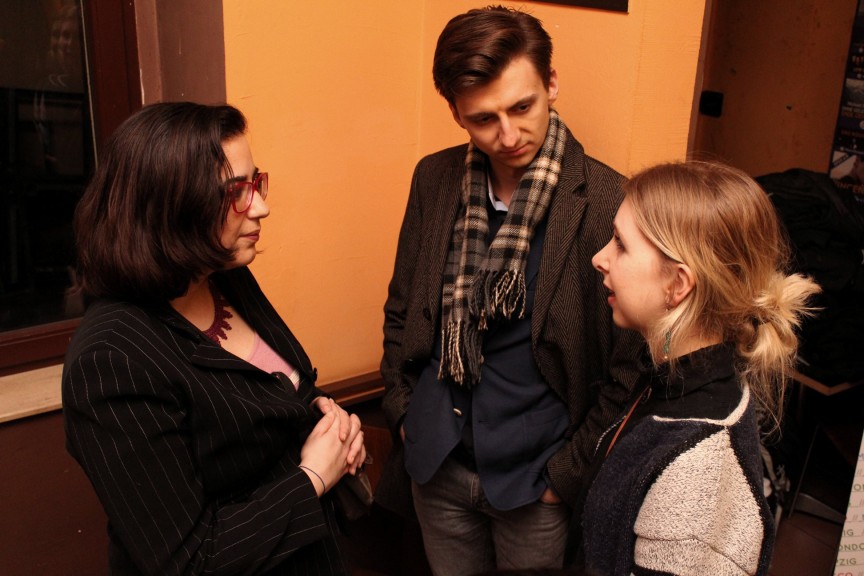 While DY's co-founders have themselves dove into the past to retrieve the term "yuppies," they want to make sure they rebrand it from its "negative" connotation.
Giorgio recalls that in the 1990s, the term – short for "young (urban) professionals" – referred to "people really looking for success and money at all costs." Now, he feels like many of these young people have "a bigger mission, to help the modern world" with their digital know-how and creative fire.
His dream is to have these new and improved "yuppies" all meet in one place.
---
The next Digital Yuppies in Leipzig is Monday, 18 June, 7 PM @ Basislager.
Peterssteinweg 14 (by Münzgasse)