Leipzig newcomer, queer musician Boah Robin, released a catchy new pop single last month. He has been living in Leipzig for one and a half years and is originally from the Ruhr Area in West Germany, close to Düsseldorf/Cologne. An English reworking of his song Blutrot, Dark Red is a bouncy, energetic club tune with dark undercurrents. This marks his third collaboration with producer Elias Kunz (aka Kunzt) from Hanover. Robin told us a little about his musical background and his work up to and including this new single.
Dark Red was released on February 25th and the accompanying music video was released a few weeks later. It's a new reproduction of one of my older German Songs called Blutrot. I recorded it in Hannover with Elias Emilian Kunz, who also produced a number of songs for the well-known German singing drag queen, Marcella Rockefeller.
I wrote the lyrics about the people who have influenced my way of loving and being.
It also deals with feeling like an outcast, not fitting in anywhere, and all of the hurt that comes with it. But nonetheless still living life with an open heart and big hopes, no matter how dark it gets. I think this single differs from the others in the sense that it is an interesting mixture of light and dark sensuality. I overlaid this on a 90's beat with soulful vocals, which I haven't done before.
In 2020 I was discovered by Peter Plate from the well-known German band, Rosenstolz. As a gay activist and producer/writer, he believed in my talent and opened up some doors for me. For example, he introduced me to Elias Kunz and helped us to produce my first two German singles. I still have Peter Plate's support nowadays, giving me advice, promoting my songs on social media, etc. He really is a big role model and a very important person in my musical life.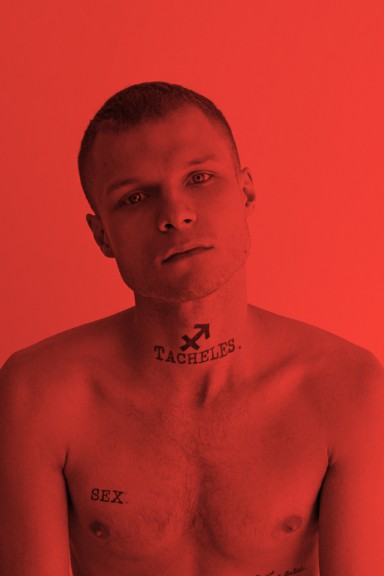 By the end of 2021, I got in touch with Frank "Zacker" Ekelmann-Neisch, the founder of the queer music archive, Bouygerhl. He has supported me since then by doing press and promo work for me. He also introduced me to local artists like Mario "Aquario" Hartwig, who became one of my producers and duet partners. In addition, he connected me with Leif Klinger, who became my music video director, and last but not least, Stefan Gunnesch. Stefan is a designer (for Dior, Reebok, and Meissen, amongst others) and artist who produced the cover artwork for Dark Red. So you could say that Zacker is another of the important people behind my musical projects. He connects so many artists with each other every single day and really made a difference in Leipzig's music and pop culture if you ask me.
I would describe my musical style as dark pop.
It's catchy and melodic pop music, combined with brutally honest lyrics. This comes from a place of hurt and other feelings that I don't like to talk about in my personal life since I'm a very optimistic, positive, and funny person. So my music and lyrics are my way of channeling the darker side of life.
---
With its dark electronic atmosphere, Dark Red takes us into a philosophical, but danceable, world of questions and exclamation marks. The lyrics are a personal reflection on the people who have influenced the musician and his way of loving. Boah Robin shares his feelings of not really belonging anywhere; how he loses many things, that many things fall apart. But at the end of the day, his unconditional love and his indestructible hope allow him to repair everything, especially himself, time and again.
You can find Boah Robin's music on Spotify, Apple Music, YouTube and follow him on Instagram.
QUEER MUSIC PROMO
Ein Service von BOUYGERHL – Archiv für queere Musik
Frank Ekelmann-Neisch / Kesselgrund 9 / 04288 Leipzig
+49 177 3495756 / www.bouygerhl.com