Quiet, abandoned lots become construction sites: a sign of bustling new neighbourhoods to come. In this year of industrial culture celebration, our Urban Investigations Series will explore how former Leipzig industrial sites will be made over to become lively, sustainable urban districts. How do these mega-developments tackle the challenge of a rapidly growing population? How do they expound on the existing city and how will they bring more sustainability? Today we take you on a philosophical stroll of Bayerischer Bahnhof.
---
Part I: A walk through the derelict Bayerischer Bahnhof
One kilometre is not enough distance to gain speed. The S-Bahn emerges from the Leipzig City Tunnel and crawls through the MDR station to where I stand. Not enough time, either, to enjoy the quietness of the landscape along the tracks: 40 hectares of 'Baulücken' or undeveloped lots that gradual disuse of the Bayerischer Bahnhof have led to. Just enough time, though, to escape what will soon be one of the busiest construction sites in the city.
Coming out of the MDR station, I look around at a peaceful, derelict landscape. The wind lashes the plants already stripped of their foliage by the winter and dries up large mud pools that formed during a stormy night. From afar, I can see the Bayerischer Bahnhof portico without the rails beneath it: a reminder of its former glory, tucked between Südvorstadt and Zentrum Südost.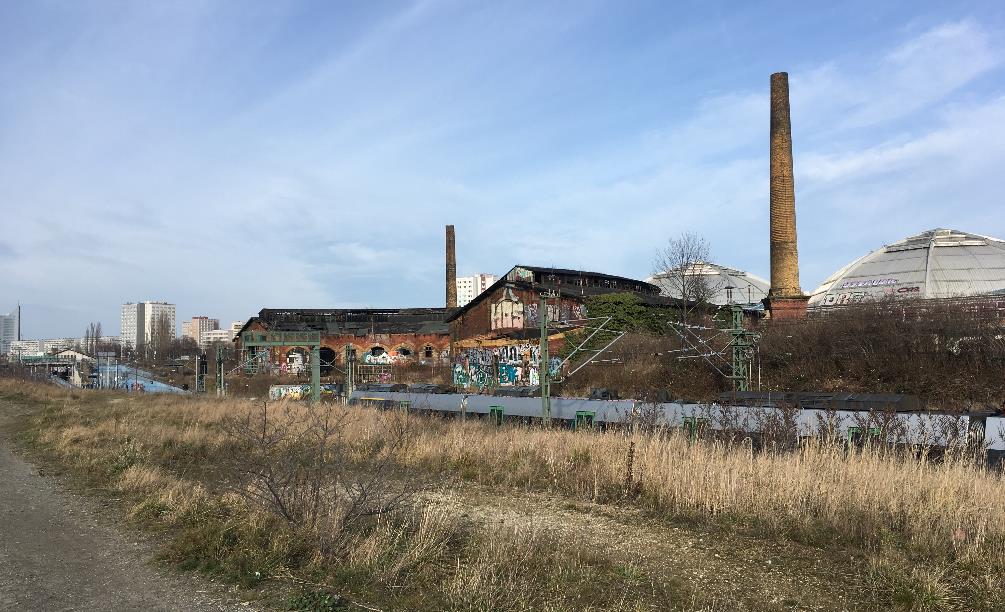 For anyone who loves unconventional and fertile post-industrial landscapes, this is a unique opportunity to experience Leipzig in its 'in-between'. That is, in between two development periods: its industrial past and future; in between two neighbourhoods with strong identities; in between nature and construction. To escape the buzz of the city, and to experience this part of it one last time before it develops into something new, I decide to embark on a walk. Feet in the mud, I follow the abandoned rails into the wild and promising landscape.
In the middle of the 19th century, the Bayerischer Bahnhof was covered by an extensive railway system that connected Leipzig to the south of Germany.
It became a major train station that influenced the construction of many facilities around freight transport, as well as coal sheds, storage and production. Alongside ruins, some of them are still active today: the train station portico, recently turned into a restaurant; the Großmarkthalle (affectionately dubbed the Kohlrabizirkus because of its two gigantic domes), a former marketplace now home to IfZ and the above ice skating rink; the Distillery nightclub, located in an old brewery; and the Lokschuppen, an empty, semi-circular heritage building which is now a de facto skatepark.
After 1915, when the Hauptbahnhof was built, the Bayerischer Bahnhof slowly quietened, unable to compete with the new world's largest railway station. Facilities closed and railways were left neglected. As they awaited reassignment, nature took back its place. Shrubs grew in between rails with a mix of poplars, maple trees, apple trees, pines and oaks, and long grass sprouted in pavement cracks. Slowly, the abandoned lands became a refuge for a reborn biological diversity: a rare third landscape.
It became a refuge for people, too, in spite of its derelict state.
Strolling along the site, I see people sitting on a rock, enjoying the warmth of the shy winter sun, and late clubbers drinking beers. I watch as kids jump in puddles of mud and off-leash dogs happily run around. As an extension of their homes, neighbours took ownership of this hole in the city to create a place for leisure. How could an open space fend off people's eagerness for more parks in the middle of the city?
In fact, Südvorstadt, despite being one of Leipzig's most liveable areas, has one of the lowest concentrations of open-spaces in the city, generating spiking temperatures in summertime. The compact pattern of the buildings – 19th century seven-storey blocks – only emphasises the scarcity of green. By contrast, Zentrum Südost enjoys more open spaces thanks to its DDR-era stand-alone structures. But the poor quality of the surrounding space doesn't allow urban life to take root.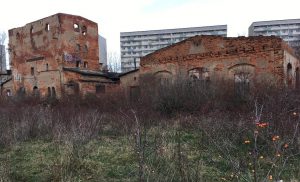 The development of the derelict Bayerischer Bahnhof site is, in fact, a unique opportunity to unite the two neighbourhoods into a lively area that acknowledges the existing qualities of space: a landscape that acts as refuge for nature and people, a place of continuing growth, an unrefined area that encourages innovation for new ways of gathering in the city.
In Part II of the Urban Investigations Series, I'll be exploring the upcoming 'Stadtraum Bayerischer Bahnhof' project and how it intends to unleash the site's potential in line with its vision of sustainability.
Maéva is a globe-trotting urban designer who recently anchored in Leipzig after a few stopovers in France, Senegal, Brazil and Canada. Keen on understanding city mechanisms and being part of the making, she conducts research projects, arts-based interventions and urban design projects. She is currently teaching at the Institut für Stadtentwicklung und Bauwirtschaft (ISB) at Leipzig University.