Is your New Year's resolution to eat better? The LeipGlo Team have eaten their way around Leipzig and picked some of their favorite restaurants for you to try.
This selection by the LeipGlo Team is quite diverse. It includes eateries located all over Leipzig, from all over the world. These are our personal preferences and experiences, rather than paid advertisement.
Pho Co (Delitzscher Str. 80 B) – great Vietnamese restaurant.
Umaii (Klostergasse 7-9) – best ramen! Ideal for cold rainy days. They have amazing teas as well. If you like Japanese food, but don't necessarily want sushi, this is the place to go!
---
Addis Café Leipzig (Brüderstraße 39) – great service, yummy authentic Ethiopian food (Injera) and some Ethiopian artwork to look at. They do a traditional coffee ceremony on Sundays. Recommend that you call beforehand and reserve a table.
Gastgeber (Dresdner Str. 49) – every couple weeks, a new pop-up kitchen takes up residence in this Reudnitz establishment (formerly Fischladen). Among these have been Japanese, Venezuelan and Italian cuisine, respectively. Some are better than others but trying something new there is always a delight.
Safran (Karl-Liebknecht-Str. 57) – this Indian place is a solid choice for tasty, "spicy," creamy food that comes out quickly. Good lunch specials.
Salon Casablanca (Karl-Heine-Str. 47) – satisfying savory Moroccan flavors in the restaurant part, and a shop where you can buy sweet stuff to eat at home too.
ALEX Leipzig (Naschmarkt 3) – my go-to place for Sunday brunch, and of many people as well. Good, affordable and with decent variety. Make sure to reserve a table beforehand.

---
Furat (Eisenbahnstr. 73-75) – solid Shawarma but go for their fried chicken: manually breaded, prepared and fried in a high-pressure fryer for maximum crispiness. Extremely affordable and you can choose which parts of the bird you'd prefer. Very casual and busy atmosphere, good for takeout.
Bitte (Eisenbahnstr. 115B) – Best Shawarma on Eisenbahnstraße for my money, huge meat spit that is whittled down before each night ends. Go for the Teller to get some fresh veggies and fries on the side and your Shawarma cut into neat pieces. Also always busy but with a little more seating options.
İkram Ocakbaşı Charcoal Grill Restaurant (Eisenbahnstr. 87) – more sit-down than takeout but still very affordable. They have an authentic Yaprak Döner which is real veal strips on the spit instead of the usual-suspect ground beef mixture you get at most Döner places. However, their charcoal grill dishes are even better, Adana skewers and the like; it's all fresh from the butcher and all really good.
---
Bayerischer Bahnhof (Bayrischer Pl. 1): for traditional German food at a good price. Their Schweinshaxe is delicious (although on a weekend, you'll probably want to mention in your reservation if you plan to order this). Gose beer is brewed here and it's very tasty, especially on a hot summer day. The restaurant is quite large and in the summer the Biergarten is also big.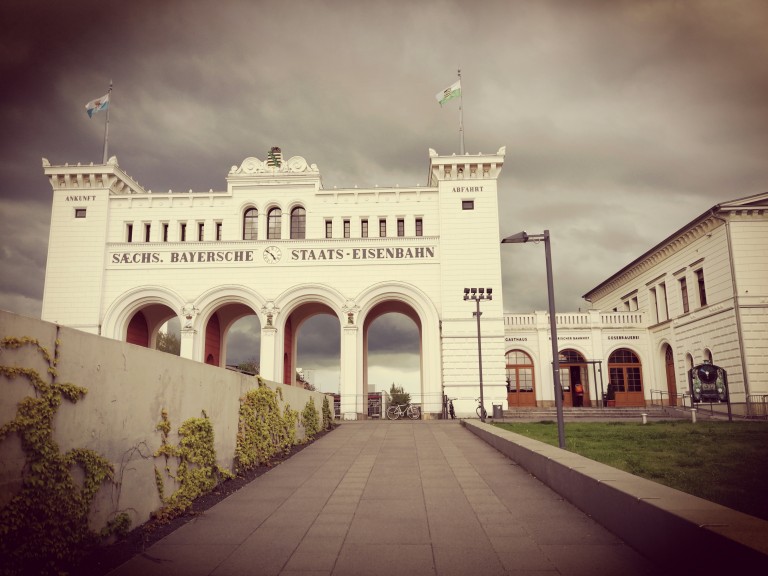 Gallo Negro (Karl-Heine-Straße 70) – it's the only place in Leipzig that I've found thus far that makes Mexican food with actual Mexican food. Their margaritas are fantastic. They have real corn tortillas, and a personal favourite dish is the Queso Fundido (melted cheese with chorizo sausage that you spread on tortillas).
Olive Tree (Karl-Liebknecht-Str. 38) – cheap and very tasty Döner. I think it's my favourite that I've tried in Leipzig. I particularly enjoy ordering the Döner Teller with fries.
Heimathafen Kö (Könneritzstr. 14) – in Schleußig, lovely location right on one of the many canals in Leipzig (they have heat lamps so you can brave the outdoors during winter). They serve a medley of different dishes and rotate the menu a few times a year. There's many vegetarian options, some vegan, and meat.
Alfa (Ratsfreischulstr. 8-10) – Greek restaurant near the Neues Rathaus. A clear win is the flamed cheese, but everything (the gyros too) is good.
Beard Brothers (Karl-Heine-Str. 69) – if you're craving a good old-fashioned boiled hotdog and steamed bun, visit this place on Karl-Heine-Straße in Plagwitz. Prices for one hotdog run from 2.70 – 4.50 EUR; it depends what toppings you get. Great place for a quick bite and a taste of nostalgia.
Tiziano (Prager Str. 49) – best Italian food I've had thus far in Leipzig. The owners, an Italian couple, provide a small menu with wonderful creations of not-so-well-known Italian dishes. If you want a German-style Carbonara (cough: with Sahne) then this is not for you. If you want something different, like homemade gnocchi with a tomato and olive sauce, then this place is for you.
Gosenshenke "Ohne Bedenken" (Menckestr. 5) – another traditional German restaurant down the street from the Gohliser Schlösschen. They serve a variation of well-known German dishes and have a nice secluded Biergarten in summer.
Vietnamesische Küche Da Lat (Koenneritzstr. 105) – the name says it – Vietnamese food. It's cheap, it's tasty, it's easily accessible in Schleußig. My go-to is the crispy duck breast with noodles or with rice. Their Pho is very good, and they are friendly and welcoming.
Moritzbastei (Kurt-Masur-Platz 1)- cheap place with generous quantities. It's located in ancient Leipzig fortifications, and also offers evening events and weekend parties. If you're looking to keep the wallet happy and fill your tummy, this is a good spot to go. (Highly recommended for lunch.)
---
Got restaurant recommendations for the Leipzig area? Please send them to contact@leipglo.com with the subject line, "Restaurants." The LeipGlo Team are putting together a comprehensive list.