The Covid-19 crisis hit all of us. Many of us were stuck at home. Very suddenly and ongoing for weeks, social contacts were reduced to a bare minimum. How did artists and creatives manage during this time? LeipGlo contributor and artist Maeshelle West-Davies tells us about her latest video project "not alone" about a harpist and two dancers responding to each other, despite each being in the same room at different times, and how the pandemic opened up new options for her.
---
The sharp and tingling sounds of a harp beam us into a clean world of pure and radiant white. We are not alone. We see dancer Lou Thabart, woken by the sound of the baroque instrument. Seconds later, he and his ballet colleague Donna-Mae Burrows face each other, follow each other's movements, become one, let the beautiful and sometimes strange harp music, played by Babett Niclas, guide them.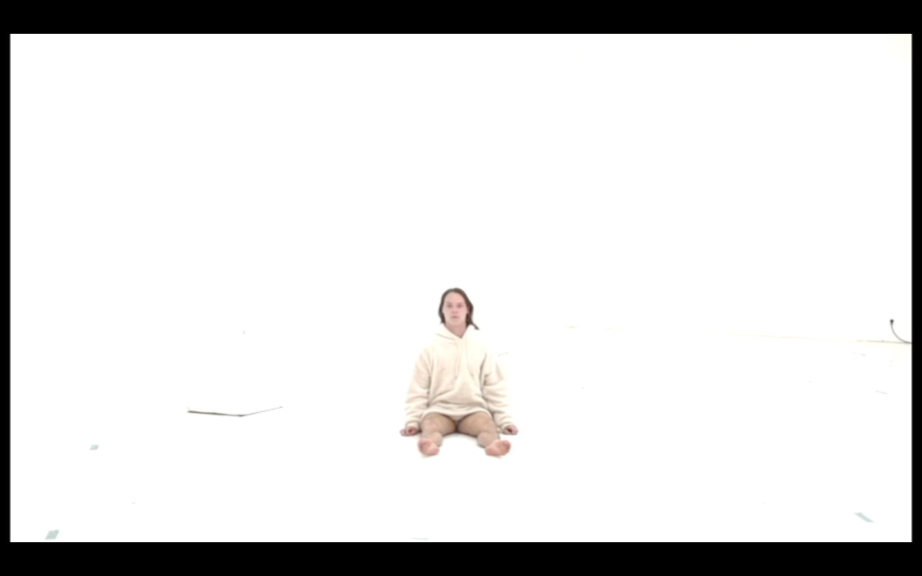 A closed room, you say, artists practicing, you say? Wasn't there something stopping all of this? Ah yes, the strict Covid-19 regulations making any theater or dance practice during lockdown impossible. Almost.
A safe haven in the middle of a storm
Even though many things were and still are not possible in order to prevent SARS-CoV-19 from spreading any further, there was a safe way around it: Schaubühne Lindenfels, a well-established place for cultural events and theater projects outside the city center in Plagwitz, had a safe haven to offer: "During shutdown, we directly got in contact with many of our befriended solo-artists and got to know that many of them felt lonely, without energy to work, stuck in their flats. So we thought, how could we support them in going back to work again, having space to move or just having the opportunity to leave the house?", says Ilona Schaal, Program Director of Schaubühne Lindenfels.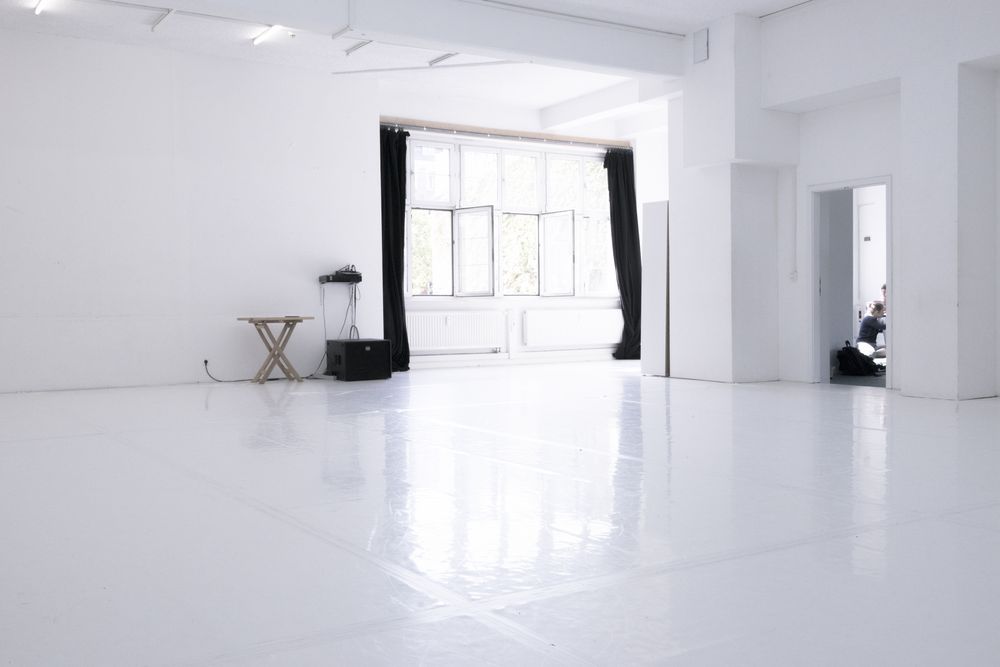 The theater owns a rehearsal studio with two separate rooms, each between 110 and 122 square meters (ca. 1,180 – 1,300 square feet) on the first floor of Josephkonsum on Karl-Heine-Straße, right next to Schaubühne. The idea of the "soli action" for the rehearsal space was born – the feedback that the team of Schaubühne got showed that this was just what local artists wanted and needed.
"More than 20 artists – dancers, actors, students, writers – used the stage. Partly they didn't even know the space before. It was almost completely booked for two months," Ilona Schaal adds.
One of the safety conditions was that only two people could practice in one room of 100+ square meters at the same time. This turned out to be perfect for Maeshelle's idea of combining two themes for not alone: "First, I wanted it to be like in the film Groundhog Day: You woke up, the same things were happening every day, everything was on repeat." That being said, something new had entered our lives, the almost daily video call conversations with family, friends and colleagues from all over the world. Over the past months, most of us used a number of video call platforms such as Zoom, Jitsi, Google Meet, FaceTime, Skype, WhatsApp, Facebook Messenger and many more.
"I included a Zoom call in the video, it allowed us scenes with Donna and Lou during which they didn't have to be in the same room but could still interact. It pulls you in and pushes you away at the same time. I gave the dancers emotional keywords and they improvised their movements to the harp music that Babett came up with. The room was my catalyst. I saw it and I already knew exactly what I wanted to do in it," says Maeshelle.
"Distance is taking on new properties during lockdown. Someone across the world is just as close as someone down the street. You don't have to be alone when you can share a split screen." – Maeshelle West-Davies
The TANZ rehearsal studio, one of the two practice rooms, comes with white walls and, most importantly, a white sprung floor allowing the dancers to express themselves under the professional circumstances they are used to from their work at Oper Leipzig. "I lit up everything when editing the video, lowered the contrast. My goal was to make not alone seem surreal, hazy, fuzzy." Lou's and Donna's silhouettes sometimes seem to antagonize just to melt into one another, only to spring apart again.  The harp music evolves throughout the video and underlines the proposed hypothesis of closeness while being apart – a wonderfully immersive experience.
not alone ended up being 20:20 minutes long. A coincidence, Maeshelle? "Yes, when I saw the number after editing everything, I knew it was perfect."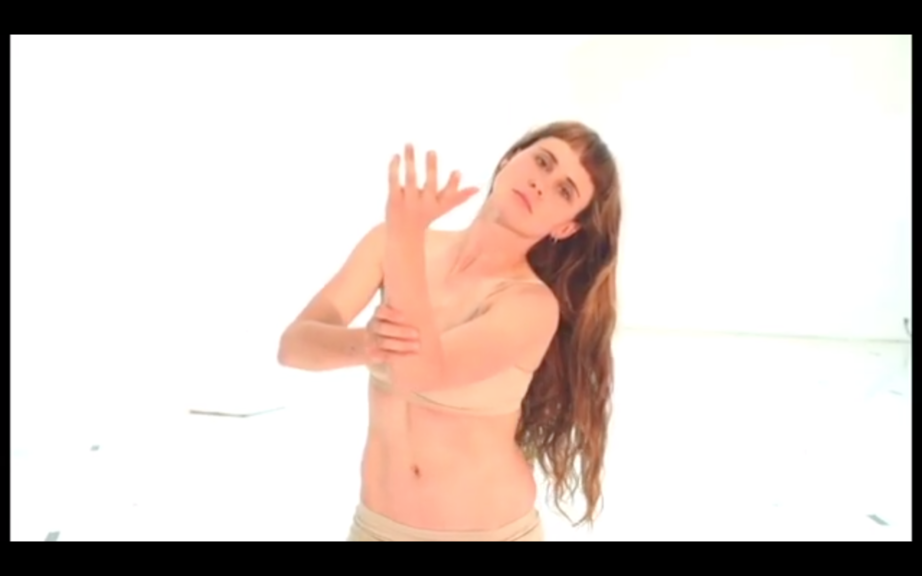 The Covid-19 crisis also had advantages like spontaneous re-allocations of city culture funds for digital projects.
The living conditions and income situation for artists worsened dramatically during the Covid-19 crisis. The basis for their income was lost from one day to the next. The city of Leipzig's Kulturamt provided a financial aid program and re-allocated funds for small cultural projects with digital content (up to 1,500 EUR). Maeshelle successfully applied for it. In addition, Schaubühne Lindenfels grants reductions to artists and projects who receive financial funding by Kulturamt Leipzig, which doubled the benefit for all.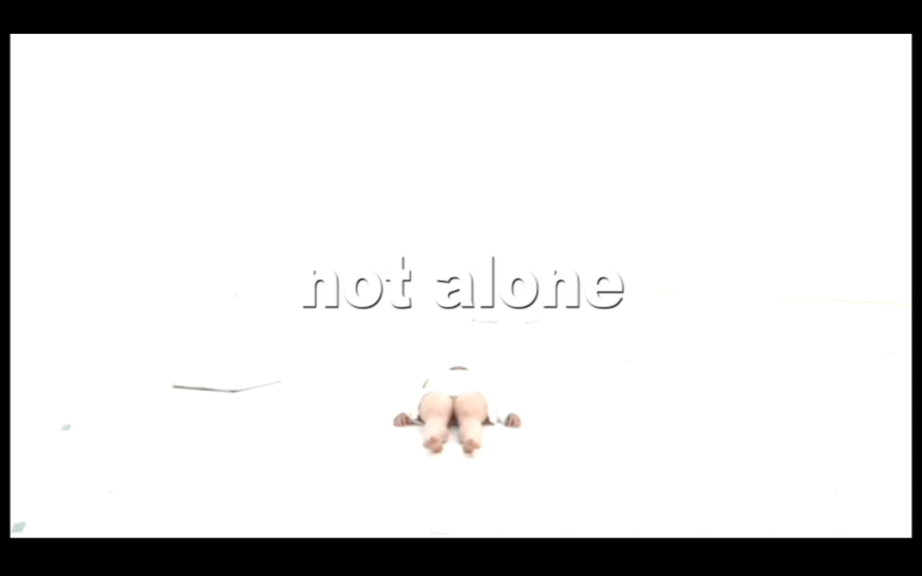 Cross-platform video premiere
not alone will premiere on YouTube, the Facebook pages of art collective Helmut, Art Leipzig and ReTramp Gallery Berlin, on Sunday, June 28th at 8 p.m. (CEST).
Maeshelle West-Davies is an artist, curator, culture writer and digital content producer living in Leipzig. She has been working on exhibitions and art projects of multiple types in Germany, Denmark, England, France, Switzerland, Croatia, Portugal and the USA for more than 10 years.
Do you need help in times of the pandemic? Do you have something to offer to your neighbors? Check out our Helpboard. It's free and very easy to use.